Urban Transportation of China
Taxi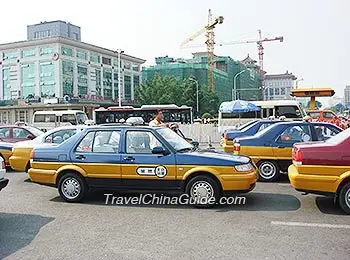 Taxis in Beijing
Taxi is the most convenient and quickest way for you to get around the city. You can call taxis at any time, anywhere, which may give you more flexibility to facilitate your trip. Taxis congregate at railway stations, airports and hotels. Unlike the bus, taxis run all day. The flag-down-rate for the first several kilometers varies from 5 to more than 10 Yuan depending on the city and area, and for each extra kilometer, about 2 Yuan will be added. If you take a taxi after 22:00 or 23:00, the fare will be a little higher. In some cities including Beijing, Shanghai and Xi'an, whenever the taxi stops for a certain time (5 minutes), an extra fee will be also charged per five minutes for waiting. Do take notice that only if the sign 'For Hire' is cocked, and lit at night, is the taxi available for service.

China enjoys adequate taxi service. In some cities, taxis are small cars painted red, green or yellow. In large cities, there are luxurious sedans at a higher rate. Taxi fares vary from city to city but they are always clearly marked on the taxi window and you need to pay as the meter reads.

Most taxi drivers do not understand much English, although those in tourist cities are encouraged to learn and speak some simple English. Non-Chinese speaking visitors are advised to have their destinations written down in Chinese and show the address to the driver.
Bicycle
The place where you can see the most bikes on the street may be China. As the simplest, most convenient and prevalent vehicle, the bicycle is very important in Chinese people's life. For visitors, to get around a city at their leisure by bike is a special way of getting to know the city in detail. Be careful to follow safety rules at all times especially in congested areas or on the busy street at rush hour. There are many shops that sell bicycles of various types at different prices based on the level. Bicycle renting service is also offered especially near scenic spots in tourist cities at a rate of 20 ~ 50 Yuan a day.
Dockless sharing bike
is another popular way for short-distance journey with a fare of CNY 0.5 ~ 1 / 30 minutes. You can have a healthy, environment-friendly, cheap and comfortable bicycle trip wandering about the city.
More and more cities begin to provide
public bicycles.

Subway is a fast and convenient
means of transportation.
Subway
As the fast and convenient way to go around the city, subway is the best choice. The first subway in China was built in 1956. At present, major large Chinese cities such as Beijing, Shanghai, Tianjin, Guangzhou, Hong Kong, Taipei, Shenzhen and Nanjing have city subways. More subways are planned or under construction in Chengdu, Xi'an, Zhengzhou, Wuhan, Dalian, Changchun, Harbin, Hangzhou, Urumqi, Suzhou, Lanzhou and Kunming.

China Bus / Subway Search
Light Rail
Light rail is a new type of railway that can be incorporated with city roads with less investment. It is a more environment-friendly vehicle and is much safer and faster than the common railways. Now in China, several light rails have been constructed, such as the Jinbing Light Rail in Tianjin, Wuhan Light Rail Line 1, and Chongqing Light Rail Line 2.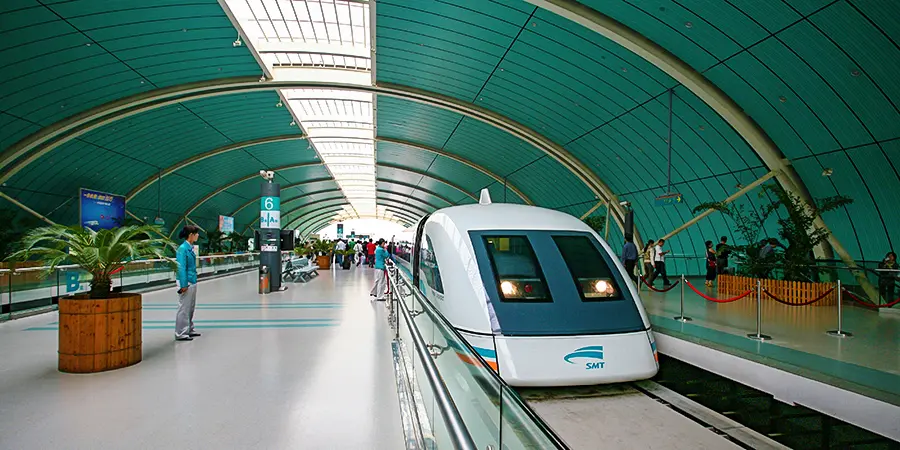 Shanghai Maglev Train
The magnetically levitated train is the fastest of all the land transportation vehicles with the highest operating speed of 431km/h. In China, only Shanghai has this type of train, opened in 2002. It runs between Shanghai Pudong International Airport and Longyang Road Station (Close to Metro Line 2) from 7:00am to 9:00pm, departing every 20 minutes. The one-way ticket price is 50 Yuan per person or 80 Yuan per person for the roundtrip journey. There are discount rates too. For more detailed information, please refer to Shanghai Maglev Train (SMT).
Ship
In urban transportation system, ship is not one of the major roles. However, in some port cities, ship is frequently used on cargo transportation, owing to its lower cost. Additionally, some piers provide passenger transportation. At present, there are cruise services in Dalian, Haikou, Hong Kong, Ningbo, Qingdao, Qinhuangdao, Shanghai, Tianjin, Weihai, Xiamen, Yantai, and Zhuhai and other coastal cities. Please see
Coastal Cruises
to know the related details.
Rickshaw
Today, rickshaw is not often used in cities, as automobiles gradually substitute it and become the most important role in urban traffic system. In Beijing, rickshaw is highly recommended when you visit hutong (a kind of very characteristic old alleys). In Pingyao Ancient Town of Shanxi, rickshaws are very popular with tourists.
| | |
| --- | --- |
| Ships in a port of Weihai, Shandong | Rickshaw is popular in touring Beijing Hutongs |
- Last modified on Apr. 14, 2021 -
Questions & Answers on China Urban Transportation
Asked by YR from KOREA | Apr. 12, 2016 23:09

Reply
Planning a quick trip to Beijing. Is it easy to travel to tourist spots using the subway only?
Answers (1)
Answered by Joe from POLAND | Apr. 13, 2016 22:43

1

1

Reply
The subway service in Beijing is quite convenient.
Generally, major spots in downtown area, like Tiananmen Square, Forbidden City, and Temple of Heaven can all be easily accessed by metro.