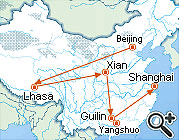 Classic China Tour with Tibet
ST13: 14 Days China Tours from Munich Germany to Beijing

Lhasa

Xian

Guilin - Yangshuo - Guilin

Shanghai
If you are going to visit the highlight cities in China from Germany, we would like to suggest you plan Beijing as your first stop. In this case, you can fly from Munich to Beijing by taking one of the daily direct flights. China Airlines flight CA961 1415/0610+1 and its code share Lufthansa flight LH7318 1415/0610+1 are available in every afternoon. The flight LH722 1920/1055+1 and its code share flight CA6222 are scheduled every evening. The flying times of the flights are nearly 10 hours. Visitors from Nurumburg, Stuttgart and Fussen can proceed to Munich first, and then take the flight to Beijing.

Tips: Since this popular China tour itinerary includes a visit to Lhasa, which is on the Tibetan Plateau, some people may have the concern with mountain sickness. We would like to suggest you have a physical examination beforehand and consult your doctor for your physical condition. For those who are weak in heart and pulmonary functions or have problems like anemia or hypertension, you are not able to go to Tibet. Also, it is important not to be nervous and worry about your trip too much as being stressed will increase the susceptibility to catch a cold, which is quite troublesome before or during a visit to Lhasa.
Welcome to Beijing Capital International Airport! After your baggage reclaiming and customs clearance, you will find our guide is waiting for you at the arrival hall. A comfortable private transfer will take you to the hotel. The rest time of the day is free for you to explore the city and prepare to your inexpensive China student tour from Munich.
Meals: No meals, advice freely available
Accommodation:
Days Inn Forbidden City Beijing



Forbidden City, Beijing
As a capital of many dynasties in ancient China, Beijing is teemed with historical and cultural sites. Your first destination is the largest city square in the world,
Tiananmen Square
, which can hold 100, 0000 people at one time during the important national celebrations. Across the square to its north end, you will come to the
Forbidden City
, namely Imperial Palace. The splendid palace which has exquisite decorations and large collection of historical items will bring you back to the prosperous Ming and Qing dynasties, between the 14th century and the 20th century. Lunch is on your own expense, but our guide is happy to offer you some suggestions if you need. In the afternoon, you will visit the
Temple of Heaven
, which is one of the most extraordinary architectural masterpieces.
Meals: Western buffet breakfast
Accommodation: Days Inn Forbidden City Beijing



After breakfast, you will be escorted to visit the famous
Great Wall
at Badaling. Built in the Ming Dynasty about 600 years ago, Badaling Great Wall is the best-preserved section of this famed architectural wonder. Although it is physically challenging to climb up the wall, you are rewarded with spectacular sights and a feeling of conquering difficulties. Please make your own arrangement for lunch and our guide is ready to give advice. While driving back to downtown, we will pass by the
Bird's Nest
of the 2008 Olympic Games. You will have some free time to take photos with this huge nest. Your last stop today is the largest royal garden in China -
Summer Palace
, which perfectly blends imperial garden with the natural landscape.
Meals: Western buffet breakfast
Accommodation: Days Inn Forbidden City Beijing



Sera Monastery, Lhasa
You will be taken to the airport for an early morning flight to Lhasa. Your local guide will greet you at the airport and transfer you to the hotel. Lhasa is one of the highest cities in the world with an altitude of 3,650 meters (11,975 feet) above sea level, so the rest of the day is reserved for you to adapt yourself to the high altitude.
Meals: Western buffet breakfast
Accommodation:
Gang-gyan Lhasa Hotel




Your sightseeing today starts with
Tibet Museum
, the first modernized museum in Tibet. The large collection of exquisite historical items here will show you the glorious history and unique culture of Tibet. Lunch is not provided, so please have it on your own. Next you will visit
Sera Monastery
, which is famous for its interesting sutra debating among lamas. A visit to
Norbulinka Park
, the largest artificial park in Tibet, is scheduled for you before transferring you back to the hotel.
Meals: Western buffet breakfast
Accommodation: Gang-gyan Lhasa Hotel




Our clients in front of Potala Palace, Lhasa
Today's first stop will be the highlight of Lhasa, the magnificent
Potala Palace
. Consisting of a Red Palace and a White Palace, it is the largest monumental structure in Tibet and the home to a splendid collection of artworks. You will then visit
Jokhang Temple
, which is the oldest wood-and-earth construction in Tibet. Built in 647 by combining Tang Dynasty, India, and Nepal architectural styles during the same period, this temple is regarded as a classic example of the religious construction in Tibet. Please make your own arrangement for lunch. You will then wander along the bustling
Barkhor Street
, which is not only a venue for prayers but also the most prosperous commercial street in the region. Afterwards, you will visit a Nunnery to learn about the daily life of Buddhist nuns.
Meals: Western buffet breakfast
Accommodation: Gang-gyan Lhasa Hotel




Your Tibet tour from Munich concludes today. You will be escorted to the airport for flight to Xian. On arriving, our local guide will meet you on time at the airport and then a comfortable private transfer will take you to check in at the hotel.
Meals: Western buffet breakfast
Accommodation:
Days Inn City Centre Xi'an



Terracotta Warriors Museum, Xian
This morning we will transfer you out of downtown to the
Terracotta Warriors and Horses Museum
, where you could see thousands of pottery soldiers and horses made more than 2200 years ago. It is very interesting that no two soldiers look alike, and they are all featuring different expressions and postures. Please make your own arrangement for lunch. After that, we will show you the
Provincial History Museum
, the treasure house of northwest China, which collects a large number of rare historical relics showing the achievements of different eras. Later your visit continues to the
Big Wild Goose Pagoda
, one of the best-known landmarks of Xian.
Meals: Western buffet breakfast
Accommodation: Days Inn City Centre Xi'an



Today you will have some time for self-service exploration in Xian. We suggest you visit the City Wall, the Great Mosque and Muslim Quarter, all of which are only short distances from your hotel. If you are energetic enough, you can walk about 1.6 km (approximately 1 mile) southward from your hotel to ascend the ancient City Wall from the South Gate. You can rent a bicycle and have fun on the wall. After that, you are advised to walk northward for about 1 km (0.6 mile) to the Bell Tower and take the underground passage to the Drum Tower, from where you can easily find your way to the Great Mosque and the Muslim Quarter. Please return to your hotel and complete the check-out formalities before noon. Please manage your time wisely to catch the flight to Guilin. You can take Airport Shuttle Bus or avail of our Car Rental with Chauffeur to the airport. For airport shuttle bus, you first need to take a taxi to Xishaomen Airport Business Hotel and then get on the Airport Shuttle Bus Line 1. Our local guide and driver in Guilin will meet you at the airport and transfer you to the hotel.
Meals: Western buffet breakfast
Accommodation:
Hotel Universal



Day 11
Guilin - Yangshuo - Guilin
Elephant Trunk Hill, Guilin
This morning our guide and driver will transfer you to the pier and say goodbye to you after you board the
Li River
Cruise. You will enjoy the Li River scenery yourself and plan your own activities for the rest of the day. It is generally considered that Li River is the soul of Guilin landscape. It has the most beautiful water in the world with stunning peaks along the riverbanks, and the peaks in various shapes can meet all your imagination. After 4 hours cruise journey, you will arrive at Yangshuo, a small town near Guilin but has attracted numerous westerners to settle down. In addition to wandering around the West Street, you can rent bicycle to explore the countryside and enjoy charming pastoral scenes. Please buy bus ticket at the bus station and return to Guilin by yourself. (Tips: Since the simple box lunch provided by the cruise is not up to TCG's serving standard, you may consider having a hearty breakfast at the hotel this morning.)
Meals: Western buffet breakfast, Lunch
Accommodation: Hotel Universal



You will spend much of the day in Guilin. After check-out, you can store your luggage in the hotel and take a self-guided tour to the city's most-visited sightseeing spots including the Reed Flute Cave, the Elephant Trunk Hill and the Seven Star Park. It is recommended that you take metered taxi from place to place, which is more convenient and time-efficient.
We will book a late afternoon flight to Shanghai for you. It usually takes about 40 minutes to get to the airport at cost of CNY100.00 by taxi, so you'd better allow yourself ample time for the transfer, as well as airport check-in and security. Your flight will arrive at Shanghai in the evening, so we suggest you take a taxi to the hotel we book for you. There are two airports in Shanghai: Pudong International Airport (PVG) and Hongqiao Airport (SHA). For your reference, it takes about one and a half hours from Pudong airport to your hotel at cost of about CNY170. If you land at Hongqiao airport, it may take around half an hour and cost no more than CNY60.
Meals: Western buffet breakfast
Accommodation:
Golden River-view Hotel



Shanghai Bund
Shanghai is an international metropolis with good public transit system, and its major tourist attractions are easy doable without tour guide. Therefore, you will have the full day free to schedule your own activities. We suggest you take taxi for your visits today to save time. The fare is about CNY15 to CNY30 per trip. Here is a popular sightseeing itinerary for you to follow. You can first visit Shanghai Museum, which is one of the four greatest museums in China. Here you can see a mass of national treasures including various potteries, costumes, brass wares, coins, calligraphy and paintings, which give visitors great insight into the brilliant Chinese culture and art. Auto-interpreter device (CNY40 per piece) is highly recommended for a better experience. Next you may head to Yuyuan Garden. Featuring delicate lay-out and ingenious design, the classical Yuyuan Garden is an oasis of comfort and beauty amid the busy hum of Shanghai. The nearby Chenghuangmiao area boasting a good mix of souvenir shops and distinctive chophouses is also worth a visit. For the rest of the afternoon, you may walk or take a taxi to the Bund area for a leisure stroll.
Meals: Western buffet breakfast
Accommodation: Golden River-view Hotel



Your China highlight tours from Germany come to the end today. Please check out of the hotel before noon and find your own way to the airport to board your outbound flight. You can book the Lufthansa flight LH727 2335/0535+1 or its code share Air China flight CA6227 2335/0535+1 back to Munich, which takes about 12 hours. The flight CA827 0100/0710 and its code share flight LH7061 0100/0710 are also available on every Monday, Friday and Sunday.

You can again take a taxi, which is the most convenient way. Alternatively, you can take subway line 1 and change to line 2 at People's Square Station to Pudong Airport. Hope the information is helpful to you. We wish you a nice journey home.

Meals: Western buffet breakfast
The above routes do not meet your requirements? Please click
Tailor My Trip