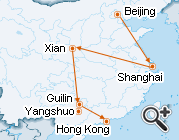 Oriental Elites Appreciation
B-103B:
17 Days China Tours to Beijing

Shanghai

Xi'an

Guilin - Yangshuo

Hong Kong
Rickshaw riding in old Hutongs, Beijing
Disembarking from the plane at the Capital Airport, you need to find a hotel to rest. Holiday Inn Express Beijing Dongzhimen is recommended, which is 400 yards north of Beijing Workers' Sports Complex. The taxi ride from the airport is about 40 minutes and charges CNY80. Please relax yourself in the hotel after check-in. Or you may stroll around to make some preparation for the following day's Beijing to Hong Kong tour by bullet train. For instance, buy a tourist map of the city and check the nearest bus stops, restaurants, and stores.

Accommodation Suggestion: Holiday Inn Express Beijing Dongzhimen
We advise you start your self-exploration from the landmarks of Beijing,
Tiananmen Square
and
Forbidden City
. You may take a taxi to the Tiananmen Square first at a cost of CNY30. Spend some time on the square taking photos and visiting tourist attractions, such as
Memorial Hall of Chairman Mao
,
National Museum of China
, and
Great Hall of the People
, and then go across Chang'an Street to the
Tiananmen Tower
. Walking through the tower, you will reach the entry of the Forbidden City, the Meridian Gate. In addition to the ticket office, many other service centers are set up beside the gate, including guide center, left-luggage office, lounges, as well as rental center for strollers, wheelchairs, and umbrellas. Since it is a large imperial architectural complex with nearly 10,000 rooms, you are advised to buy a tourist map before entry. You can also hire a guide charging CNY100-250 for a group of less than 5 persons, or rent an audio guide at a cost of CNY40 each with a deposit of CNY100. A normal visit along the central axis takes 3 hours, starting from the southern Meridian Gate and ending at the northern gate, the Gate of Divine Prowess.
When you get out of the palace, please have lunch nearby, and then take a taxi to the well-known
Prince Gong's Mansion
, an old courtyard among quaint
Hutongs
. The taxi fee is around CNY15. After the visit, you may take a rickshaw either to the
Skewed Tobacco Pouch Street
to have some local snacks, or to the Shichahai Bar Street to relax with a drink. Finally, take a taxi back to your hotel with a fare of CNY20.
Mutianyu Great Wall
Today we'd like to suggest you make a visit to
Mutianyu
, a well-developed Great Wall section in suburb Beijing. It is a good hiking destination for people of all ages, as cable car and slideway are available there to make the trip easier. Please take some snacks for lunch. Although there are some local restaurants, it is not recommended to have a meal in any of them, for they mostly sell low quality food but at a very high price. To Mutianyu, please take a taxi to Dongzhimen Transport Hub with a fare of CNY13; get on bus no. 916 there to Huairou Beidajie in 3 hours, and then hire a minibus with a cost of CNY50-60 to the wall. If you carpool with other visitors, the fare will be much cheaper, about CNY10-15 per person.
After visiting the Great Wall, take the same route back to Dongzhimen, hop onto a taxi back to your hotel and find a nearby restaurant for dinner.
Chinese Kung Fu Show
After the energy-consuming trip to Mutianyu in the outer suburb on the previous day, you may get some extra sleep in the morning. After having breakfast at the hotel, you can take a taxi to
Yonghe Lamasery
for a fare of CNY15. Spend 2 hours there and then you may go across Yonghegong Street to find the entrance to
Guozijian Street
, where the
Temple of Confucius
and
Imperial Academy
are located. After that, we recommend you head for
Guijie Food Street
to pamper your stomach. Walk south from the eastern end of Guozijian Street for 550 yards and you will get to Guijie Street.
After lunch, you may take subway line 5 from Beixinqiao Station to Tiantan Dongmen Station. Leave from Exit A2 and enter the
Temple of Heaven
from its east gate. You'll have a leisure afternoon strolling around. Still get out from the east gate and walk east for 1,000 yards; turn north into Xingfu Street and walk for about 5 minutes, you will see the
Red Theater
on your right hand side, where you can enjoy fabulous Chinese Kung Fu show. There are two performances at 17:15 and 19:30 daily. After viewing the wonderful show, take a taxi to your hotel at a cost of CNY30.
Today you will take a high speed train to Shanghai in the afternoon. Please check out after breakfast and store your luggage at the front desk. You can visit
Qianmen Street
and
Dashilar Street
this morning for souvenir shopping. A taxi ride from your hotel may cost CNY25. You can find dozens of century-old brands there, such as Quanjude, Bianyifang, Ruifuxiang, Tongrentang and Zhangyiyuan. After having lunch there, please get back to the hotel to pick up your luggage at least two hours ahead of your train's departure time. A taxi ride from your hotel to Beijing South Railway Station costs around CNY50 and you will arrive there in 30 minutes.
The train journey is around 5 hours and you will spend the dinner time on the train. You can either pack some snacks before departure or have a meal in the dining carriage, which is in the middle of the train. Upon arrival at Shanghai Hongqiao Railway Station, please find the way to your own booked hotel. We suggest you the Shanghai Fish Inn Bund, located between Tiantong Road and East Nanjing Road subway stations. You can take subway line 2 or 10 at Hongqiao Railway Station and get off at East Nanjing Road; leave from Exit 5 and go northwards for 340 yards to find the hotel on your left.
Accommodation Suggestion: Shanghai Fish Inn Bund
Huangpu River, Shanghai
We suggest you begin your Beijing Hong Kong tour in Shanghai with
Shanghai Museum
. You can take subway line 2 at East Nanjing Road Station for one stop to People's Square; get out from Exit 1 and walk south to find the museum. You are recommended to stay in the museum for 2 hours.
After that, you may have lunch around the
People's Square
or walk north to Nanjing Road to try some local snacks. Then take subway line 2 from East Nanjing Road to
Lujiazui
. Leave from Exit 6 and you will immediately see the towering
Jin Mao Tower
, together with
Shanghai World Financial Center
and
Shanghai Tower
, in front of you. It's a wonderful experience to climb up to the 88th floor of Jin Mao Tower to have a bird's eye view of the cosmopolitan city in all directions.
Coming down from the tower, you may walk south along Middle Yincheng Road for 480 yards to find the ferry port. You can take a ferry there to cruise through
Huangpu River
. You will disembark at
the Bund
, where you can view exotic buildings clusters and beautiful night scenes of Shanghai. When your visit is over, please get to the northern end of the Bund and walk westwards along East Beijing Road for 700 yards to your hotel.
We advise you visit
Yuyuan Garden
before taking a high speed train to Xi'an at around 14:00, and the train G1932 is a good choice. You are suggested to book the tickets in advance. TravelChinaGuide can help you do the reservation. Please check out and leave your luggage at the front desk after breakfast. Take subway line 10 from East Nanjing Road for one stop to Yuyuan Station; use Exit 3 and walk east along Fuyou Road for 430 yards to the Yuyuan Garden. A general visit to the garden takes about 2 hours. After that, you may either enjoy local snacks or do some shopping at the Yuyuan Bazaar, and then take a taxi back to the hotel at a cost of around CNY15. To avoid the unpredictable traffic jams, you are advised to take the subway line 2 from East Nanjing Road to Shanghai Hongqiao Railway Station directly. The ride takes about 40 minutes and costs CNY5 per person. When you arrive at the train station, collect the tickets either at a vending machine or the ticket office, and then wait for check-in.
The train ride takes about 6 hours, and you will pass the supper time on board. Don't worry, there are fast food provided at supper time, and there are also snacks and drinks sold on the train. In the early evening, you will arrive at the North Railway Station of the ancient city, Xi'an. Located at the city proper, the Grand Soluxe International Hotel near the Xi'an Railway Station is recommended, where you can have easy access to attractions. The subway line 2 can be taken from the North Railway Station to North Street Station, and then change to line 1 to Wulukou Station. Take the Exit D and keep walking north straight for 400 yards, you will find the hotel on your right side. Alternatively, you can take a taxi to the hotel directly at a cost of about CNY50 if travelling with big luggage at night.
Accommodation Suggestion: Grand Soluxe International Hotel Xi'an
Our clients visiting Terracotta Army Museum
After breakfast, you can walk north to the east square of Xi'an Railway Station to take Tourist Bus No. 5 (306) to the
Terracotta Army Museum
. The journey takes around one hour and the ticket price is CNY7 per person. Normally, you'll spend 2 - 3 hours in the museum. At lunch time, you may appease your hunger with some fast food at Subway, KFC, King Coffee, or Dicos. Please avoid food provided by other local restaurants near the museum, for they are not welcomed among backpacking travelers because of the low quality and inflated price. Thereafter, take the same bus back to the railway station and check in the hotel.
After a short break in the hotel, go across the road to take bus no. 201 to the
Bell Tower
(Zhonglou). After alighted, you may take photos of the wonderful Bell Tower and then, head west towards the
Drum Tower
, behind which is the well-known
Muslim Quarter
. If you are not that tired after the shopping and dining in the Muslim Quarter, you can get back to the Bell Tower again. The tower will be lit at night. It should be a good choice to enjoy the splendid nightscape before getting back to the hotel by taxi.
A free vegetable market by the City Wall
Today, the itinerary of your China independent tour covers
Shaanxi History Museum
,
City Wall
, as well as
Shaanxi Song and Dance Theater
.
Starting from your hotel, you may go across the road to take bus 5 or 30. Get off at Cuihua Road and the Shaanxi History Museum is a few yards west of you. You may queue up for a free ticket with your passport to enter the museum, or buy a ticket of the Special Exhibition Hall at a cost of CNY20 to avoid waiting in the long line.
When you get out of the museum, have lunch in a nearby restaurant and then continue your excursion to the Yongning Gate of the City Wall. Take bus no. 26 in front of the museum to Nanmen, then walk north to find the ticket office at the Yongning Gate. Climb up to the top of the wall; you will have an overall view of the city by bike, battery car, or on foot.
After strolling around for 1.5 hours, get down from either Yongning Gate or Heping Gate and then take a taxi to Shaanxi Song and Dance Theater at a cost of CNY9, where the Dumpling Banquet and music and dance performances of the Tang Dynasty (618 - 907) are presented.
When today's tour is over, you may take a taxi with a fare of CNY10 back to your hotel.
Today you will take a plane from Xi'an to Guilin. Please check out of the hotel after breakfast. Go south for 400 yards to take the airport shuttle bus in front of Longhai Hotel. The bus trip should take about one hour and charge CNY25. You can also take a train from Xi'an Railway Station to Guilin if you don't mind the 28 hours' long bump on the train.
Upon arrival in Guilin, you are suggested to live in the Guilin Park Hotel, which is quite near the
Folded Brocade Hill
and
Solitary Beauty Peak
. You can take a taxi to the hotel directly and it charges around CNY120. You may also take an airport shuttle bus to the Civil Aviation Hotel first, and then hop onto a taxi to the hotel. The whole trip should cost CNY20+15.
After checking in, you may have some food in the hotel or a nearby restaurant, and then take a stroll around to enjoy the ravishing night view.
Accommodation Suggestion: Guilin Park Hotel
Day 11
Guilin - Yangshuo - Guilin
The
Li River Cruise
to
Yangshuo
is a must and highlight of your Beijing Hong Kong tour in Guilin. To smooth your trip, we advise you book the cruise ticket through the hotel in advance. The cruise ship departs from Mopanshan Dock at around 9:00. As there is no direct bus from the downtown, you may take a taxi to the dock, which costs around CNY70 and takes less than 1 hour.
When you arrive at Yangshuo after 4~5 hours' river trip, you are advised to disembark from the Shuidongmen Dock near the Green Lotus Peak and walk south to reach the northern end of the
West Street
. The West Street is lined with western cafes, restaurants and hotels. You can have a meal in one of the restaurants to get your strength back after the long cruise. The enchanting countryside landscape of Yangshuo boasts to be the best in Guilin. Thus, we also advise you take a bicycle trip along the
Ten-Mile Gallery
to the
Moon Hill
, which is about 3 miles south from the West Street. The natural scenery along the way is very spectacular.
To make full use of the time, we suggest you go back to Guilin the same day by taking a long-distance bus at Yangshuo North Bus Station. The bus takes about 1.5 hours on the way and costs CNY25 per person. Upon arrival in Guilin, take a taxi back to your hotel with a fare of CNY10.
West Street in Yangshuo
Guilin is bestowed with joyful hills, river, and karst caves. Today you are advised to spend a whole day exploring the city. As Guilin is not very large, you can take taxi traveling around and the taxi fare won't be too much. Your first stop is
Reed Flute Cave
, where you can enjoy peculiar stalactites in karst caves. A taxi ride from your hotel to the scenic area should cost CNY20. After 2-3 hours' visiting, still hire a taxi to
Seven Stars Park
, another destination to feel the beauty of karst caves, and then
Elephant Trunk Hill Park
to see a naturaly-formed giant stone elephant standing at the riverbank. At the end, you may hail a taxi from Elephant Trunk Hill back to your hotel with a fare of CNY10.
Day 13
Guilin - Hong Kong
After breakfast, please check out of the hotel and take a taxi to Guilin West Railway Station for a high speed train to Hong Kong. The taxi ride takes about 30 minutes and costs CNY30 per cab. Besides, the public bus No. 22 can also take you to the station and the journey takes around 50 minutes. Upon arrival at Hong Kong West Kowloon Railway Station after 3.5 hours' trip, you may hail a taxi with a cost of about HKD$100-HKD$150 to the recommended Holiday Inn Express Hong Kong Kowloon East.

Accommodation Suggestion: Holiday Inn Express Hong Kong Kowloon East
After having breakfast in the hotel, you may begin your tour with Hong Kong Museum of History. Walk to the nearby Tseung Kwan O bus stop to take bus no. 796X and get off at Tsim Sha Tsui East, you will see Hong Kong Museum of History right in front of you.
Hong Kong is praised as the Shoppers' Paradise.
Tsim Sha Tsui
is one of the most popular shopping districts, brimming with modern malls, old stores, and restaurants. When you get out from the museum, you can walk southwest to enter a small lane and start your exploration in Tsim Sha Tsui.
After that, take subway Tsuen Wan Line from Tsui Sha Tsui Station to the Central and leave from exit K; then find the way to Central Star Ferry Pier or Hong Kong City Hall. Take the Bus No. 15 or Minibus Line 1 to the
Victoria Peak
, where you can have a full view of Hong Kong. There are also many scenic spots on the peak, including the
Peak Tower
, Peak Market,
Madame Tussauds Hong Kong
, Sky Terrace 428, and Sky Gallery. You are advised to have dinner on Victoria Peak and enjoy breathtaking and exclusive night views of the city at the same time.
Finally, take the bus back to Central Subway Station. Take Island Line there and transfer to Tsueng Kwan O Line at North Point Station; get off at Tsueng Kwan O Station and walk back to the hotel.
Hong Kong Disneyland
Today, we advise you go to the
Shek O Country Park
to follow the Dragon's Back hiking tour, which was declared as the Best Urban Hike in Asia by Time Magazine. Please take Tseung Kwan O Line to Shau Kei Wan of Island Line, with a transfer at Quarry Bay Station; get out from Exit A3 to take bus no. 9 to To Tei Wan, Shek O Road, and then follow the signposts to start the Dragon's Back hike. After the climbing, you can walk to the long stretch of beach to the east to swim and take a sunbath.
The night scene of
Victoria Harbor
is praised to be worth one hundred million dollars. This day's backpacking route will end at this wonderful site. The
Symphony of Lights
at Victoria Harbor starts at 20:00, so you'd better get there before that time. From the Country Park, please still take bus no. 9 to Shau Kei Wan and transfer to Island Line; get out from Exit A1 of Wan Chai Station and go east for about 140 yards; turn north onto Fleming Road and walk on for another 800 yards, you will get to the Victoria Harbor to enjoy the magnificent show and splendid night scenes.
Then walk back to Wan Chai Station and take Island Line to Quarry Bay; transfer to Tseung Kwan O Line back to your hotel.
You may either visit
Ocean Park
or
Disneyland
today according to your personal interests. To Ocean Park, you may take Tseung Kwan O Line to North Point, where you can transfer to Island Line to Admiralty Station; get out from Exit B, and you will see the direct special tourist bus No. 629 to the Ocean Park. Using public transportation to the Disneyland may be a little inconvenience. You are suggested to let your hotel call a cab for you. The taxi ride from your hotel to the Disneyland should cost HKD260.
After returning to the hotel, you may stroll around to enjoy your last night in Hong Kong.
Day 17
Departure from Hong Kong
Your splendid Beijing to Hong Kong tour by bullet train ends today. Please check out and call a cab to the Hong Kong International Airport, which takes 1 hour and costs HKD315. Farewell and have a good journey home!

Alternatively, you can extend your stay in Hong Kong. Visitors from many countries are allowed to stay in Hong Kong for a certain visa-free period. UK citizens are exempt from Hong Kong visa for 180 days; visitors from USA, Canada, Australia, Germany, France, Mexico, Brazil, Singapore and Malaysia have a 90-day visa free period; travelers from Thailand are exempt for 30 days; visitors from India and the Philippines have a visa-free period for visit not exceeding 14 days.
Need detailed infomation on train, flight or bus/ metro schedule? Use the search tool below.
If the above route does not meet your requirements, you could DIY an itinerary by choosing daily guided tours, free days, hotels, trains and/or flights freely. Our estimated quotation can be a reference for your independent travel.

Similar Guided Itineraries:
Oriental Discovery: 11 Days Small Group Beijing - Xian - Guilin - Yangshuo - Guilin - Hong Kong starting from $1299
Oriental Elites Appreciation: 12 Days Private Beijing - Shanghai - Xian - Guilin - Hong Kong starting from $1939