Clear Noodles in Chili Sauce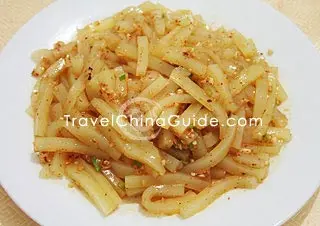 Chinese name: 川北凉粉 (chuān běi liáng fěn)
Style:
Sichuan Cuisine
Characteristics: This cold dish tastes a little bit hot, fresh, soft and pleasant.
Having a history of over 90 years, clear noodles in chili sauce, also called Chuan Bei Liang Fen, has been well-known in Sichuan since it was first produced.
Noodles can be made from rice, green beans, peas or other beans, while the clear noodles in this dish are usually made of peas of high quality after being hulled.
clear noodles, 250g
Preparation:
cut them into slices and then cut again into strips or just into thin slices. Put them into a soup plate.

salt
soy sauce
prickly ash seeds powder
sesame oil
chicken essence (chicken stock/bouillon) or monosodium glutamate
mashed garlic
mashed green onion
ground chili
vinegar
Note: the amount of the seasonings listed above can be appropriately used according to one's personal taste.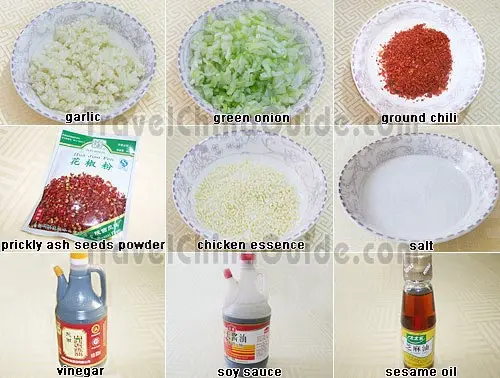 Methods:
STEP
1
Mix together the mashed garlic and green onion, ground chili, prickly ash seeds powder, salt, chicken essence, sesame oil, vinegar and soy sauce. Add into the clear noodle slices.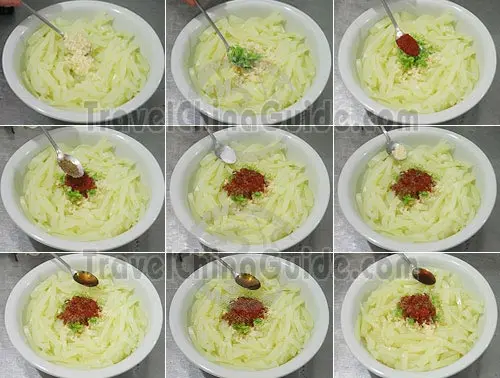 STEP
2
Place a wok over high heat until hot. Add some cooking oil to be heated up to about 90℃ (194℉). Spoon the oil out and pour in the seasonings, adding in the clear noodles.

STEP
3
Stir it well with chopsticks or a spatula until all the materials are mixed up. Finally, pour it into a prepared porcelain plate.

A plate of tasty clear noodles in chili sauce comes out which can be eaten singly or with rice, ready to be served. With this recipe, anyone can make this spicy but tasty dish at home.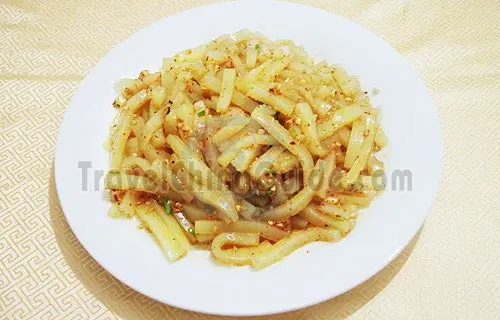 Legend about Clear Noodles in Chili Sauce
Years ago, a peasant named Xie Tianlu sold clear noodles in a shelter and his great cooking technique was praised by all of the customers because of the uniqueness of the combination of seasonings with the noodles. Later, another peasant Chen Hongshun did a thorough study of the techniques for making clear noodles, adopted Xie Tianlu's good points and improved them. Chen Hongshun selected fresh peas and ground them, and then he paid great attention to the heat control when making the clear noodles. Thus, Chen's are clear but not transparent, thin but not broken superior of Xie's. Soon, Chen's became well-known in northern Sichuan, hence its name.
Our Guests Attending Cooking Class
Our Guests in a Chinese Family

On Oct. 22, 2012, Mr. Marco, Ms. Eva, Mr. Enrique & Ms. Luz from Mexico had a private visit to a typical Chinese family in Xi'an. They said that the most interesting and impressive was learning to cook

Shredded Pork with Sweet Bean Sauce

,

Sweet and Sour Pork with Pineapple

& Clear Noodles in Chili Sauce, and that they appreciated the hostess' graciousness and patience very much.

The Murie's Dining in a Local Family



On April 14 2012, Mr. Ian, Ms. Tania, Mr. Cameron and Ms. Sienna from Australia paid a visit to a family in Xi'an with our tour guide. And they enjoyed a meal with all home-made Chinese dishes. It was funny that Sienna even said the food offered by the welcoming host is much better than the restaurants. Also, Ms. Tania cooked Clear Noodles in Chili Sauce very successfully under the guidance of the host. They were delighted to see how the local Chinese family live and how the food were prepared and served during this visit.

Ms. Marilyn & Ms. Dianne in a Chinese Family

On Oct. 5, 2010, Mr. Thomas, Ms. Marilyn & Ms. Dianne from USA visited a local family in Xi'an which is a representative family especially chosen by Travelchinaguide for foreigners to know about the true life of the Chinese people. What's more exciting is that they had an on-spot cooking class in the family by learning to cook

Eggplant in Sichuan Style

& Clear Noodles in Chili Sauce.
More popular cold dishes in China:
- Last modified on Oct. 25, 2019 -