Code: GF-HZ01
9 Days Golf Tour of Hangzhou - Ningbo - Putuo - Shanghai
Hangzhou Golf Tour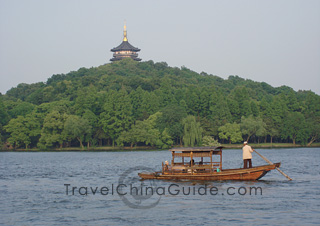 West Lake, Hangzhou
In the morning, take car to the famous West Lake scenic spots which mainly including ten different views with their unique features. It initially becomes formed in the Song Dynasty and stands for the essence of West Lake in the ancient times. Whether the natives or the tourists will linger on its stunning scenery and forget to leave. Then drive away to the Lingyin Temple (Temple of Inspired Seclusion) in the Fei Lai Fen scenic spots. According to the legendary, your dream will come true if you pray genuinely in the temple. Therefore, the joss there is worshipped widely by the people. Then you may visit the "Tiger runs nearby the springs" and taste the tea culture by the way. Stop at the Song city, an ancient scenic spots with thousand year's history. At the end of the day, appreciate the superior silk in the south of the Yangtze River and you may take it for your friends or families. In the next day, play your golf freely at Hangzhou West Lake International Golf Club.
Extension Golf Tour to Ningbo
If Hangzhou stay could not fully present the features of the city in the South of the Yangtze River, take 2 hours drive to Ningbo and continue your journey. You can visit the Tianyi Pavilion, the Tianfeng Pagoda and the Baoguo Monastery. To a golf lover, play a course of golf at Ningbo Delson Green World Golf Club is a necessary activity at the end of the day. In the next day, take a ferry to puton and visit the Purple Bamboo Grove Scenic Area, the Statue of South Sea Kwan-yin, the Puji Monastery, the Fayu Temple and the Thousand-Pace Golden Beach.

For any organized tour, please check our
Hangzhou Tour Packages
.

RELATED GOLF CLUB INFORMATION:
1. Hangzhou West Lake International Golf Country Club
The West Lake International Golf Club is designed by the great golf star Jake Nicklaus. It presents the golfer with two very distinct 9-hole experiences, both very enjoyable to the variety of golfers who will play there. 9 holes offer golfers of all handicap levels a very playable golf course with a variety of shot options on each hole-a different experience from that of the other 9 holes, which features a significant elevation changes, dramatic views and a challenging layout for the more experienced golfers. Golf course is a 4,000 mu, par 72 that measure 7,331 yards.
Address: No. 200 Zhijiang Road, Zhijiang National Tourism and Vocational Zone, Hangzhou, Zhejiang, China
Tel: 86-571-87310428
2. Hangzhou Fuchun Resort

Fuchun Resort is located in Fuyang scenic area in Hangzhou, surrounded by famed Fuchun Mountains and Fuchun River. It is only 40 minutes' drive from Hangzhou Airport. The course is the only international golf holiday resort that uses Tea Garden as the theme in east China. There are three conceptions in Fuchun Resort which is Simple, Elegant and Multi-cultural. This makes it the best Golf club in Hangzhou. You will definitely enjoy yourselves by playing golf here. It is a 18 hole 72 par golf course.

Address: Hua Shu Village, Fuyang, Hangzhou, Zhejiang, China
Tel: 86-571-63462999 / 6346 2706


3. Ningbo Delson Green World Golf Club

Delson Green World Golf Club is the first golf club in Ningbo. Its golf course is located in Dongqian Lake Holiday Resort, with very beautiful sceneries for you to enjoy when you play golf here. It is 20km from downtown Ningbo and a ride of 30 minutes' from Ningbo Airport. Delson Green World Golf Club provides a 18 hole international standard golf course with 6 artificial lakes measuring 7200 yards. Some of the hole design offers a real challenge to the professional golf players.

Address: Han Ling, Dong-Qian Lake, Ningbo, Zhejiang, China
Tel: 86-574-8840 1166
Fax: 86-574-8840 1666