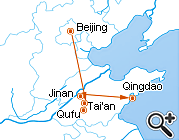 Splendor of Mt. Tai & Confucianism
B-113: 9 Days China Tour from Berlin Germany to Beijing
Tai'an
Qufu
Jinan
Qingdao
Mount Taishan
in Tai'an is one of the five greatest mountains in China, which is well-known among backpacking travelers from abroad for having a perfect blend of cultural relics and natural landscape. For German tourists, you can plan your China holiday tours from Berlin Germany to Tai'an via Beijing. Based on the current flight schedules, HU490 1940/1050+1 from China Hainan Airlines and AB5810 1940/1050+1 from Air Berlin are available on every Monday, Wednesday, Friday, and Sunday from Berlin to Beijing. The flight AB5810 has been code-shared with HU490, and their flying time is 9 hours and 10 minutes. Tourists from Hamburg or Bremen can travel to Berlin first and then connect flight to Beijing.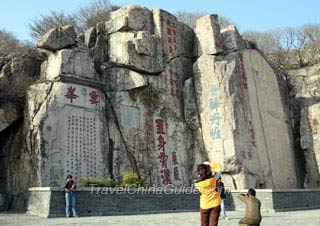 Mount Taishan
You will land at Beijing Capital International Airport today. If it is your first time to Beijing, you may stay in the city for a few days to visit the famous spots including the Great Wall, Forbidden City, and Summer Palace.

For second-time travelers, you may head to Tai'an directly. Please get to Beijing South Railway Station by airport shuttle bus line 10 to catch an afternoon high speed train to Tai'an. There are many trains running between these two cities, so you can purchase the tickets upon your arrival.

You will arrive in Tai'an after 2 hours. From the railway station, you need to find the way to your hotel. We suggest you to live in Huatai Hotel, which is located at the crossing of South Yingsheng Road and Leigushi Street. Take bus no.17 when you get out of the train station and get off at Huatai Hotel bus stop; walk backwards for a few yards to find the hotel. Or you can take a taxi to your hotel and the fare is about CNY20.

Accommodation Suggestion: Huatai Hotel
Confucius
This morning, we suggest you get up early and go for the first destination of your China independent tour, Mount Taishan, one of China's top five mountains. After having breakfast in your hotel, please pack some food and water along with you, for the climbing can consume much of your energy.
There are two popular climbing routes: the first is to hike 2 hours from the Red Gate to Mid-heaven Gate, and then climb or take a cable car to the top of the mountain; the other way is taking a tourist bus from Tianwaicun to Mid-heaven Gate in about 30 minutes and then climb to the top. As the best views of Mount Taishan start from Mid-heaven Gate, we suggest you follow the second route.
From your hotel, take a taxi to the parking lot of Tianwaicun at a cost of CNY6 and take the shuttle bus there to Mid-heaven Gate. The bus fare costs CNY30 for a one-way trip.
When getting down, you can take bus no. 3 to visit
Dai Temple
, which is located at the southern foot of Mount Taishan. Once alighted at Daimiao, walk south for 150 yards and turn east to go along Dongyue Street for 240 yards, and you will find Zhengyang Gate to enter the temple. This Taoist temple is the largest and most completed ancient building complex in this region, where emperors usually held worship ceremonies in old times.
After that, go back to the alighting point and take bus no. 36 to Yingsheng Road North Section, and the hotel is a few yards ahead of you. A direct taxi ride from Dai Temple to your hotel costs CNY10.
Today's China holiday tour will lead you to Qufu, the hometown of the Confucius, a great philosopher and educator during the Spring and Autumn Periods (770 - 476 BC).
After breakfast, check out the hotel and take a taxi to Tai'an Railway Station to catch a morning high speed train to Qufu. You will arrive at Qufu East Railway Station in 20 minutes, and then find a hotel to leave your luggage. We suggest you the 4-star Queli Hotel, near the
Confucius Temple
and
Confucius Family Mansion
. From the railway station, you can take a taxi to the suggested hotel in 25 minutes at a cost of CNY30. Since it may be early for check-in, you can leave your luggage at the front desk and go out for a visit.
This historical and cultural city is famous for housing three renowned attractions related to Confucius: Confucius Temple, Confucius Family Mansion, and
Cemetery of Confucius
. The first two sites are within walking distance from your hotel, and the Cemetery is only one mile away. There are battery cars shuttling among them, so you can freely tour around the three sites and gain much knowledge about this Chinese saint in the remainder of the day.
Accommodation Suggestion: Queli Hotel
Daming Lake, Jinan
Today, you are advised to head for Jinan. After breakfast, please check out the hotel and take a taxi to Qufu East Railway Station to catch a high speed train to Jinan. The train will arrive at Jinan West Railway Station in about 35 minutes. Then find your way to the hotel you booked before. The 4-star garden-style Shungeng Hillview Hotel behind Shungeng International Convention Center is recommended. You can take a taxi from the train station to the hotel directly, and the taxi fare is about CNY40. Take a rest and then have lunch in a nearby restaurant.
In the afternoon, we suggest you visit the most famous attractions in Jinan,
Baotu Spring Park
and
Daming Lake Park
. You may walk through the Convention Center to Shungeng Road and go northward for about 340 yards to take bus no. 66 at Huizhan Zhongxin; get off at Baotuquan Dongmen Station to enter the park from its Eastern Gate. After staying there for 2~3 hours, go back to the alighting point to take bus 41, 54, 66, K109, or Y777 for 2 stops to Daming Hu Xi'nanmen to find the entrance to the Daming Lake. After that, take a taxi for your return trip.
On your way back, you may stop by the one-hundred-year-old Shandong University (Qianfo Mountain Campus) to take a leisure walk around the school. There are many snack shops near the campus, and you can have dinner at one of them.
Accommodation Suggestion: Shungeng Hillview Hotel
Today, you will take a morning bullet train to Qingdao. There are many trains running between these two cities every day, and you can find the detailed schedule using the train search tool at the bottom of this page. Check out the hotel after breakfast and take a taxi at a cost of CNY20 to Jinan Railway Station in 30 minutes. You will arrive in Qingdao after about 3 hours.
Upon arrival, TravelChinaGuide suggests you the 3-star Eastern Light International Hotel, located at No.39 Shandong Road. To get there, you are advised to take the South Exit of Qingdao Railway Station and walk westward to Guangzhou Road to catch bus no. 307. Alight at Jintan Lubei after about 30 minutes and walk eastward for 300 yards to the crossing; turn south to Shandong Road and go for another 140 yards, you will find the hotel on your left. You can also take a taxi to the hotel within 20 minutes at a cost of CNY20.
After having lunch in your hotel, you will start your Qingdao tour by visiting
Badaguan Scenic Area
and
No.1 Bathing Beach
. Remember to take swimsuits and sunscreen along with you. Your first stop, Badaguan Scenic Area, is famous for various styles of villas built in 1920s, verdant trees, beautiful gardens, and clean streets. You may take bus no. 605 at Tushuguan across the hotel and get off at Wushengguan Road after 5 stops. Then, walk southwards to start your self-exploration here. You are suggested to spend 1~2 hours wandering around. Then, find Zhengyangguan Road and go westward along it to the seashore. The renowned Number One Bathing Beach is at the western end of the road for you to enjoy a leisurely sea-bathing under the warm sunshine.
Afterwards, take a taxi back to your hotel at a cost of CNY15.
Accommodation Suggestion: Eastern Light International Hotel
Number One Bathing Beach, Qingdao
Our suggestion for today is a full day trip to
Mt. Laoshan
and
Taiqing Palace
. You can take bus no. 33 at Tushuguan Station and alight at Yuanyang Guangchang; transfer to bus 104 or 304 there and get off at Dahedong Service Center. The whole drive should require about 1.5 hours. Then, take a shuttle bus at the parking lot to visit Liuqing, Taiqing, Qipanshi, and Yangkou of Mt. Laoshan. Among them, Yangkou has the best scenery, so we suggest you leave enough time there. Take a flashlight with you as there are many caves waiting for your exploration.
When you finish your visit to Laoshan, take the shuttle bus back to Dahedong, and then reverse the trip back to your hotel.
Today we suggest you extend your China holiday tours from Berlin Germany by visiting
Zhan Bridge
and enjoying a relaxing afternoon at the
Golden Sand Beach
.
After breakfast, you can walk to Jintan Lubei bus stop to take bus no. 307 to Zhanqiao. Walk south towards the sea and you will see Zhan Bridge stretching out from the coast. It was built in 1892 and has witnessed the city's development in the past one hundred years. Nowadays, numerous visitors come to Zhan Bridge to view the spectacular seascape and take shots of the rolling sea.
When you finish your visit there, go northwards to Lanshan Road and walk west for 650 yards to reach the Coach Station near Qingdao Railway Station. Then, take tourist bus line 2 to Golden Sand Beach (Jinshatan). The bus fare is CNY15 and it requires 50 minutes on the way. The bus runs from the railway station hourly between 7:00 and 16:00. You can get totally relaxed by lying on the sparkling soft beach and view the beautiful scenes of sea melting into sky in the distance. Together with the joyful sound of waves lapping the beach, it should be definitely unforgettable.
For your return trip, also take tourist bus line 2 to the terminus and hop onto a taxi back to your hotel at a cost of CNY20. A direct taxi ride from the beach to your hotel requires around 45 minutes and costs CNY50.
This is the last day of your China Tour from Germany. Please check out the hotel before 12:00 and manage your own way to Qingdao Liuting Airport for your onward flight. You are suggested to take a taxi to go straight to the airport in 50 minutes for a fare of CNY60. The best way to go back from Qingdao to Berlin is as follows. You can first take the flight MU5195 0715/0850 to Beijing, make a transit stop for 4.5 hours there, and then connect flight HU489 1320/1730 to Berlin. Beijing time is about 6 hours earlier than Berlin time, so you will back home the same day.
Need detailed infomation on train, flight or bus/ metro schedule? Use the search tool below.
If the above route does not meet your requirements, you could DIY an itinerary by choosing daily guided tours, free days, hotels, trains and/or flights freely. Our estimated quotation can be a reference for your independent travel.