Since July 1st, 2015, tax rebate policy has been carried out in Beijing and Shanghai among inbound visitors. The minimum required spending is CNY 500 per tourist at one tax free store on the same day. The rebate type is value-added tax and the rebate rate is 11%; but one can only get 9% back as a service fee of 2% will be charged by the tax refund agency.

Tax Free Stores
Currently, there are 57 tax free stores in Beijing and 27 in Shanghai. Most of them are large department stores like Parkson, five branches of Cuiwei Towers, Yansha Outlets, Dong'an Market, Maochang Optical, while some of them are markets specializing in Chinese featured products like Ruifuxiang Silk and Cotton Store and Tianyu Pavilion.
| | |
| --- | --- |
| Ruifuxiang Silk and Cotton Store in Beijing | Tianyu Pavilion in Shanghai |
Positive Impacts of the Policy
Stimulate consumption among inbound visitors: Adoption of the policy will lower the price of commodities to some extent, thus attracting more inbound visitors to buy.
Enhance the competitiveness of China's inbound tourism: Currently, over 50 countries/regions in the world have carried out tax rebate policy. Adoption of the policy will make China as competitive as those countries/regions in the inbound tourism market, especially with its neighbors South Korea and Japan.
Popularize Chinese featured products: More Chinese featured products will be brought out of the country, making them even more popular worldwide. This will increase the demand for these products and help the development of the old brands. Furthermore, it may provide more job opportunities and make contribute to China's economy.
Different Opinions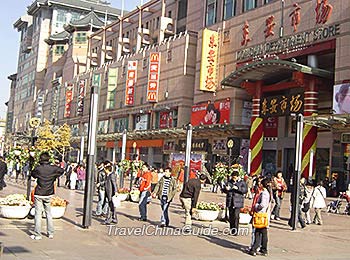 Dong'an Market in Beijing
Some people feel that the impact of the policy will be small or unpredictable. There are several reasons for this:
1. A majority of the tax free stores are department stores, whose products are not very different from those in foreign countries. Besides, although tourists can get 9% back, the price of these similar items may not be lower than in one's home country due to appreciation of Chinese currency and addition of other tax types.
2. According to experienced tour guides, Chinese featured products like
porcelain
,
silk
,
tea
are popular gifts and souvenirs among inbound tourists. However, only a few stores selling these items are included as tax free stores. Take Beijing for example, the
Silk Street
and
Hongqiao Pearl Market
, two of the most popular markets among foreign visitors, are excluded.
3. European countries are undergoing an economic recession. Tourists from these countries are not likely to spend too much in shopping during traveling.
4. Chinese tourists contribute greatly to the popularity of tax rebate policy in foreign countries. Based on official statistics, Chinese tourists have ranked the first for successively for five years in outbound shopping among the world's tourists, accounting for 35%. The 'crazy Chinese shoppers' have been seen in many countries. However, tourists from other countries/regions are more rational when shopping and the possibility of panic purchasing among them is low.