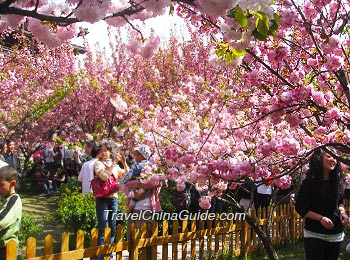 Shanghai Cherry Blossom Festival
This year, Cherry Blossom Festival in
Shanghai
started on March 15 and will conclude on April 14, with Gucun Park in Baoshan District being the main venue, along with seven other parks, including Gongqing Forest Park, Fengxian Haiwan National Forest Park, Pudong
Century Park
, Pudong Huaxia Park, Minhang Sports Park, Hongkou Luxun Park and Yangpu Park. It is always a grand festival featuring a variety of cherry blossom and interesting cultural activities.
As present, Gucun Park gathers over 12,000 cherry trees belonging to 82 species. Pink, white, red, and light green flowers, with brown branches and verdant leaves, form a sea of colors. The tender petals send out pleasant fragrance, enchanting all visitors.
Yang Xin, an official in Baoshan District, told at a press conference that the cherry trees would blossom better this year. Many of them were introduced from Japan and they are now more accustomed to the climate of Shanghai.
Major Activities in Gucun Park during the Festival
1. Chinese Cultural Show
On weekends during the festival, visitors can enjoy traditional Chinese costume shows. Some folk opera artistes are invited to perform operas on the outdoor stage in the park. Besides, there are martial art shows. All are aimed at spreading the quintessence of Chinese culture.
2. Dating Games
Single people can take part in some games to make friends with others. If the person is lucky enough, she or he may meet the right person.
Tips:
Entrance Fee: CNY 20, free for children below 4.3 feet (1.3m).
Opening Hours: 06:00-18:00
How to get there: Visitors can easily get to Gucun Park by taking
Subway Line 7
.
The cherry trees came out in full blossom only after late March. If you are in Shanghai now, do not miss the chance to have a feast for your eyes.
Other Recommended Flower Festivals in China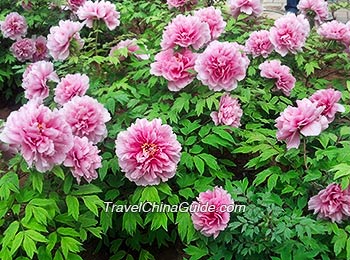 Peony Flowers

Luoyang
Peony Fair
As the floral emblem of China, peony is widely favored by Chinese. The peony in Luoyang Henan Province is especially famous. The annual peony fair there is a big event for visitors and was inscribed as a national cultural heritage.
Date: April 5 - May 5, 2017
Venues:
Wangcheng Park
, Xiyuan Park, China National Flower Park…

Nyingchi
Peach Blossom Festival, Tibet
Gorgeous peach blossom, unique Tibetan ethnic folk activities and thick culture of Buddhism will lead you to a fairyland. The peach trees here are all wild.
Dates: March 25 - April 8, 2017
Venues: Bayi District, Bome County, Milin County…

Hanzhong
Rape Flower Festival, Shaanxi Province
Bestowed with China's most beautiful rape flower sea, Hanzhong is a hot attraction every year in March and April. The yellow rape flowers, with the green mountains and blue sky being the back drop, look like an oil painting before visitors.
Dates: March 20 - April 20, 2017
Venues: Hantai District, Yangxian County, Mianxian County, Foping County…