After about half a year,
Jiuzhai Valley
(Jiuzhaigou) in China's southwest Sichuan Province finally gets ready to receive the first batch of visitors on March 8, 2018 ever since the devastating earthquake on August 8, 2017. What a piece of happy news! The gorgeous poetic Jiuzhai Valley was once a dreamland for all visitors. When it was destroyed by the severe earthquake in 2017, many thought that they would lose the chance to see the beauty there in their lifetime. Whether the scenic area would reopen and when to reopen have been a hot issue for a long time. Now, the reopening notice brightens everyone's heart. Wish to go there to feel a different Jiuzhai Valley that just survived from an earthquake? It's the right time.
| | |
| --- | --- |
| Jiuzhai Valley Before the Earthquake | Nuorilang Waterfalls |
However, only a part of the scenic area will be open, while the rest is still under environmental restoration and further assessment. The trial opening time is from March 8, 2018 to March 7, 2019.
Which Scenic Areas Will Be Opened & Opening Hours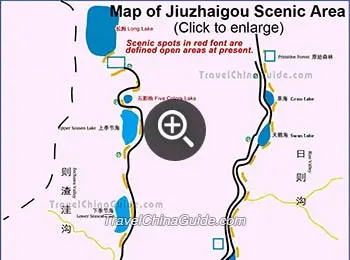 Map of the Reopened Areas
The open areas will cover the way from the entrance to the Long Lake, Zaru Temple in Zaru Valley, and the Mirror Lake in Rize Valley. Scenic spots including the Long Lake, Five Colors Lake, Mirror Lake, Nuorilang Waterfalls, Shuzheng Lakes, Waterfalls of Double Dragons Lake, and Zaru Temple can only be accessed on foot.
Opening hours: 08:00 to 17:00
How to Tour the Jiuzhai Valley
Visitors need to take the sightseeing bus to enter the scenic area. Upon arrival at each attraction, they are supposed to get off the bus and pay a visit. Then get on the same bus again to the next stop, until the bus takes them to the exit.
Only Tour Groups are Allowed to Enter the Scenic Area
Only tour groups organized by legal travel agencies will be received. It's worth mentioning that the agency has to buy travel insurance for their clients. Individual travelers cannot enter the scenic area. At the initial stage, only 2,000 visitors will be allowed to enter daily. Later on, the scenic area may increase this number.
Ticket Price from March 8, 2018 to March 7, 2019
Apr. 1 to Nov. 15
Mar. 8 - 31 & Nov. 16 to Dec. 31
Entrance Ticket
CNY 110
CNY 40
Sightseeing Bus Fare
CNY 90
Further Reading
According to a previous report, Jiuzhai Valley National Park will open step by step. In 2018, the areas less affected by the earthquake will open. In 2019, the second part will open. As for the severely damaged areas, they will be under careful examination and open until they are fully restored. Hope that through the efforts of geologists, travelers can see the whole appearance of Jiuzhai Valley as soon as possible.