At 21:19 on August 8, 2017, China's
Sichuan Province
was hit by a 7.0-magnitude earthquake, with the epicenter being
Jiuzhaigou County
of
Aba Tibetan and Qiang Autonomous Prefecture
. The focus was at a depth of about 20km (12 miles) from the ground level.
Technically speaking, this is not a very serious earthquake. However, as the epicenter is quite near
Jiuzhai Valley National Park
, one of the top tourist destinations in China, and it's summer holiday time, this led to about 35 thousand tourists stranded at Jiuzhaigou. So far, 12 deaths and 175 injuries have been reported.
The rescue team arrived at the site immediately after the earthquake and is expected to evacuate the stranded crowds by the end of August 9.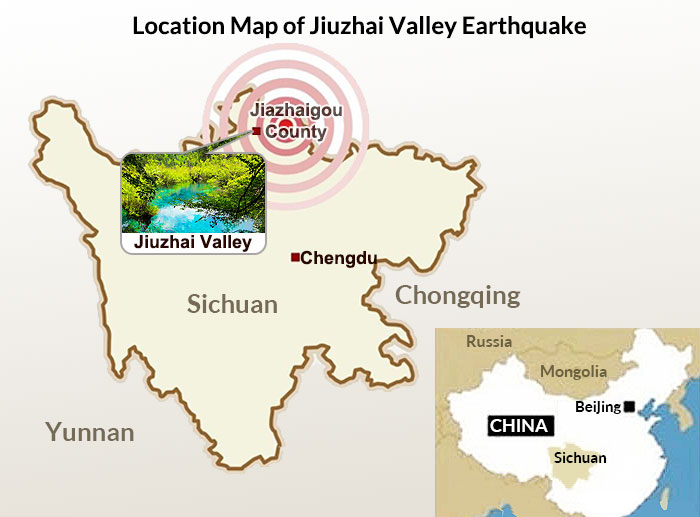 Location Map of Jiuzhai Valley Earthquake
Jiuzhai Valley Closed Temporarily for Safety Sake
As aftershocks continued to jolt the affected areas and the road condition is poor, Jiuzhai Valley National Forest Park has been closed since August 9th for tourist's safety. When to open remains unknown.
Affected by the earthquake, Mingyue Gorge and
Jianmen Shu Road Scenic Area
in Guangyuan City of Sichuan have also been closed to conduct safety checks.
Tourists planning to visit the above-mentioned areas please put off schedules or just change to other attractions.
Trains Passing by Jiuzhaigou Stop Operation Temporarily
The affected trains include: D5159, D5126, K9433, K2611, C6263, C6229, K545, K245, K284, 1486, K2616, K452, K6, K246
Passengers who have booked tickets of the affected trains departing on Aug. 9 and neighboring days after are advised to change the ticket or get a refund as soon as possible.
Fortunately, the
Jiuhuang Airport
in Jiuzhaigou and nearby Hongyuan Airport and Mianyang Airport are in normal operation.
What to Do When An Earthquake Happens
1. If you are in a room, stay away from doors and windows. Squat beside firm furniture or wall corner is relatively safe.
2. Do not use the elevator.
3. If you are in the open air, keep away from high buildings and vehicles.