Chongqing Hongya Cave, Rising Web-Star on Social Video App, is to Charge Fees?

Published: May. 11, 2018
A landmark building in Chongqing, namely the
Hongya Cave
in central downtown, recently became a web-star on Douyin, a popular Chinese short video-sharing App. Hongya Cave ranked second after the
Forbidden City
in Beijing, among the top ten attractions of China selected by online media during the past 2018 May Day Holiday. After Hongya Cave became famous, it was rumored that it would begin to charge entrance fees of CNY 20 on national public holidays. It has been free in the past.
How did Hongya Cave become a web-star?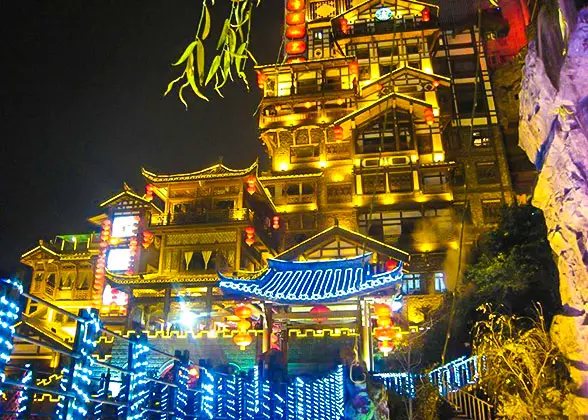 Hongya Cave at Night
With its unique architectural style, Hongya Cave has always had the potential to be a web-star. The traditional stilted houses along the riverbank were constructed on mountain cliffs and primarily represent ancient Sichuan and Chongqing culture. When Douyin users uploaded the videos of Hongya Cave decorated by dazzling lights at night, it became better known than before. Some careful netizens even pointed out that Hongya Cave looked exactly like the bath house in the famous Japanese anime film Spirited Away, giving Hongya Cave even more recognition. As a result, more and more tourists have been coming to the cave.

Official reasons to charge entrance fees
As for why they want to charge the entrance fees, the scenic area manager gives the following reasons: first, the entrance fee will only be charged on public holidays and will not surpass CNY 20, which is acceptable to a majority of tourists; second, the huge tourist influx is growing beyond the capacity of the scenic area so it's necessary to limit the flow; and last, but not least, the increasing number of tourists causes an increase in maintenance costs, which drives the levy of entrance fees.

Hongya Cave to charge entrance fees, misuse of its popularity?
Hongya Cave has been free to the public since its opening. The proposed entrance fee has stirred debate among tourists. While many scenic areas in China have canceled entrance fees, like the West Lake of Hangzhou, Hongya Cave plans to do the reverse. Previously, some attractions initiated entrance fees after becoming popular, like Phoenix Ancient Town of Hunan, received bad reviews and antipathy from tourists. Some said they should work out other ways to control the flow of traffic and to raise funds for maintenance.

Whether the Hongya Cave will charge entrance fees on public holidays has not been decided yet. Do you think it's a good idea or bad idea?