Dang Village
Lying in the northeast of Hancheng, Dang Village is about 1.5 kilometers (1,640 yards) west of 108 National Highway, and 3.5 kilometers (3,828 yards) east of the Yellow River. It is the largest, oldest and best preserved ancient stockade village ever excavated in Shaanxi.
The village is mainly composed of people with surnames Dang and Jia, about 320 families and over 1,400 persons. It is named Dang Village because people of surname Dang lived here earlier. It was built in 1331 and reached its prosperity period in the
Ming
and Qing Dynasties (1368-1911). Professor Charles of the Institute of Architects in Britain once said 'The oriental architectural culture lies in China, while Chinese traditional residential architectural culture lies in Hancheng.' Japanese Doctor Qingmu Zhengfu also praised Dang Village as the living fossil of the oriental people's traditional ancient village. Among the architectures, the
Siheyuan
(Courtyards) ranks first in popularity.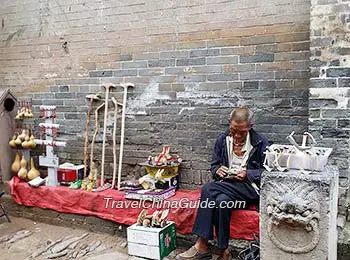 During the reign of Emperor Qianlong in the
Qing Dynasty
(1644-1911), Hancheng was regarded as 'small Beijing' because of the Siheyuan (Courtyards). Siheyuan (Courtyards) usually takes up an area of 260 square meters (311 square yards) in rectangular shape; only a few are square. It consists of a hall, right and left wing-rooms and porters and is made to resemble a person with the hall as his head, wing-rooms as his arms, and porters as his feet. The hall was used to worship ancestors, while the wing-rooms and porters served as the living rooms.
Apart from the Siheyuan (Courtyards), many other fancy, unadorned, and zetetic ancient architectures can be viewed and admired here, including the Zouma Men, the Three Carvings - brick carving, stone carving and wood carving - the Chastity Arch (an arch erected in honor of a widow) as well as the zenith of the village, Wenxing Pavilion.
During the Labors' Day of 2007, the Ancestral Temples of Dang and Jia were rearranged, and the Culture and Art Exhibition Room and other tourist attractions were opened to visitors. Some folk-custom activities like weaving and spinning were also performed in Dang Village scenic spot.
How to get to Dang Village from Xi'an
Take a bus from Xi'an Fangzhicheng Bus Station or Xi'an Bus Station to Hancheng Xincheng Bus Station; or take an early train from
Xi'an Railway Station
to Hangcheng first. And then take a taxi or local car directly to this village, and it costs around CNY30.
Xi'an Bus / Metro Search
Entrance Fee
CNY 50
Free for children under 1.2 meters.
Opening Hours
08:00 - 18:00 (stop entering at 17:30)
Recommended Time for a Visit
3 hours to whole day

Hancheng

Suggested Tour Itinerary:
Hancheng Trip
: to visit Sima Qian Temple, Dang Village, and Confucius Temple.
- Last updated on Sep. 20, 2023 by Gabby Li -
Questions & Answers on Dang Village
Asked by Enrtan from INDONESIA | Jul. 07, 2013 10:08

Reply
Xi'an to dangjiacun to pingyao
Hi,

Is there any bus schedule from XA to hancheng? I want to visit dangjiacun from the city. I'm the morning and catch the train to pingyao. Is it doable?
Answers (1)
Answered by Eton from INDIA | Jul. 07, 2013 20:31

1

0

Reply
You can go to local East Bus Station where you can find frequent buses to reach Hancheng directly. The first bus is at around 07:10 and the last bus is at 18:45. The interval is around 20 minutes.
There is no train from Hancheng to Pingyao directly, so you may need to get back to XA to take the train.