Sima Qian Temple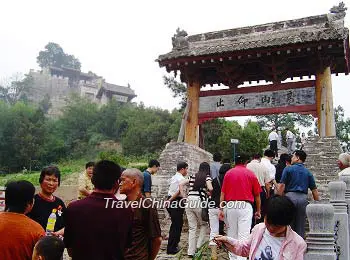 Ten kilometers (6 miles) south to Hancheng, Sima Qian Temple is situated on the southeastern hummock of Zhichuan County. It is the most popular sight in Hancheng with Mt. Liang to the west, the ancient
Yellow River
to the east, the ancient
Great Wall
of Wei State to the south, and the River Zhi to the north. The view is superb and reflects his noble-minded personality and outstanding achievements.
Sima Qian (145 - 90 BC), the famous historian and litterateur of China, is a native of Hancheng. He began to read ancient Chinese books and biographies when he was ten years old, including the works of Dong Zhongshu and Kong Anguo (the great litterateurs of China). At the age of 20, he started to travel across China to learn the various customs and collect Chinese legends. Several years later, he inherited from his father the position of Grand Scribes (Taishi Ling) to the Emperor and thus became in charge of astronomy, calendars and imperial books. Hereafter, he took on an ambitious project - writing Shi Ji (Records of the Grand Historian). He was sentenced to castration after defending Li Ling who surrendered to Hun. In spite of this cruel punishment, he finished Shi Ji, which is an unprecedented masterpiece.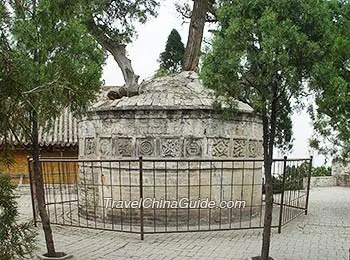 The Sima Qian Temple was built in the 4th year of Yongjia in the Western
Jin Dynasty
(310) and showcases, about 1,700 years of history. It is 555 meters (607 yards) long from east to west, and 229 meters (250 yards) wide from north to south with an area of 45 thousand square meters (11 acres). It includes four exhibition rooms, respectively displaying an exhibition of Sima Qian's life, stories, 39 inscriptions recording the repairing and enlarging process of the Temple and his great achievements, 53 celebrities' calligraphies and the Shi Ji.
Sima Qian's tomb stands at the back of the temple and is built with bricks and engraved with the Eight Diagrams and flower designs on the walls of the grave. There is an old cypress growing upward to the zenith, and in front of the tomb stands a stone monument with the inscription of Bi Yuan, the Circuit Inspector of Shaanxi in the
Qing Dynasty
(1644-1911).
How to get to Sima Qian Temple from Xi'an
Take a bus from Xi'an Fangzhicheng Bus Station to Hancheng Bus Station; or take an early train from
Xi'an Railway Station
to Hangcheng first.
From Hancheng Xincheng Bus Station, walk eastward for about 400 meters (437 yards) to take Hancheng No. 102 Tourist Line to the temple.
Entrance Fee
CNY 80
Free for children under 16 years old and the elferly over 65.
Opening Hours
08:00 - 18:00 (Ticketing stops at 17:30.)
Recommended Time for a Visit
1 - 2 hours

Hancheng

Suggested Tour Itinerary:
Hancheng Trip
: to visit Sima Qian Temple, Dang Village, and Confucius Temple.
- Last updated on Sep. 19, 2023 by Gabby Li -