Lose Weight Faster with Chinese Diet Food
As a Chinese saying goes: 100% health needs 30% exercise and 70% diet. It can be seen that a good figure is not only out of exercising, but also out of eating. Here are some Chinese diet food with low fat, low calorie but abundant fiber, proteins, vitamins and other nutrients and a one-week Chinese diet plan to help you lose weight faster and healthily.
Top 10 Chinese Diet Food
1. Cucumber
Energy: 16 calories/100g
Cucumber contains more than 95% water and is rich in vitamins and low in calories. Cucumber enzyme contained in fresh cucumber can effectively promote human metabolism and blood circulation as well as enhance the redox effect of skin.
Recommended dishes made of cucumber: Cucumber with Mashed Garlic, Fried Egg with Cucumbers...
| | |
| --- | --- |
| Tender Cucumbers with Dipping Sauce | Stir Fried Water Spinach |
2. Water Spinach
Energy: 25 calories/100g
Water Spinach is very low in calories and has a good effect of losing fat. It's an alkaline vegetable that can reduce the acidity of the intestinal tract and prevent the flora disequilibrium. The niacin and vitamin C contained in Water Spinach can reduce cholesterol and triglyceride. Rich crude cellulose can stimulate intestine peristalsis and promote laxation.
Recommended dishes made of water spinach: Boiled Water Spinach, Stir Fried Water Spinach…

3. Broccoli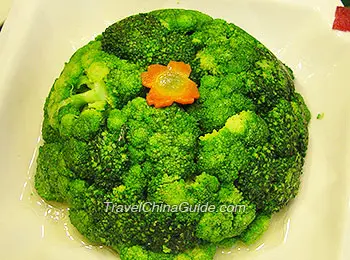 Broccoli with Garlic
Energy: 30 calories/100g
Broccoli contains very rich fiber, which can absorb water and swell, making you feel full and helping you eat less. Also, fiber can promote digestion and absorption, which helps you to quickly discharge the waste. It is a very popular Chinese diet food for healthy weight loss.

A Japanese study concludes that the average nutritional value and disease-prevention effect of broccoli is much higher than that of other vegetables, ranking first. The nutrients in broccoli are not only high, but also very diverse, such as protein, carbohydrates, fats, minerals, vitamin C and carotene, etc. So Broccoli is very nutritious, too.
Recommended dishes made of broccoli: Broccoli with Garlic, Stir-Fried Broccoli…

4. Brown Rice
Energy: 50 calories/100g
This is a kind of unprocessed rice. Compared with refined rice, it contains more dietary fiber. This kind of food fiber is insoluble. It will absorb water and expand in the human intestine, which will stimulate motility of stomach, improve constipation and promote metabolism. Brown Rice is a good choice as a staple food.
Recommended dishes made of brown rice: Brown Rice Porridge, Steamed Brown Rice…

5. Yogurt
Energy: 60 calories/100ml
One study finds that people who eat yogurt lost 61% more fat than those who don't. Yogurt contains a lot of active lactic acid bacteria that can regulate flora balance, promote gastrointestinal peristalsis, and remove the "waste" from gut and relieving constipation. Replacing carbonated drinks with yogurt is definitely sensible for people who are trying to lose weight.

6. Oats
Energy: 68 calories/100g
Oat contains lysine and linoleic acid, which can reduce cholesterol accumulation in the cardiovascular system. It is also rich in protein, more than twice as much as rice, ranking first in cereal grains. It is not only a good food for young people to lose weight, but also has a very effective prevention effect on hypertension, diabetes and hyperlipidemia in the elderly.
Recommended dishes made of oats: Oatmeal with Milk, Oatmeal Porridge…

7. Fish
Energy: 123 calories/100g
Fish is a quite delicious and healthy ingredient in the Chinese diet food. Fish contains a kind of unsaturated fatty acid that helps lower cholesterol and triglycerides. Rich protein in fish is also easily absorbed by the body. During the period of weight loss, steaming fish is the best cooking way for less or no oil is used.
Recommended dishes made of fish: Steamed Perch, Millet Fish Porridge…
| | |
| --- | --- |
| Steamed Fish | Stir Fried Chicken Breast with Summer Squash |
8. Chicken Breast
Energy: 130 calories/100g
Chicken breast is very widely used in the Chinese diet. It is the "King of Low-calorie" among various meat. The Chicken Breast has another important feature: it has zero carbohydrates, which is a must for people who want to lose weight. Meanwhile, the Chicken Breast is rich in protein.
Recommended dishes made of chicken breast: Pan-Fried Chicken Breast, Roasted Chicken Breast…

9. Egg
Energy: 144 calories/100g
It's a nutritious Chinese diet food, containing high protein and a variety of essential amino acids needed by the human body. The yolks contain lecithin, an emulsifier that emulsifies fat and cholesterol into tiny particles, which can be easily eliminated from blood vessels and depleted by human body. An egg is the best choice for breakfast.
Recommended dishes made of egg: boiled egg, steamed egg, Scrambled Eggs with Tomatoes…

Energy: 0.5 calories/100ml
Green tea contains aromatic compounds that dissolve fat and prevent it from accumulating in the body. The vitamin B1 and vitamin C in green tea can promote gastric juice to secrete, which helps digestion and eliminate fat. It is a great substitute of cola and other high-calorie drinks. Green tea should not be too thick, otherwise it will affect the secretion of gastric juice. Besides, you'd better not drink green tea on an empty stomach.

One-week Chinese Diet Plan
Reasonable food collocation is the key to lose weight healthily. Here is a weekly healthy Chinese diet menu for you, including meat, grains, vegetables, fruit, dairy products and others needed by the human body.
| | Breakfast | Lunch | Dinner |
| --- | --- | --- | --- |
| Monday | One egg + one banana + 200ml yogurt | One cucumber + 300g pan-fried chicken breast with olive oil | 300ml oatmeal + 300g broccoli + one egg |
| Tuesday | One corn + 200ml skimmed milk | Two eggs + 300g brown rice porridge with red bean | One apple + 500g steamed fish |
| Wednesday | 300g broccoli + 300 ml millet gruel | 200g water spinach + 300g roasted chicken breast + one apple | One egg + one banana + two carrots |
| Thursday | Six walnuts + one apple + one egg | 500g poached fish + 200g water spinach | 200ml yogurt with carbohydrates under 10% |
| Friday | One apple + one banana + one egg | 300ml millet gruel + two cucumbers + one egg | Two pieces of oat bread + 200g water spinach + 300g pan-fried chicken breast |
| Saturday | 200ml skimmed milk + one corn + half an apple | 300g poached chicken breast + one cucumber + one egg | 300ml brown rice porridge with red bean + 200ml low-fat yogurt + two carrots |
| Sunday | Two steamed eggs + 300g broccoli + one apple | One banana + 500g steamed fish | Two cucumbers + 500g mixed fruit with skimmed milk + two eggs |

If you are hungry following the above Chinese diet menu, you can have some tomatoes, carrots, water spinach, cucumbers, green tea and sugar-free coffee between meals.



Further Reading:
8 Weight Loss Tea You can Have a Try
12 Chinese Diet Tea That Makes You Slim and Fit
- Last updated on Jul. 12, 2021 -
Questions & Answers on Lose Weight Faster with Chinese Diet Food
Asked by Kati from UAE | Mar. 17, 2023 01:01

Reply
I have hashimuto disease is it possible to fallow this diet plan? What's meaning of gruel?
I have hashimoto what kind of plan is good for me? Is any supplement is useful for this disease?
Answers (1)
Answered by Scott | Mar. 19, 2023 19:53

0

0

Reply
I think you'd better consult your doctor.
Asked by Rokshana from BANGLADESH | Jul. 06, 2021 08:01

Reply
Hypothyroidism
Can a person with hypothyroidism, high BP,pcos follow this chart?
Answers (1)
Answered by Daisy | Jul. 12, 2021 00:46

0

0

Reply
I'm afraid not. You had better turn to a professional nutritionist for help.