144-Hour Visa-Free Transit in Guangdong
144 hours visa-free transit has been carried out in Guangdong, which provides great convenience for passengers from 53 countries or regions transiting through Guangdong to a third country or region. Tourists eligible for the 144-hour visa-free transit in Guangdong will be able to travel within the whole province for 6 days without applying for a visa, and the stay duration will be counted from 00:00 the day after the entry date.
Which Countries Are Covered by the Policy?
24 Schengen Agreement Countries: Austria, Belgium, Czech Republic, Denmark, Estonia, Finland, France, Germany, Greece, Hungary, Iceland, Italy, Latvia, Lithuania, Luxembourg, Malta, Netherlands, Poland, Portugal, Slovakia, Slovenia, Spain, Sweden, Switzerland
15 Other European Countries: Russia, the United Kingdom, Ireland, Cyprus, Bulgaria, Romania, Ukraine, Serbia, Croatia, Bosnia-Herzegovina, Montenegro, Macedonia (FYROM), Albania, Belarus, Monaco
6 American Countries: the United States, Canada, Brazil, Mexico, Argentina, Chile
2 Oceania Countries: Australia, New Zealand
6 Asian Countries: Korea, Japan, Singapore, Brunei, United Arab Emirates, Qatar
What Is An Eligible Route?
Country A → B: Guangdong → Country C
Here A refers to the country from which passengers enter Guangdong, and C refers to a third country or region. Before passengers' entry to Guangdong and after passengers' leave from Guangdong, they cannot have a stop anywhere in Mainland China. For example, if a passenger departs from UK to Guangzhou, with a stop in Shanghai, he cannot use the 144-hour visa-free transit.
What Are the Requirements & Procedures for Application?
Required documents:

Passport/Travel Document valid for at least 3 months from the date of entry

Confirmed onward ticket to a third country/region

Visa for a third country/region (if needed)

A fully completed Arrival/Departure Card (including name, nationality, passport no., visa no. & issuance place, flight no., purpose of visit, date of birth, gender)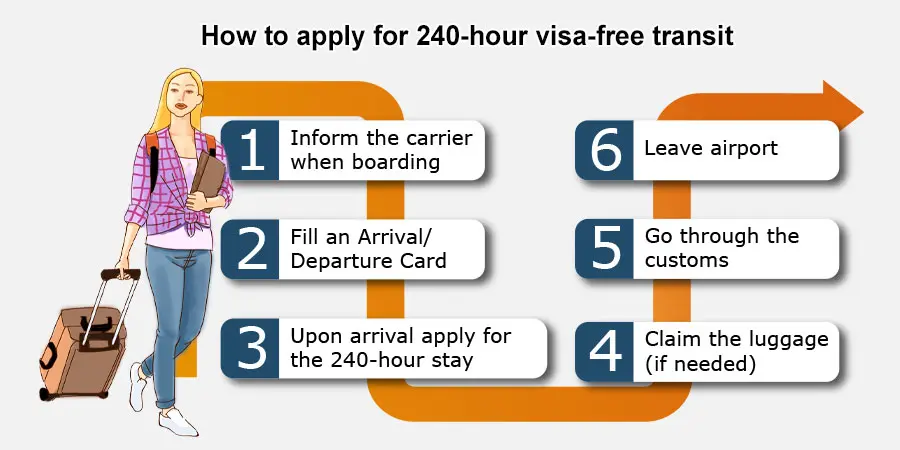 How to apply for 144-hour visa-free transit
What Are the Eligible Transit Ports?
In Guangdong, only 3 airports can issue the 144 hour free transit, and they are Guangzhou Baiyun Airport, Shenzhen Bao'an Airport, as well as Jieyang Chaoshan Airport, so the passengers who want to apply for this policy need to enter Guangdong from the 3 ports. But they are allowed to leave from any port in Guangdong.
The basic information about the 3 ports is as follows:
| | | |
| --- | --- | --- |
| Airport | Telephone Number | Visa Office Opening Hours |
| Guangzhou Baiyun Airport | 0086-20-36066622 | 24 hours (full year) |
| | 0086-755-82327700 | 10:00 to the last flight of the day (full year) |
| | 0086-663-3828770 | 24 hours (full year) |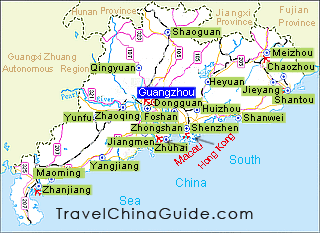 Areas Allowed to Stay
Areas Allowed to Stay
Passengers are allowed to travel or conduct business in the whole Guangdong Province if using the 144-hour visa-free transit, including Shenzhen, Guangzhou, Zhuhai, and Dongguan. It's not allowed to get out of the province.
What Can You Do during the 144 Hours?
Sightseeing the Landmarks of Cities
Travelers can go to some popular scenic spots to have a better understanding on Guangdong, such as the well-known
Window of the World
in Shenzhen, the fascinating
Yuexiu Park
and the charming
Pearl River
in Guangzhou. Taking a
Pearl River cruise
has become a must-do thing for travelers in Guangzhou. Sightseeing the cities in Guangdong will not disappoint tourists because there are many beautiful attractions with natural and cultural sceneries within the province.

Recommended Tours: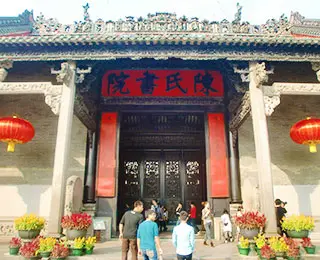 3 Days Guangzhou City Tour from $269
Guangzhou One Day Tour from $97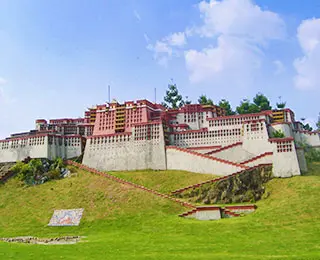 2 Days Shenzhen Tour Package from $259
Conducting Business Activities
Passengers qualify for this policy can also conduct business activities or take part in trade fairs like the
Canton Fair
. Within the 6 days, businessmen can visit factories and firms in depth as well.
Cantonese cuisine attracts a lot of tourists from all over the world for its refined taste. Tasting the exquisite Cantonese cuisine and delicious Guangzhou snacks can be a highlight to the 6-day trip in Guangdong.
Taking Cruise Tours
Tourists who qualify for the 144-hour convenient visa to Guangdong province China can take a flight to enter and then embark on a cruise or tour to other countries.

Further Reading on
China 144-Hour Visa-Free Policy
:
144-Hour Visa-Free Transit in Beijing, Tianjin, and Hebei
144-Hour Visa-Free Transit in Shanghai, Jiangsu, and Zhejiang
144-Hour Visa-Free Transit in Liaoning
Xiamen
,
Wuhan
,
Qingdao
,
Chengdu
,
Kunming
,
Xi'an
,
Chongqing
- Last modified on Jan. 15, 2020 -
Questions & Answers on 144-Hour Visa-Free Transit in Guangdong
Asked by Jan from NETHERLANDS | Jan. 17, 2020 22:47

Reply
Amsterdam Guangzhou Shenzhen Macau Amsterdam
hi, I want to visit China for a week and want to know for sure if this is possible with the following itinerary.
I fly from Amsterdam directly to Guangzhou. Arrival day 1 at 13.00 (1:00 pm). I think the 144 hour transit visa starts at 0.00 am at the start on day 2. Few days Guangzhou (days 2 and 3). Train from Guangzhou to Shenzhen on day 3. Few days Shenzhen: days 3, 4, 5, 6 and 7. On 7th day during the afternoon boat from Shenzhen to Macau. Macau day 7 and 8. On day 9 by plane from Macau to Amsterdam back with transfer to Xiamen.

Is this possible with the on-site purchase of 141 hours of transit visas? Required to buy a boat ticket in advance?

Thanks for your reply.
Answers (2)
Answered by Gina from CANADA | Jan. 18, 2020 21:49

0

0

Reply
Your itinerary sounds no problem. I think you are eligible for 144 hour visa free transit. You may don't need to buy the ferry ticket in advance.
Answered by ZUPAN | Jan. 19, 2020 04:21

0

0

Reply
Actually, you should definitely book a ferry from Shenzhen Shekou to Macau in advance. You will do it through TurboJet ferry website. You should choose day and time of your departure from Shenzhen to Macau. After you have booked your ticket, you will receive an e-confirmation that you will print it out and take it with you. This e-confirmation will be your proof that you will be in a real transit and without it you will not be allowed to board the plane. Also, you will use this e-confirmation to collect your real, paper ticket at Shekou ferry terminal.
Asked by DJLIEM | Jan. 17, 2020 12:01

Reply
When and how to inform the airline
When and how should you inform the airline, when you will make use of 144 hour visa free transit for a visit to Guangzhao. The planned flight: Jakarta-Guangzhao-Paris for a citizen from the Netherlands
Answers (1)
Answered by Saul | Jan. 18, 2020 06:23

0

0

Reply
At check in and/or boarding on the day of travel. Essentially when someone looks in your passport for a visa.
Asked by Irene Peh from MALAYSIA | Jan. 16, 2020 19:52

Reply
Hi, is Malaysian eligible for the Guangdong 144 hours free visa..?
Answers (1)
Answered by Paloma from DENMARK | Jan. 16, 2020 21:44

0

0

Reply
No, I am afraid not. You need to apply for the China visa in advance in your country.
Asked by Teresa Palmieri from ITALY | Jan. 13, 2020 04:00

Reply
Hanoi - Guangdong - Hong Kong
Hello, we would like to fly from Hanoi to Guangdong and spent 3 days there visiting family, then flying to Hong Kong. Are we eligible for the 144 days visa?
Thank you in advance
Answers (1)
Answered by ZUPAN | Jan. 13, 2020 15:16

0

0

Reply
Yes, you are definitely eligible for 144 hour visa free transit. Anyway, instead of flying you can take a through train departing from Guangzhou East and arriving at Hong Kong Hung Hom railway station. This is more convenient option than flying. Anyway, to be eligible to take a train, you will have to book a ticket online, in advance on the website like this one (Travel China Guide). If you want I can explain this in detail, so that you know what to do.
Asked by Elisa Lay from AUSTRALIA | Jan. 11, 2020 17:42

Reply
Short trip out to Macau or Hong Kong
Hi there, if we have the 144hrs free transit China visa. Can we go to Macau or Hong Kong for lunch (5 hour) somewhere in the middle of the 144hrs and return?
Answers (1)
Answered by Saul | Jan. 11, 2020 18:58

0

0

Reply
It depends on your exact route. As soon as you leave mainland China, you can re-enter and start another 144 hours visa-free transit. But of course your itinerary must qualify each time.