144-Hour Visa-Free Transit in Guangdong
144 hours visa-free transit is going to be carried out in Guangdong, which will provide great convenience for passengers from 53 countries or regions transiting through Guangdong to a third country or region. Tourists eligible for the 144-hour visa-free transit in Guangdong will be able to travel within the whole province for 6 days without applying for a visa, and the stay duration will be counted from 00:00 the day after the entry date.

Note: The Guangdong government has not released an official statement yet to implement the 144-hour visa-free transit.
Which Countries Are Covered by the Policy?
24 Schengen Agreement Countries: Austria, Belgium, Czech Republic, Denmark, Estonia, Finland, France, Germany, Greece, Hungary, Iceland, Italy, Latvia, Lithuania, Luxembourg, Malta, Netherlands, Poland, Portugal, Slovakia, Slovenia, Spain, Sweden, Switzerland
15 Other European Countries: Russia, the United Kingdom, Ireland, Cyprus, Bulgaria, Romania, Ukraine, Serbia, Croatia, Bosnia-Herzegovina, Montenegro, Macedonia (FYROM), Albania, Belarus, Monaco
6 American Countries: the United States, Canada, Brazil, Mexico, Argentina, Chile
2 Oceania Countries: Australia, New Zealand
6 Asian Countries: Korea, Japan, Singapore, Brunei, United Arab Emirates, Qatar
What Is An Eligible Route?
Country A → B: Guangdong → Country C
Here A refers to the country from which passengers enter Guangdong, and C refers to a third country or region. Before passengers' entry to Guangdong and after passengers' leave from Guangdong, they cannot have a stop anywhere in Mainland China. For example, if a passenger departs from UK to Guangzhou, with a stop in Shanghai, he cannot use the 144-hour visa-free transit.
What Are the Requirements & Procedures for Application?
Required documents:

Passport/Travel Document valid for at least 3 months from the date of entry

Confirmed onward ticket to a third country/region

Visa for a third country/region (if needed)

A fully completed Arrival/Departure Card (including name, nationality, passport no., visa no. & issuance place, flight no., purpose of visit, date of birth, gender)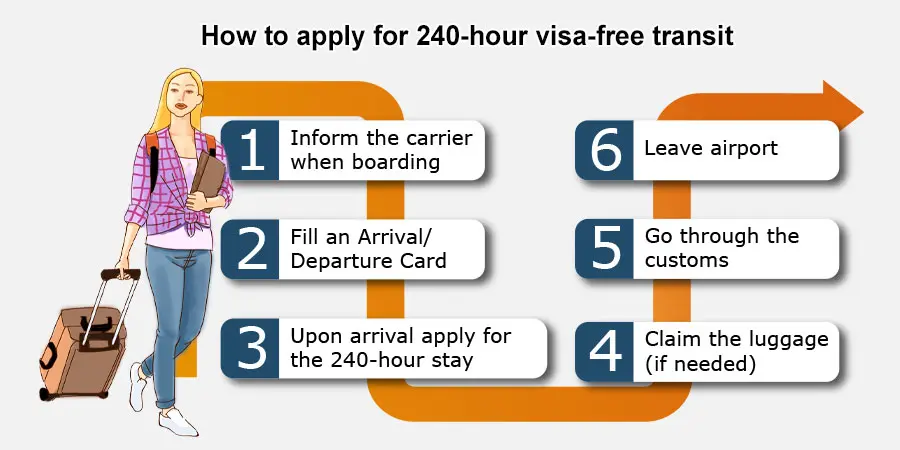 How to apply for 144-hour visa-free transit
What Are the Eligible Transit Ports?
In Guangdong, only 3 airports can issue the 144 hour free transit, and they are Guangzhou Baiyun Airport, Shenzhen Bao'an Airport, as well as Jieyang Chaoshan Airport, so the passengers who want to apply for this policy need to enter Guangdong from the 3 ports. But they are allowed to leave from any port in Guangdong.
The basic information about the 3 ports is as follows:
| | | |
| --- | --- | --- |
| Airport | Telephone Number | Visa Office Opening Hours |
| Guangzhou Baiyun Airport | 0086-20-36066622 | 24 hours (full year) |
| | 0086-755-82327700 | 10:00 to the last flight of the day (full year) |
| | 0086-663-3828770 | 24 hours (full year) |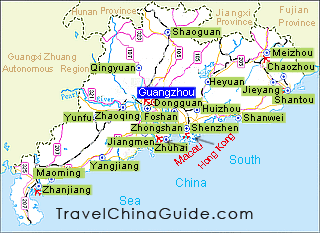 Areas Allowed to Stay
Areas Allowed to Stay
Passengers are allowed to travel or conduct business in the whole Guangdong Province if using the 144-hour visa-free transit, including Shenzhen, Guangzhou, Zhuhai, and Dongguan. It's not allowed to get of the province.
What Can You Do during the 144 Hours?
Sightseeing the Landmarks of Cities
Travelers can go to some popular scenic spots to have a better understanding on Guangdong, such as the well-known
Window of the World
in Shenzhen, the fascinating
Yuexiu Park
and the charming
Pearl River
in Guangzhou. Taking a
Pearl River cruise
has become a must-do thing for travelers in Guangzhou. Sightseeing the cities in Guangdong will not disappoint tourists because there are many beautiful attractions with natural and cultural sceneries within the province.

Recommended Tours: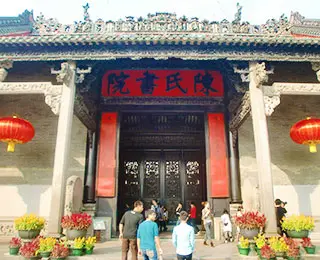 3 Days Guangzhou City Tour from $209
Guangzhou One Day Tour from $49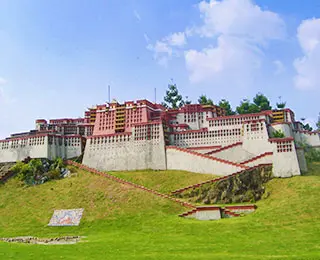 2 Days Shenzhen Tour Package from $229
Conducting Business Activities
Passengers qualify for this policy can also conduct business activities or take part in trade fairs like the
Canton Fair
. Within the 6 days, businessmen can visit factories and firms in depth as well.
Cantonese cuisine attracts a lot of tourists from all over the world for its refined taste. Tasting the exquisite Cantonese cuisine and delicious Guangzhou snacks can be a highlight to the 6-day trip in Guangdong.
Taking Cruise Tours
Tourists who qualify for the 144-hour convenient visa to Guangdong province China can take a flight to enter and then embark on a cruise or tour to other countries.

Further Reading on
China 144-Hour Visa-Free Policy
:
144-Hour Visa-Free Transit in Beijing, Tianjin, and Hebei
144-Hour Visa-Free Transit in Shanghai, Jiangsu, and Zhejiang
144-Hour Visa-Free Transit in Liaoning
Xiamen
,
Wuhan
,
Qingdao
,
Chengdu
,
Kunming
- to be implemented since Jan. 1, 2019
- Last modified on Jan. 17, 2019 -
Questions & Answers on 144-Hour Visa-Free Transit in Guangdong
Asked by Alice Chow from AUSTRALIA | Jan. 15, 2019 01:43

Reply
We arrive on day 1 at 6 am at Guangzhou Baiyun International and leave on day 4 at 10 am
is this allowed for the 72 Hours visa free? Thanks.
Answers (1)
Answered by Madelyn from DENMARK | Jan. 17, 2019 19:48

0

0

Reply
Yes, you can enjoy the 72 hours visa free. The time calculation starts from 00:00 the next day of your entry date.
Asked by David Muddle from AUSTRALIA AND UK | Jan. 08, 2019 10:34

Reply
When in 2019 will the 144hr visa for Guangdong come into effect?
Answers (2)
Answered by Joseph | Jan. 08, 2019 17:13

0

0

Reply
There is no date set.
Answered by Paul from USA | Jan. 09, 2019 04:55

0

0

Reply
Considering the other regions quickly had 144 hour added after announcement that, Guangzhou is a long ways away since they have been promising it for quite some time now.
Asked by Mario from ARGENITNA | Jan. 05, 2019 11:08

Reply
Is the 144 hs Visa in Guangdong available already
Is there any update on this info? Any official announcement?
Thanks for all the info!
Answers (3)
Answered by Paul from USA | Jan. 05, 2019 14:32

0

0

Reply
Nope. no time frame for it either
Answered by Mario from ARGENTINA | Jan. 11, 2019 23:37

0

0

Reply
Paul, thank you very much for your answer.
I wonder about the purpose of the information on the website.
Where does from?
I plan to go to China end of April, if there is no change, I should make changes on my bookings. Are there any hints that they're about to change this 72hs policy to the 144hs?
My question is to understand if there are reasons to think this change will take place, if we know that the administration is delaying an announced change, for example.
Or if this information has no support. I doubt that's the case, since the site looks very informative and well intended... Anyway if that's case I suggest to edit that info.

Thank you very much!

Answered by Charlie from CANADA | Jan. 13, 2019 18:11

0

0

Reply
Well, I checked the latest information on the internet, there is no news about when the 144 hours policy in this area will be effective. The information on this website is correct.
Asked by Shane Bibby from UNITED KINGDOM | Dec. 29, 2018 04:39

Reply
When will we be able to visit Shenzhen on a cruise ship using 144 hour visa
Answers (1)
Answered by Paul from USA | Dec. 29, 2018 05:55

0

0

Reply
There is no 144 hour Transit is Shenzhen
Asked by J from AUSTRALIA | Dec. 13, 2018 17:45

Reply
I am Australia Passport holder, and have return flight tickets from Sydney to Guangzhou.
I only holding 1 entry visa to CHINA currently, and my uncle in Hong Kong is very sick, can I go to Hong Kong and from Hong Kong back to Guangzhou via HuangGang with 144 hours free visa, and then catch air flight from Guangzhou to Sydney?
Answers (2)
Answered by Samuel from CANADA | Dec. 17, 2018 00:29

0

0

Reply
There is no 144 hours visa free policy in Guangzhou now. Thus you can only enjoy the 72 hours visa free policy.
Answered by Thomas | Dec. 25, 2018 11:23

0

0

Reply
You can enter Guangzhou with your visa, leave for HK and take a flight back to Guangzhou to catch your flight to Sydney.
Hk - Guangzhou - Sydney is fine for the 24 or 72h twov.