144-Hour Visa-Free Transit in Guangdong
144 hours visa-free transit has been carried out in Guangdong, which provides great convenience for passengers from 53 countries or regions transiting through Guangdong to a third country or region. Tourists eligible for the 144-hour visa-free transit in Guangdong will be able to travel within the whole province for 6 days without applying for a visa, and the stay duration will be counted from 00:00 the day after the entry date.
Which Countries Are Covered by the Policy?
24 Schengen Agreement Countries: Austria, Belgium, Czech Republic, Denmark, Estonia, Finland, France, Germany, Greece, Hungary, Iceland, Italy, Latvia, Lithuania, Luxembourg, Malta, Netherlands, Poland, Portugal, Slovakia, Slovenia, Spain, Sweden, Switzerland
15 Other European Countries: Russia, the United Kingdom, Ireland, Cyprus, Bulgaria, Romania, Ukraine, Serbia, Croatia, Bosnia-Herzegovina, Montenegro, Macedonia (FYROM), Albania, Belarus, Monaco
6 American Countries: the United States, Canada, Brazil, Mexico, Argentina, Chile
2 Oceania Countries: Australia, New Zealand
6 Asian Countries: Korea, Japan, Singapore, Brunei, United Arab Emirates, Qatar
What Is An Eligible Route?
Country A → B: Guangdong → Country C
Here A refers to the country from which passengers enter Guangdong, and C refers to a third country or region. Before passengers' entry to Guangdong and after passengers' leave from Guangdong, they cannot have a stop anywhere in Mainland China. For example, if a passenger departs from UK to Guangzhou, with a stop in Shanghai, he cannot use the 144-hour visa-free transit.
What Are the Requirements & Procedures for Application?
Required documents:

Passport/Travel Document valid for at least 3 months from the date of entry

Confirmed onward ticket to a third country/region

Visa for a third country/region (if needed)

A fully completed Arrival/Departure Card (including name, nationality, passport no., visa no. & issuance place, flight no., purpose of visit, date of birth, gender)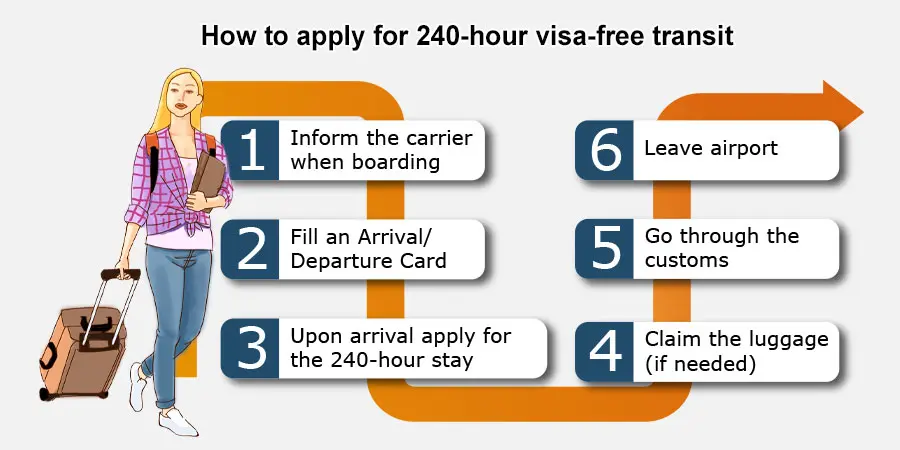 How to apply for 144-hour visa-free transit
What Are the Eligible Transit Ports?
In Guangdong, only 3 airports can issue the 144 hour free transit, and they are Guangzhou Baiyun Airport, Shenzhen Bao'an Airport, as well as Jieyang Chaoshan Airport, so the passengers who want to apply for this policy need to enter Guangdong from the 3 ports. But they are allowed to leave from any port in Guangdong.
The basic information about the 3 ports is as follows:
| | | |
| --- | --- | --- |
| Airport | Telephone Number | Visa Office Opening Hours |
| Guangzhou Baiyun Airport | 0086-20-36066622 | 24 hours (full year) |
| | 0086-755-82327700 | 10:00 to the last flight of the day (full year) |
| | 0086-663-3828770 | 24 hours (full year) |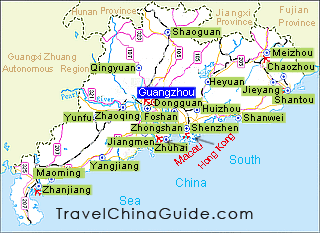 Areas Allowed to Stay
Areas Allowed to Stay
Passengers are allowed to travel or conduct business in the whole Guangdong Province if using the 144-hour visa-free transit, including Shenzhen, Guangzhou, Zhuhai, and Dongguan. It's not allowed to get out of the province.
What Can You Do during the 144 Hours?
Sightseeing the Landmarks of Cities
Travelers can go to some popular scenic spots to have a better understanding on Guangdong, such as the well-known
Window of the World
in Shenzhen, the fascinating
Yuexiu Park
and the charming
Pearl River
in Guangzhou. Taking a
Pearl River cruise
has become a must-do thing for travelers in Guangzhou. Sightseeing the cities in Guangdong will not disappoint tourists because there are many beautiful attractions with natural and cultural sceneries within the province.

Recommended Tours: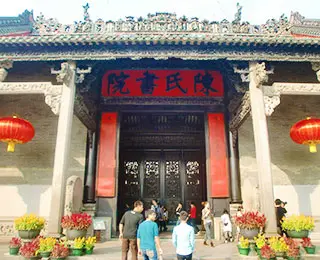 3 Days Guangzhou City Tour from $249
Guangzhou One Day Tour from $83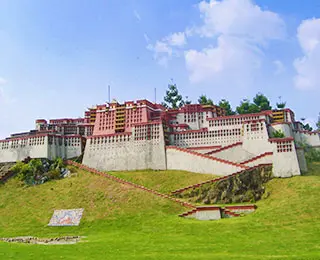 2 Days Shenzhen Tour Package from $239
Conducting Business Activities
Passengers qualify for this policy can also conduct business activities or take part in trade fairs like the
Canton Fair
. Within the 6 days, businessmen can visit factories and firms in depth as well.
Cantonese cuisine attracts a lot of tourists from all over the world for its refined taste. Tasting the exquisite Cantonese cuisine and delicious Guangzhou snacks can be a highlight to the 6-day trip in Guangdong.
Taking Cruise Tours
Tourists who qualify for the 144-hour convenient visa to Guangdong province China can take a flight to enter and then embark on a cruise or tour to other countries.

Further Reading on
China 144-Hour Visa-Free Policy
:
144-Hour Visa-Free Transit in Beijing, Tianjin, and Hebei
144-Hour Visa-Free Transit in Shanghai, Jiangsu, and Zhejiang
144-Hour Visa-Free Transit in Liaoning
Xiamen
,
Wuhan
,
Qingdao
,
Chengdu
,
Kunming
- Last modified on Sep. 11, 2019 -
Questions & Answers on 144-Hour Visa-Free Transit in Guangdong
Asked by Victor from JAPAN | Sep. 18, 2019 08:07

Reply
Can you depart via Ferry?
Am I right in thinking as long as you arrive via any of the 3 airports listed, and you hold a ticket to another country within 144hrs, you can depart from any port (train, bus, ferry, etc)?
Answers (1)
Answered by ZUPAN | Sep. 18, 2019 14:45

0

0

Reply
That is definitely correct. Anyway, the situation is such that just a portion of all available ports and means of transport are really available. What does it mean? It means that you simply cannot book a bus from Shenzhen to Hong Kong because there is no way how could you book online, in advance a bus ticket for this route. In reality, only these options are available for real:

For Hong Kong:

- a flight from Guangzhou to Hong Kong
- several ferry lines from Guangzhou, Shenzhen and Zhuhai (some other cities too, but it should be additionally explored)
- a Guangzhou - Kowloon through train that operates from Guangzhou East to Hong Kong Hung Hom railway station

For Macau:

- a ferry from Shenzhen Shekou port
Asked by S Clark from CANADA | Sep. 17, 2019 22:48

Reply
Canton Fair and then Yiwu Markets
We plan to fly into Guangzhou from Canada but all flights from Canada transit in Beijing or Shanghai. From Guangzhou, we will train to Shenzen and then to Hong Kong. We will then fly from Hong Kong to Yiwu and then train to Shanghai for our departure back to Canada. My concern is: will the transit in Beijing disqualify us from our 144 hr visa for Guangzhou?
Answers (1)
Answered by ZUPAN | Sep. 18, 2019 14:57

0

0

Reply
Yes, the transit in Beijing definitely disqualifies you from using 144 hour visa free transit.

In reality, you have direct, nonstop flights from Canada to Guangzhou offered by China Southern Airlines:

- Vancouver - Guangzhou, daily flight CZ330
- Vancouver - Guangzhou, Mondays, Wednesdays, Saturdays, CZ378
- Toronto - Guangzhou, daily flight CZ312

All the rest within your itinerary is definitely fine.

Please, have in mind that you will have to book tickets for a ferry from Shenzhen Shekou port to Hong Kong Macau ferry terminal in advance and have a printout of the e-confirmation with you as a proof that you will be really in a transit to Hong Kong.
Asked by Geoffrey Wood from CANADA | Sep. 17, 2019 07:22

Reply
Transit visa itinerary acceptable?
Hi
I plan to fly to Toronto to Guangzhou (for a 36 hour stopover - under a transit visa) then on to Phnomh Penh (Cambodia). I will then fly back to Guangzhou without leaving the airport to catch the return flight to Canada. Would this itinerary be acceptable in terms of obtaining a transit visa?
thank you Geoffrey Wood
Answers (1)
Answered by Saul | Sep. 17, 2019 15:05

0

0

Reply
You don't need a transit visa. You can transit without a visa.
Asked by Liza from UK | Sep. 17, 2019 03:41

Reply
Does this cruise itineray qualfiy for the 144 hours visa?
Would the 144 hour visa apply in this case? We're not flying into China, but on a cruise in and out.

UK Citizen - Sailing on a cruise ship from:
A - Depart - Singapore - 6 April 1700
B - Arrive into Port of Nansha - Arrive 10 April 0700 - Depart 10 April 1600
C - Arrive - Hongkong - 10 April 2100

My understanding is Nansha is within the Guangdong province - so the itineray would qualify. But my concern is that it says the 144 hours visa are only issued at the 3 listed airport. And we'll be arriving and departing from the cruise port in Nansha.

Thank you
Answers (2)
Answered by ZUPAN | Sep. 17, 2019 15:53

0

0

Reply
Liza, your doubts are very reasonable. At the time being you definitely cannot enjoy 144 hour visa free transit if entering Guangdong province through Nansha cruise port. It is also doubtful whether you will be eligible for 24 hour visa free transit too!

At the time being it would be very irresponsible to tell you that you don't need a visa, but since your cruise is during the next year, then the situation could change. Why? The reason is very simple. The brand new, literally state of the art new cruise terminal will open in November and the operators, along with Guangzhou city and Guangdong province are lobbying for visa free transit corrections, so that Nansha port becomes eligible for all kinds of visa free transit options along with other great ports like Tianjin, Shanghai, Xiamen...

In other words, it is quite possible that until your cruise dates, the visa free transit policy will adapt and it would be the best that you check this detail here at the beginning of the next year. I hope it will bring us several pleasant news :)
Answered by Liza from UK | Sep. 18, 2019 00:58

0

0

Reply
Zupan, thank you very much - that's really helpful.

It's March next year before we travel so I'll wait until the beginning of the year and check how things are then.
Asked by John from TAIWAN | Sep. 17, 2019 03:17

Reply
Taipei-Shenzhen-HK?
I am an American living in Taiwan. I possess two passports - An American passport and a Taiwanese non-Resident Passport 無戶籍國民護照.

I plan to go to Shenzhen for a business trip. We're still in discussion with the other parties involved, but so far I plan to depart from Taipei, conduct business in Shenzhen and Dongguan, and then depart to Hong Kong or Macau or a third city. Would this be an acceptable course of action? Additionally, would I be able to depart from Dongguan to Hong Kong via High Speed Rail or other conveyance?
Answers (1)
Answered by ZUPAN | Sep. 17, 2019 15:42

0

0

Reply
First of all, it is probably more convenient that you travel on US passport.

Before your departure from Taiwan, you will have to decide where will you go after your stay in Shenzhen and Dongguan. This is essential because your destination after your visit to the mentioned two cities will be immediately visible to mainland China authorities. In reality, you will be in 144 hour visa free transit. Hong Kong is by far the most convenient option.

To be allowed to enjoy 144 hour visa free transit in Guangdong province, you will have to book a ferry from Shenzhen Shekou to Hong Kong Macau ferry terminal through CKS - Chu Kong Passenger Transport company website. You will receive an e-confirmation and you will print it out. You will need this printout all the time and also in Shekou where you will replace it with real paper ticket for Hong Kong. In other words, you will return to Shenzhen and take a ferry from there.

There is another option and that is to take a slow train from Changping [Dongguan] railway station to Hung Hom railway station. This would be even better option because the total travel time is just 1 hour 15 minutes, but to be allowed to use this train, you need to book it in advance, you can do it on this website, and also to offer your accommodation address for the agency to deliver the ticket on that address. Keep in mind that you cannot book this train on the official website because they do not offer an option with your name on the e-confirmation that you will receive on your email.

Now, you know your option and you will make a decision.