Beijing Highlights
SG12: 2 Full Days Small Group Tour to Beijing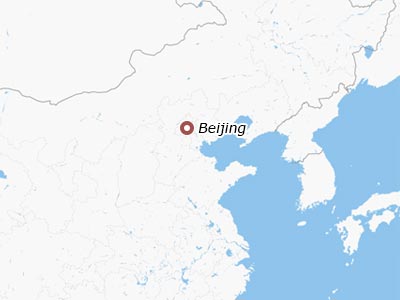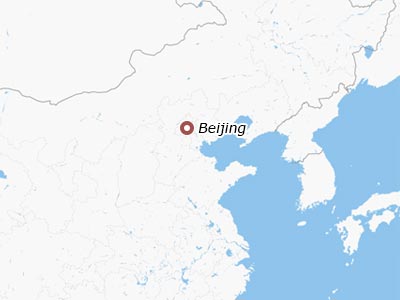 Tour Type:
Small Group of 1-18 persons, guaranteed departures
Guide & Driver:
English-speaking guide & air-conditioned, licensed limousine
Tour Highlights:
Must-see sights - the Great Wall, Forbidden City, Temple of Heaven
Admire the world's largest city center square, Tiananmen Square
Enjoy an a la carte lunch with Beijing Roast Duck at a superb restaurant
Watch the marvelous Chinese Kung Fu Show at the Red Theater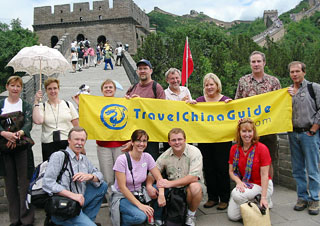 Airport pick-up & airport-hotel transfer.
On landing at Beijing Capital Airport, after reclaiming your luggage and clearing customs, your anticipated China tour starts with a warm welcome by our guide. We will transfer you to a luxurious hotel for the start of a three-night stay. The rest of the day remains free for you to get over the jet lag and prepare for your two full days Beijing group tour.
Meals: No meals, advice freely available
Accommodation:
The Great Wall Hotel Beijing





- the former Sheraton
Tiananmen Square, Forbidden City, A la carte lunch, Temple of Heaven, Kung Fu Show. (B+L)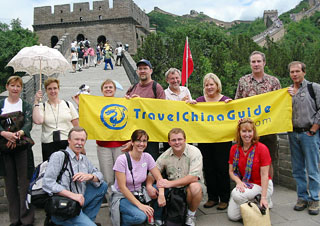 Our group at the Great Wall
Photo by our client Mr. David Custer
Before the escorted tour starts, you will meet the other members of your group in the hotel and your guide will give a brief introduction to your Beijing trip. The first stop today is the impressive
Tiananmen Square
, the heart of the city. From there you will enter the imperial
Forbidden City
, the largest ancient palace complex in the world. Being the place where 24 emperors lived, its fascinating halls and pavilions tell of the change of the royal court over about 600 years.
After the morning excursions, you will enjoy an
a la carte lunch
(valued at CNY150.00 per person and included in our price) at a famous local restaurant. Then off to the
Temple of Heaven
, a place where emperors worshipped heaven for good harvests. Following the visit, an exciting
Chinese Kung Fu Show
at the Red Theater is scheduled.
Meals: Western buffet breakfast, A la carte lunch
Badaling Great Wall, Sacred Way, Bird's Nest (drive by). (B)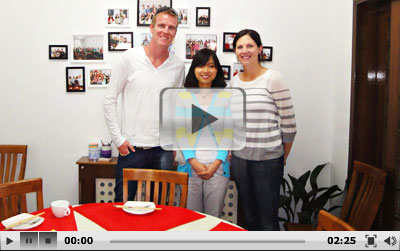 Ms. Rachael Janna Wiedman's comments on our service
This morning you will visit Badaling to experience at first hand the wonder of the
Great Wall
. As you stand on the wall and see its grandness, you will find it is no wonder that the Great Wall has the vigor to surprise the whole world. To celebrate and commemorate this moment, we especially prepare some red wine for a group toast on the Great Wall. We do not arrange lunch today as the condition of the local restaurants near to Badaling cannot meet our standard, so our suggestion is that you have a big breakfast in the hotel and have some fast food around noon.
In the afternoon continue your journey to the
Sacred Way
. Conclude the full day travel after taking a glance at the exterior of the
Bird's Nest
(Olympic National Stadium) en route to the downtown area.
Meals: Western buffet breakfast
Day 4
Departure from Beijing
After your two days Beijing tour, please check out the hotel and head to the airport by yourself today. (B)
After your two days Beijing tour, today you will travel back home or for an onward trip. Please check out of the hotel before noon and hail a taxi to the airport on your own. We kindly suggest you arrive at the airport 2.5 to 3 hours ahead of your flight schedule, especially for an international flight. We wish you a smooth journey.

Meals: Western buffet breakfast
B-- Breakfast
L-- Lunch
D-- Dinner
Prices are per person in US Dollars; departures are guaranteed even with one person!
Month
Arrival Date
Departure Date
Double Occupancy
Single Room Supplement
Oct. 2018
Oct 04(Thu)
Oct 07(Sun)
$299
$179
Oct 11(Thu)
Oct 14(Sun)
$299
$179
Oct 18(Thu)
Oct 21(Sun)
$299
$179
Oct 25(Thu)
Oct 28(Sun)
$299
$179
Nov. 2018
Nov 01(Thu)
Nov 04(Sun)
$299
$169
Nov 08(Thu)
Nov 11(Sun)
$299
$169
Nov 15(Thu)
Nov 18(Sun)
$299
$169
Dec. 2018
Dec 08(Sat)
Dec 11(Tue)
$299
$169
Dec 22(Sat)
Dec 25(Tue)
$299
$169
Prices are per person in US Dollars; departures are guaranteed even with one person!
Month
Arrival Date
Departure Date
Double Occupancy
Single Room Supplement
Jan. 2019
Jan 05(Sat)
Jan 08(Tue)
$299
$119
Jan 19(Sat)
Jan 22(Tue)
$299
$119
Feb. 2019
Feb 24(Sun)
Feb 27(Wed)
$299
$119
Mar. 2019
Mar 05(Tue)
Mar 08(Fri)
$329
$119
Mar 12(Tue)
Mar 15(Fri)
$329
$149
Mar 26(Tue)
Mar 29(Fri)
$329
$149
Apr. 2019
Apr 04(Thu)
Apr 07(Sun)
$329
$149
Apr 11(Thu)
Apr 14(Sun)
$329
$149
Apr 18(Thu)
Apr 21(Sun)
$329
$149
Apr 25(Thu)
Apr 28(Sun)
$329
$149
May. 2019
May 09(Thu)
May 12(Sun)
$329
$149
May 16(Thu)
May 19(Sun)
$329
$149
May 23(Thu)
May 26(Sun)
$329
$149
May 30(Thu)
Jun 02(Sun)
$329
$149
Jun. 2019
Jun 06(Thu)
Jun 09(Sun)
$329
$149
Jun 13(Thu)
Jun 16(Sun)
$329
$149
Jun 20(Thu)
Jun 23(Sun)
$329
$149
Jun 27(Thu)
Jun 30(Sun)
$329
$149
Jul. 2019
Jul 04(Thu)
Jul 07(Sun)
$329
$149
Jul 11(Thu)
Jul 14(Sun)
$329
$149
Jul 18(Thu)
Jul 21(Sun)
$329
$149
Jul 25(Thu)
Jul 28(Sun)
$329
$149
Aug. 2019
Aug 01(Thu)
Aug 04(Sun)
$329
$149
Aug 08(Thu)
Aug 11(Sun)
$329
$149
Aug 15(Thu)
Aug 18(Sun)
$329
$149
Aug 22(Thu)
Aug 25(Sun)
$329
$149
Aug 29(Thu)
Sep 01(Sun)
$329
$149
Sep. 2019
Sep 05(Thu)
Sep 08(Sun)
$339
$159
Sep 12(Thu)
Sep 15(Sun)
$339
$159
Sep 19(Thu)
Sep 22(Sun)
$339
$159
Oct. 2019
Oct 03(Thu)
Oct 06(Sun)
$339
$159
Oct 10(Thu)
Oct 13(Sun)
$339
$159
Oct 17(Thu)
Oct 20(Sun)
$339
$159
Oct 24(Thu)
Oct 27(Sun)
$339
$159
Oct 31(Thu)
Nov 03(Sun)
$339
$159
Nov. 2019
Nov 07(Thu)
Nov 10(Sun)
$339
$159
Nov 21(Thu)
Nov 24(Sun)
$309
$129
Dec. 2019
Dec 08(Sun)
Dec 11(Wed)
$309
$129
Dec 22(Sun)
Dec 25(Wed)
$309
$129
Jan. 2020
Jan 05(Sun)
Jan 08(Wed)
$309
$129
Feb. 2020
Feb 13(Thu)
Feb 16(Sun)
$309
$129
Mar. 2020
Mar 05(Thu)
Mar 08(Sun)
$329
$149
Mar 12(Thu)
Mar 15(Sun)
$329
$149
Mar 26(Thu)
Mar 29(Sun)
$329
$149
Price Includes
Hotel accommodation with breakfasts
A la carte lunches as itinerary specifies
Professional English-speaking guide
Driver & air-conditioned vehicle
Entrance fees to tourist sites
Tips or gratuities for hotel porters
Price Excludes
International airfares
Entry Visa fees
Personal expenses
Tips or gratuities for guides and drivers
Why Travel With Us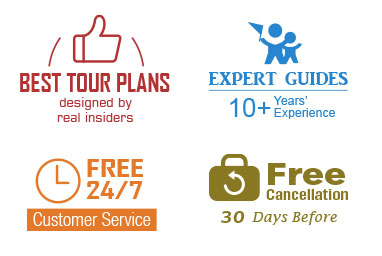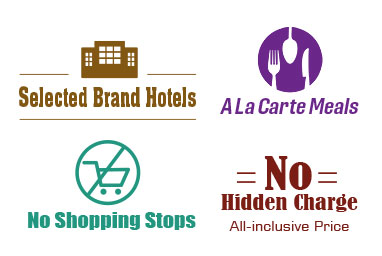 Itineraries you may also like: