Top Beijing Attractions
More Things to Do
Top 10 City Tours
Code: BJ59
2 Days Independent Jiankou Great Wall Tour
Jiankou
is a section of wild Great Wall located 85 kilometers (53 miles) from Beijing downtown. It is one of the most dangerous Great Wall sections. Due to the disrepair and exposure to wind and sunshine for years, many parts of Jiankou Great Wall have cracked and collapsed which is full of dilapidated walls and overgrown with weeds. Besides, built on steep mountain ridges, some places have almost been vertical precipices without any supporting points. There are also many abrupt slopes composed of soil and rubble. Therefore, Jiankou Great Wall is only recommended to adventurers with rich climbing experience and courage.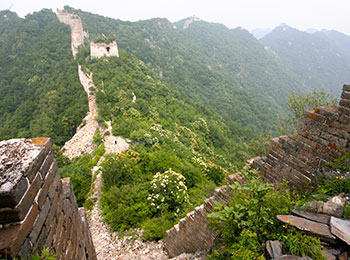 Preparation Works:
1. Some parts of Jiankou Great Wall are very hazardous, so it is not advisable to climb alone. It would be better for more than three companions to travel so that you can help each other. If possible, hire an experienced local guide.
2. Do pay highly attention and take care in the whole climbing process.
4. Be sure to take safety measures. The rope and safety buckle are necessary so that you won't fall down.
5. Overgrown with shrubs, Jiankou Great Wall has only one narrow path allowing one person to walk on. So remember to wear the hard-wearing coats and pants. In addition, sports sunglasses and UV-resistant goggles are suggested.
6. Travel with light pack but bring enough water and high-calorie snacks.
7. A first-aid package is necessary. It does not only refer to the Band-Aids. It includes medical facilities like painkillers, hemostatic, bandages, etc.
8. Make full preparations before climbing. Do not do things beyond your ability. If there is any danger, call the police in time. It is advisable to buy the travel accident insurance including the accident rescue.
Day 1
Beijing - Jiankou Great Wall North Line Hiking
Go to the Jiankou Great Wall from Beijing downtown. After checking in a hostel at the mountain foot, climb the north section of Jiankou Great Wall to see the Sky Stairs, Eagle Flies Facing Upward and Beijing Knot. Then go back before sun setting and have a rest.
How to Get to Jiankou Great Wall from Beijing Downtown
→
Option 1: Bus Express Line 916
Take bus Express Line 916 from Dongzhimen Bus Hub Station to Huairou Beidajie stop with a duration of about 1h 50min. The bus fare may reach CNY12. Beijing subway line 2 and line 13 can send you to Dongzhimen directly.
Upon getting off at Huairou Beidajie, cross the street to transfer to bus H36 and get off at the terminal Tianxianyu, taking 45 minutes and CNY5. The bus H36 depart from Yujiayuan at 06:20, 11:30 & 17:40 every day. Getting off the bus, you need to walk forwards along the main road for 1.4 kilometers (0.8 miles) to the foot of Jiankou Great Wall. More conveniently, hire a cab to for this transfer directly, which costs about CNY50 per cab.
→
Option 2: Bus Line 916
1. Get on the bus line 916 at Dongzhimen Bus Hub Station, and get off at Yujiayuan, taking around 2.5 hours and CNY11.
2. Cross the street to transfer to the bus H25. The bus departs from Yujiayuan at 11:30 & 16:30 every day. You can get off at Xizhazi Village, which is the location of Jiankou Great Wall rightly. The whole journey takes around 1.5 hours via 24 stops, with a cost of CNY8/person. If travel by cab, it takes around CNY50 per cab, too.
Notes: The bus Express Line 916 and the bus line 916 are two different bus lines, although some sections of the two routes overlap.
Friendly Tips for Entry:
Jiankou Great Wall is free of charge, but if entering from Xizhazi Village, you need to pay CNY 20 for admission to Xizhazi Ecological Sightseeing Park.
Recommended Route:
Xizhazi Village - Sky Stairs - Eagle Flies Facing Upward - (Beijing Knot) - Xizhazi Village
Time needed: 2-3 hours
Climb up to the Great Wall along the path to the right of Zhao's Villa. Then go clockwise along the Great Wall to Sky Stairs. Afterwards, you will be close to the most dangerous vantage point, Eagle Flies Facing Upward. After passing it, go back to the Xizhai Village through a path. If you are still energetic, you can also continue northwards to Beijing Knot from Eagle Flies Facing Upward and then return. The route covers the steepest parts of Jiankou Great Wall.
Where to Live
Located close to Jiankou Great Wall, Xizhazi Village has been the base camp for tourists. Different uphill paths in the village lead to the different spots on the Great Wall separately. Visitors to go sightseeing or take pictures always accommodate here. The most famous lodging is the Zhao's Villa whose owner's surname is Zhao.
Day 2
Jiankou South Line Hiking - Beijing
Get up early to hike the south line dotted with Jiankou Spot, Tiny Potala Palace and Zhengbei Tower. Return to the village and then go back to Beijing.
Recommended Route:
Xizhazi Village - Jiankou Spot - Tiny Potala Palace - Zhengbei Tower - Xizhazi Village
Time needed: about 4 hours
Compared to the route of the first day, it is less difficult since this section has been conquered through exploration of long time. Quite a lot travelers can finish it.
If you go further east after passing Zhengbei Tower, you will reach
Mutianyu Great Wall
via Ox Horn Edge. Those who are interested in hiking to the Mutianyu section can make preparations and plan in advance.
How to Return to Beijing Downtown:
Take the bus H25 leaving at 13:15 at Xizhazi Village to Yujiayuan Yiqu, taking 1.5 hours and CNY8. Cross the street and then change to bus line 916 back to Dongzhimen, spending about 2h and CNY12.

More Independent Beijing Great Wall Tours:
Jinshanling Great Wall: set out an exciting hiking on well-perserved Jinshanling Great Wall
Huanghuacheng Great Wall: enjoy the unique landscape of "the Great Wall in water"
Shanhaiguan & Beidaihe: know about the history of Shanhaiguan and relax at Beidaihe seaside