How to Book Tours with TravelChinaGuide.com?
Step 1
Inquiry
Step 2
Get a quote
Step 3
Free Changes
Step 4
Booking & Payment
Step 5
Confirmation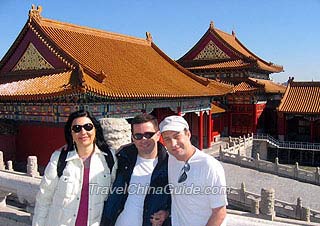 Forbidden City, Beijing, Photo by our client Mr. Mauricio Aparecido Martins
Step 1:Selection & Send an Inquiry
Browse the ready-made tour itineraries on our website and select the route most suitable for you. Please click the "Free Inquiry" button below the price, fill in the form and then submit it to us.
If there is no itinerary in our ready-made tours that meets your demands, just click "
Tailor My Trip
" on the above site navigation part of the tour page, fill in the form with your requirements and then submit it to us. More detailed information is highly appreciated as it will help us optimize your customized tour plan more effectively.
Note: Prior to sending the inquiry, if you have any questions about the tour, just click our "Live Chat" on the right side of tour pages and raise any of your questions there. Our online travel counselors will answer your questions immediately. Alternatively, you can reach us via our toll free telephones.
Step 2:Get a Quote within 24 Hours
After receiving your inquiry, our professional travel counselors will go to work for you. He/she will arrange a very reasonable itinerary and quote our best price. You will receive our reply within 24 hours.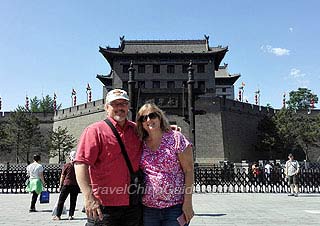 We are working for your smiles!
Photo by our client Ms. Sharon Hamilton
Step 3:Free Changes per Your Requests
Upon your receipt of our reply, please carefully study the itinerary and quotation we have prepared for you. Also, please ensure that you read our attached Terms & Conditions located below the itinerary. After that, should you have any questions or further requirements regarding the itinerary, please feel free to e-mail us. We will be pleased to make any changes as per your requests. No matter how long the tour discussion may take, our aim is to make you completely satisfied with the final plan.
Step 4:Booking & Payment
When our proposal is in accordance with your plans, please show your acceptance of our offer by phone or email and indicate to us your preferred method of payment. We accept payment by Cable transfer, Credit Card, Western Union and PayPal. We will provide you some suggestions and offer detailed instructions about the payment procedure in the email.
Note: The relevant hotel and flight bookings will be made at this time. Therefore, the earlier you confirm the tour, the more likely that the proposed itinerary can be adhered to.
Step 5:Confirmation
The tour is officially confirmed at the moment that we receive your payment. We will write an e-mail to confirm this with you. A travel invoice or voucher will be provided.
About ten days prior to your trip starting date, we will send you all necessary contact details for each city, climate information and some further travel advice to help you with your packing. We are all excited about your choice to visit China!
Questions & Answers
Asked by Zeyad from GERMANY | Mar. 19, 2019 09:56

Reply
Gibt es bei Ihnen ein Tour auf deutsch?
Answers (1)
Answered by TravelChinaGuide | Mar. 19, 2019 18:26

0

0

Reply
In China, German-speaking tour guides are not as many as English-speaking guides and not all the cities can provide German-speaking guides. That should be no problem in large cities like Beijing, Xi'an, Shanghai, but you still need to request earlier. Please feel free to contact us should you need more information. We will try to help you out.
Asked by Charles Shin from UNITED STATES | Jul. 12, 2018 18:07

Reply
How do I purchase admission ticket to Mogao cave on line?
Answers (1)
Answered by Simon | Jul. 12, 2018 18:41

0

0

Reply
You can purchase the ticket on the official website of Mogao Caves or from a travel agency.
Asked by Claus Rasmussen from DENMARK | Jun. 30, 2018 15:19

Reply
upload copy of passport
Is it correct that we need to upload a copy of our passport
Answers (1)
Answered by TravelChinaGuide | Jul. 01, 2018 20:55

0

0

Reply
Yes, normally, you will need to send us the copy of your passport if you book a tour with us. Thanks for your attention.
Asked by holly from USA | Sep. 27, 2017 09:07

Reply
As a US citizen can I obtain a same-day china visa upon arrival to china?
Answers (1)
Answered by Robyn | Sep. 27, 2017 21:37

1

0

Reply
No. The rules on visa on arrival are not applicable to the nationals of United States. It is suggested that you apply for a Chinese visa at your local Chinese embassy before enter to China.

However, if you go to Hong Kong, you can stay there for 90 days without visa, and you may also avail of the 72-hour or 144-hour visa free transit in Beijing, Xi'an, Shanghai and other cities if you meets the requirements.
Asked by michael from ENGLAND | Sep. 22, 2017 06:24

Reply
Beijing Aiport to Beijing Marriott Hotel City Wall
Hi,

I would like to book a taxi to collect me from Beijing Airport and take me to Beijing Marriott Hotel City Wall.
I will land in PEK at 23:40 but i dont know how long it will take to exit customs.
Thanks,

michael
Answers (1)
Answered by Larry | Sep. 24, 2017 20:17

1

0

Reply
According to my experience, it normally takes around one hour to exit customs including luggage claim. You may also tell your arrival time to the driver when booking the taxi and the driver will wait for you at the airport timely.