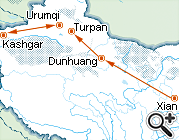 Ancient Silk Road
B-601A: 10 Days China Tours from Helsinki Finland to Xian

Dunhuang

Turpan - Urumqi

Kashgar

Urumqi
Welcome to take the independent China tours from Finland. If you have explored China for several times, you would probably be thinking of going to some places untouched before, such as the ancient Silk Road. Since there are limited flights connecting international destinations and cities on the Silk Road, you can make Xian as your entry city. Finn Air operates direct flight AY059 1745/0640+1 from Helsinki to Xian every Wednesday, Friday, and Sunday. The flying time is 7h55m. If it is not available on the day you depart, you may take other flights by making transfer at Beijing, Shanghai, Guangzhou, Chongqing, Moscow, or Paris. People traveling from Tampere, Turku, Oulu, Rovaniemi, or Espoo can connect the flight through Helsinki.
Unlike international metropolises, Dunhuang, Turpan, Urumqi, and Kashgar claim to be the cities with their own features and customs. Ahead of your independent tour to the Silk Road, we would like to invite you to read some tips that may help you on your travel. Please
click here
for detailed information.
You will arrive at Xian Xianyang International Airport at 6:40 this morning. There is only one train K367 from Xian to Dunhuang, which departs at around 10:30. The time is a bit tight for your transfer to catch the train on the same day. Besides, Xian is the starting point of the ancient Silk Road, which has historical attractions in abundance. Therefore, we kindly suggest you stay overnight in Xian today and take train to Dunhuang tomorrow. You can also utilize this period of time to explore some main attractions of the ancient city by yourself, such as the
Terracotta Army Museum
and the
City Wall
.
In the first place, you need to check into a hotel for rest, and the 4-star Days Inn City Center is highly recommended among backpacking travelers. It is located at the prosperous North Street in the city center. A Taxi ride from the airport to the hotel may cost you around CNY120. If it's too early for check-in, you may deposit your luggage at the front desk of the hotel, and then start your exploration in this ancient city.
Firstly, take a taxi at a cost of CNY10 to Xian Railway Station, and you can catch the Tourist Bus Line 5 (306) to the Terracotta Army Museum with one hour's ride. After that, we suggest you have some fast food in nearby KFC or Dicos, as other restaurants near the museum offering food of low quality and high price. Then, reverse the trip back to the city proper by the same bus, and take a taxi with a fare of CNY15 to the South Gate, one of the main entrances to ascend the City Wall. The well-preserved wall was built in the Ming Dynasty (1368 – 1644), and you can either take a leisure stroll for some part or cycle for an entire circle on the wall. At last, take a taxi back to the hotel at a cost of CNY10.
Accommodation Suggestion: Days Inn City Centre
Buddha Statue in Mogao Caves, Dunhuang
Dunhuang will be an amazing destination on your backpacking China itinerary if you want to follow the trace of ancient Silk Road. After breakfast, take a taxi to Xian Railway Station directly and it costs CNY10. In travel peak seasons, the train ticket is in great need, so we suggest you book the tickets with TravelChinaGuide and we will deliver them to your hotel in advance. The train K367 departs around 10:30 from Xian Railway Station, so please get to the station before 9:30. The train ride takes about 24 hours, the dining car serves simple Chinese food. We suggest that you take some fast food or snacks if you are not used to the Chinese food.

Accommodation: Overnight soft sleeper train
You will arrive in Dunhuang at around 10:20. Please find your own way to the hotel you booked before. TravelChinaGuide suggests you the 4-star Grand Sun Hotel, located at North Shazhou Road. You can take a taxi to the hotel with an approximate fare of CNY20 per cab. Check in and have a short rest in the hotel. At the Yangguan Middle Road near the hotel, there are various restaurants available, and you can choose one to have your lunch before starting today's trip. Please take a taxi to
Dunhuang Museum
, and the fare is no more than CNY10.
After the sightseeing in the museum, we advise you to visit another must-see attraction in Dunhuang, the
Echoing-Sand Mountain
and the
Crescent Lake
. Please take a taxi to the scenic area directly, and that would cost you around CNY15. Camel-riding would be a must-try activity, which enables you to experience the exotic lifestyle on the Silk Road. You can also take the electric sightseeing car to tour around. Finally, hail a taxi back to your hotel with a fare of CNY20. Kindly reminder: if you travel to Dunhuang in summer, especially in August and September, you'd better go to the Echoing-sand Mountain after 18:00 and enjoy the beautiful sunset on the desert around 21:00, as it would be very hot with strong ultraviolet in the afternoon.
Accommodation Suggestion: Grand Sun Hotel
Ancient City of Jiaohe, Turpan
After breakfast, please check out and leave your heavy suitcases at the hotel, and then head for the famous
Mogao Caves
. As the restaurants and shops are very limited there, we suggest that you have a big breakfast in the hotel and take some snacks if you wish to explore further in the afternoon. There are special buses to Mogao Caves in front of the Dunhuang Hotel. After breakfast, please walk south to the Middle Yangguan Road and go west for 200 yards; then turn south to Mingshan Road and the Dunhuang Hotel is 450 yards ahead of you. The earliest bus leaves for Mogao Caves at 8:30 and the bus fare is CNY8 per person. Taxi is also available with an approximate fare of CNY 50 per cab. By the way, tour guide service is included in the entrance fee of the scenic area. In travel peak season, you are supposed to make an online reservation on the official website for the entrance ticket in advance.
After you finish the sightseeing, you will take an overnight train from Dunhuang Liuyuan Railway Station to Turpan. As the bus ride from Dunhuang City to Liuyuan Railway Station takes 2 hours, so please get back to the hotel and take your luggage before 19:00, and then take a taxi to Dunhuang Bus Station in 5 minutes and catch a bus to Liuyuan Railway Station. You can also take a taxi to the railway station straightly, costing about CNY120 per cab. You are advised to take the train departs at around 23:00, and you will arrive in Turpan in the early morning the next day.
Accommodation: Overnight soft sleeper train
Upon arrival in Turpan, please find your way to a local hotel. We recommend the 3-star Huozhou Hotel. As the railway station is far away from downtown, we advise you take a taxi to the hotel directly, which may cost you CNY100-120 and take around 1 hour. After check-in, you can rent a car or taxi to visit the
Ancient City of Jiaohe
,
Karez System
, and
Emin Minaret
, and the fare is about CNY 300 - 400 per car for one day. You can also carpool to the attractions with other visitors, and the fare will be lower, about CNY100 per person. Car rental companies can be contacted through the front desk of your hotel or at the Turpan Bus Station.
Accommodation Suggestion: Huozhou Hotel
Day 7
Turpan - Urumqi - Kashgar
Our suggestion for today is to take a plane from Urumqi to Kashgar and you are supposed to book the tickets in advance. So please check out of the hotel and take a taxi at a cost of CNY7 to Turpan Bus Station, where you can connect a bus to Urumqi with 2.5 hours' ride. Upon arrival, take a taxi to the Urumqi Airport in 30 minutes at a cost of around CNY 50. Please get to the airport at least 2 hours prior to the departure time. Upon landing in Kashgar, we recommend you live in the 3-star Qiniwake Hotel (Qinibagh Hotel), and you can take a taxi to the hotel directly, which would take about 20 minutes and cost CNY30.

Accommodation Suggestion: Qiniwake Hotel
Local Bazaar in Kashgar
You have a full day to explore the city on your own, and
Abakh Khoja Tomb
,
Id Kah Mosque
, and old town of Kashgar City are our recommendations. After breakfast, you can take a taxi with a fee of CNY10 to the Abakh Khoja Tomb, the tomb of Fragrant Concubine. After visiting the tomb, take bus No. 20 from the tomb site to People's Square. Get off the bus and keep walking west along Renmin Road for 250 yards; you will reach a big crossing. Turn north to enter North Jiefang Road for another 600 yards' walking, you will find the famous Id Kah Mosque on your left side.
Around lunch time, you are suggested to have a taste of the local delicacies, such as Nang, roasted mutton and yogurt. After that, walk north along Jiefang Road in front of the mosque and turn east to Yawage Road to reach the old town of Kashgar City. You can visit the old town in the late afternoon, when the old buildings wear a golden coat of sunset. After that, take a taxi or walk westwards for 10 minutes to your hotel.
In the morning, you can take a taxi at a cost of CNY7 to the
Kashgar Bazaar
, also widely known as the Sunday Market, where you will find many interesting local specialties. Get back to check out before 12:00 and take a taxi to the airport for a flight back to Urumqi. After arrival, you are suggested to live in the 3-star Jingu Hotel in Urumqi, and you can take a taxi to reach the hotel directly at a cost of around CNY30.
Accommodation Suggestion: Jingu Hotel
Your China Silk Road tour from Finland comes to an end today. Take a taxi to the airport for a flight back home. Alternatively, you can extend your stay and explore the city on your own. Recommended attractions are
Heavenly Lake
,
Red Hill
,
Southern Mosque and Shaanxi Mosque
, and
Southern Pastures
.
You are suggested to fly out of Urumqi to Shanghai or Beijing and then connect a flight back to Helsinki. The whole journey takes more than 20 hours, so you will reach home the next day. Hope you have a great time during your china holiday tours.
Need detailed infomation on train, flight or bus/ metro schedule? Use the search tool below.
If the above route does not meet your requirements, you could DIY an itinerary by choosing daily guided tours, free days, hotels, trains and/or flights freely. Our estimated quotation can be a reference for your independent travel.

Related Itinerary: