Guiyang - Kaili Hiking Tours
It's the right route to learn about the ethnic minority culture and their special life style. As you shoot your favorite sights and you will be immersed by the peace and clean environment around you.
This travel plan boasts the best chance to savor a different culture and tourists will be treated enthusiastically by the native villagers. If you just travel in the right date, you can enjoy their fabulous festival celebration ceremony and experience the passionate ambience.
Kaili03 : 4 Days of Guiyang - Kaili - Taijiang - Shidong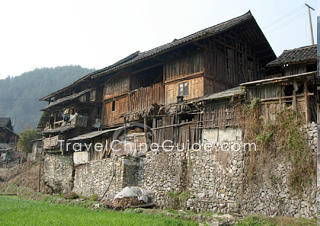 A local Miao village
If you travel to Guiyang by air, after arriving at the airport you need to transfer to Guiyang city center by taxi at a cost of about 20 yuan, for there is no direct transportation to Kaili. Tell the taxi driver to take you directly to the Guiyang Gymnasium long-distance bus station (No.318 of Zuyi Road, Guiyang), which is next to Guiyang Railway station. You can have a short rest at the station, buses depart every 20 minutes, the first bus leaves at 07:30 and the last one is at 19:30. The bus fare to Kaili is 50 yuan and it will take 3 hours to travel the 199 kilometers. After you arrive there, find a suitable rest house around Kaili passenger station to have a bath and meal after your tiring journey. The room rate is around 30 yuan to 50 yuan per room per night. The rest of the day, you can take a leisurely stroll around if you have energy and interests, staying overnight at the local rest house in Kaili.
Next day, take a regular bus from Kaili passenger station to Taijiang County (Taigong Town). The coach fare is 10 yuan and the journey will take one hour. It is suggested that you arrange your accommodation at the Taijiang government rest house; the room rate is just 20 yuan per person per room. Having arranged your accommodation and got settled, you may stroll around the country to experience the local minority folk-customs and dress, the cloth weaving, embroidery and paper cut etc. (If your trip happens in the lunar month in March, you will be fortunate to experience the Sister Feast and enjoy excellent minority performances–singing, dancing and Dragon boat Race, ect.). Walk along to visit the Wenchang Palace, which is located in the Southeast. Stay overnight at Taijiang.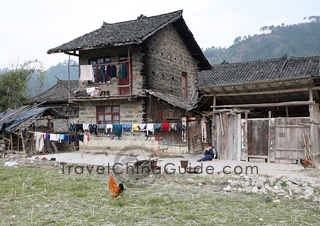 A local Miao village in Shidong Town of Taijiang
The third day, take a mid-bus at Taigong town to head for Shidong town, which is very famous for producing silver accessories. On the way, you will pass Laotun Village and PianZhai. The journey lasts about 2 hours. Have an overnight in Shidong. Once there, you are advised to find the Shidong town rest house to deposit your luggage. The room rate is around 8.00 per room per night, being a bit higher during the festivals, but still at a very reasonable price. The famous Qingshuijiang and Old Street are just above the rest house. You can boat on Qingshuijiang River and get to know the minority population, by visiting surrounding villages, such as Pian, Shijiazhai, Yangjiazhia and Fangzhai village. It really is a place to relax and walk. You also can visit the Miao minority villages. Although the local people probably cannot speak English, they are very friendly and kind. Stay overnight in Shidong to rest after the hiking tour.
The last day, you can take a bus back to Guiyang via Taijiang and Kaili. En route, enjoy the picturesque landscape. Leave Guiyang according to your schedule.