Code: DALI01
Wind, Flower, Snow and Moon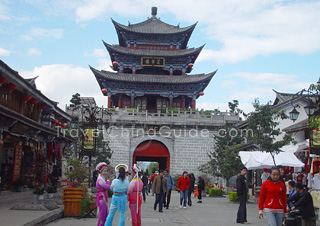 Dali Old Town
3 Days of Dali - Mt. Cangshan - Dali Old Town - Weishan County - Weibaoshan Mountain - Dali

On your first day, start your adventure at Mt. Cangshan. The best time to travel to Cangshan Mountain is from March to May, when the climate is moderate and flowers are in full bloom. Take autobus No.4; you need to walk for a while upon arrival to reach the entrance. The Mt. Cangshan admission fee is CNY30. There is a cable car available here to the Gantong Temple at a charge of CNY40-50 one way. You can, of course, choose to climb.
When you reach the Gantong Temple, walk along the Yudai Road which has a total length of 10.5 kilometers (6.5 miles). While climbing, you can get a view of the whole of Dali Town and Erhai Lake. Looking up, you will see the snow that does not melt completely on the top of Cangshan Mountain. The warm sunlight shines down upon you and the fresh breeze blows. All of these are refreshing. You will pass by Clear and Green Stream, Seven Dragon Ladies Pond, Hole of Phoenix eye and Zhonghe Temple. After about 5 hours' hiking, the road leads you down the mountain. There is also a cable car near Zhonghe Temple. The path downhill is near the ropeway, so it is not easy to get lost. Going through March Street and you will finally reach Dali Old Town. It is advisable to stay overnight here. The Dali International Youth Hostel (Address: No.181 Boai Road, Dali) might be a nice choice. When night falls, you might like to wander about on the Westerners Street. Walking along the main street which passes the south gate you will find an alleyway perpendicular to it about 150 meters away, which is the well-known Westerners Street.
If you are interested in Dali's history, Dali Bai Autonomous Prefecture Museum is recommended. Take bus No.4 or No. 8 to Xiaguan and walk to catch a minibus at the bus station in Xiaguan to Weishan County at a cost of CNY11 per person. Located 60 kilometers (37.3 miles) south of Dali, Weishan County was the birthplace of Nanzhao Country. Since the road to Weishan is rather bumpy, maybe you have to be on the road for nearly 2 hours. Upon arrival, you might walk to the Nanzhao Town, the seat of Weishan County's administration. The whole old town's checkerboard construction pattern of Ming and Qing Dynasty is well preserved. It is worth a visit here. Stay overnight in this ancient county.
Bai Autonomous Prefecture Museum, Dali
On the third day, take a motor tricycle to Weibaoshan Mountain, which stands about 10 kilometers southeast of Weishan County. It takes you about 1 hour to reach there and you need to spend CNY20-30. The admission fee at Weibaoshan Mountain is CNY50. Start your hiking in Weibaoshan Mountain, which is a famous Taoist mountain. You will have a chance to see several Taoist temples with Bai construction style. Murals of Yi people singing and dancing in the Wenchang Palace and the painted sculptures in the Taoist Jade Emperor Temple are seldom seen. In the afternoon, transfer yourself back to Dali.

More Dali Hiking Tour Information:
Back to the Past: 6 days hiking tour to Dali, Binchuan, Mt. Jizu, Xiangyun, Dinosaur Valley

Recommended tours with the visit to Dali: