Code: LIJIANG09
Promenade in Rain Forest
4 Days of Jinghong - Mengla County - Manlongdai Dai Village - Mandan Village - Menglun Town - Jinghong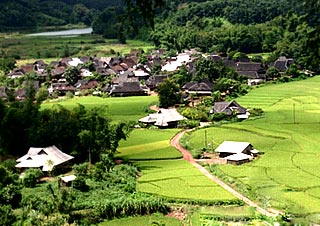 The beautiful Mengla County
Get up early on your first day. Take a coach to Mengla County from the passenger station with the ticket costing about CNY40. Mengla County sits about 200 kilometers (124 miles) away from the Jinghong City, so it will take you about 3.5- 4 hours for your journey. Upon arrival at Mengla, have your lunch, then change to another regular bus bound for the Yao Nationality District and get off at Parashorea Chinensis (Wangtian Tree) Scenic Spot. This journey of 50 minutes will probably cost you CNY3-5. In the afternoon, explore this scenic spot. The admission ticket will cost you CNY35. As a large forest park, it contains some typical plants of the rain forest that you might not find in other places like the Parashorea Chinensis which are unique to Xishuangbanna. Because it is tall and straight, like a sword into the blue sky, it has the reputation of "Forest Giant" and "Prince of Forest". Besides the fascinating scenery, there is another highlight that you should not miss. You have to hike through the highest and longest air corridor in the world here, which is 2.5 kilometers (1.5 miles) long. It will take you almost half an hour to cover the distance and cost you CNY12. After that, charter a car to Manlongdai Dai Village. Enjoy the wonderful sight while walking along the Nanla River. Stay overnight here. Today you will hike for about 10 kilometers (6.2 miles).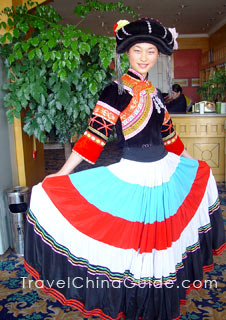 Costume of ethnic minority
You are still supposed to get up early on the second day, since you will travel for 20 kilometers (12.4 miles), which will take you 5-6 hours. Charter a car to Mandong and on arrival; start to explore the forest of boundary trees, which is the only one in China. Passing a village of the Zhuang Minority and walking through a grove of the rainforest, go southeast and reach a Dai village - Mandan. Celebrate the real Water-splashing Festival with the local indigenous people, which will be totally different from the one you may have experienced in Jinghong. Have your simple lunch en route where you may run across a wild elephant if you are fortunate. Find accommodation for yourself at Mandan.

On the third day, start your exploration at the birds' singing. There is still a journey of 20 kilometers (12.4 miles) to cover but do not forget to take some photos of the Mandan Reservoir in the pride of the morning. Stroll along the reservoir and reach the Longlin Dai Village and have your lunch. Walk to the Green Screen Peak Park, which consists of strange rocks, caves and rainforest. The admission ticket will cost you CNY5. This scenic area is a typical karst landform. Continue to travel to the west on foot for about 7 kilometers (4.3 miles) and reach the Green Stone Forest and Rainforest. The entrance ticket is CNY10 allowing you to enjoy the sunset along the Luosuo River. Stay overnight at Menglun Town.
On your fourth day, take a coach back to Jinghong. It will cost you CNY14 and it will take you about 1.5 hours before you reach the end of your journey.

More Lijiang Hiking Tours:

Recommended Cheap Lijiang Tour:
Lijiang Tour Package: 4 Days to visit highlight attractions in Lijiang including Tiger Leaping Gorge, Lijiang Old Town and more