Code: LIJIANG13
Meili Snow Mountian Visit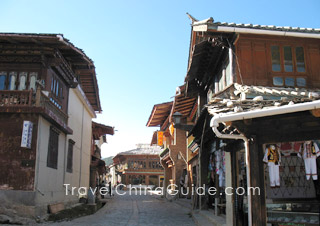 Shangri-la Ancient Town
Meili Snow Mountain lies on the eastern outskirts of Shangri-la and is a sacred mountain worshipped by Tibetan Buddhists. It has 13 peaks which are over 6,000 meters (19,685 feet) above sea level, known as the "Prince's 13 peaks". Mount Kawagebo peak, the Tibetan word for "White Snow Mountain", commonly known as "the God of Snow Mountains, is 6740 meters (22,112 feet) above the sea level. It is the highest peak in Yunnan province and is considered to be one of the most beautiful mountains in the world. This journey will take you to this heavenly mountain and purify your soul.

Take the bus to Shangri-la from Lijiang Bus Station, the journey takes about 4 hours. Reside in the local Guesthouse or Traveler's Club (Tel: 0887-8228671). (For Lijiang and Shangri-la travel itineraries, please refer to our above package tour list.)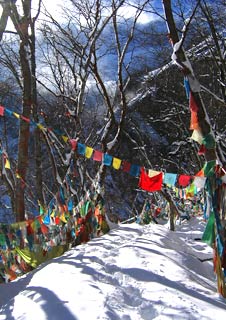 On the way to Meili Snow Mountain
There are only morning buses to Deqing County in Shangri-la, please do not miss them. 5 or 6 hours later, you will arrive at Deqing County and please connect the bus to Mingyong Village which departs at 16:30 and drive about 2 hours. If you miss this bus, you may stay at the local Traveler's Home (Tel: 0887-8413966 / 6895038). Have an exploration around the next day and catch the bus in the afternoon.

Or you can charter a car and please do not forget to bargain for a preferential transfer fee. And in this way, you can stop sometimes to enjoy the pure and beautiful scenery of the Jingsha River, the crucial town of ancient Tea-Horse Road from Sichuan to Tibet, the White Horse Snow Mountain, the Moon Valley, the Dongzhulin Temple and the Feilai Temple. If the weather is good, the pictures can be pretty amazing. The Mingyong Tibetan Garden (Tel: 13988714288/13508879983) is a good place to stay overnight.

Finally you will reach the Mingyong Glacier of the Meili Snow Mountain. Buying tickets which is about CNY60.00 at the park entrance. The tickets will be checked on the way up the mountain at the starting point of the circular path along the cliff.
There are two paths up. You can choose the left path for hiking or the right path for riding. Both paths are not steep slope and easy to walk. The riding charge is CNY60.00 per person up and CNY20.00 per person down. Remember, you can only rent the horse at the entrance or the Prince Temple. If you choose to walk, it takes 1.5 - 2 hours to get to the Prince Temple where is the fist spot that you can appreciate the glacier and the snow mountain.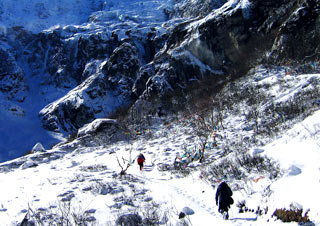 Hiking path leading up the Meili Snow Moutain
The Prince Temple is a small one. Many Tibetans burn the joss sticks and hang the supplication Jingfan there before they worship the mountains.

Bypassing the temple, the left path along the cliff can go to the viewing platform and the right road leads to the Lotus Temple.

The viewing platform is in the middle of the path along the cliff where you can watch closely the Kawagebo peak and the glaciers. The glaciers are totally 12 kilometers (7 miles) long, but you can see only a small part.

About one hour walking from the right road, you will reach the Lotus Temple. It is a larger than the Prince Temple but less people. When it is sunny, here is the best spot for appreciating the Kawagebo peak.
The ultraviolet rays are strong and you may need to bring something anti-sunburn. Besides, please keep in mind that in the mountains, do not yell or shout, that would offend the God of the Mountains. Tibetans there is always very quiet and respectful. Believe it or not, at least we do as the Romans do or show the courtesy.

More Lijiang Hiking Tours:

Recommended Cheap Lijiang Tour:
Lijiang Tour Package: 4 Days to visit highlight attractions in Lijiang including Tiger Leaping Gorge, Lijiang Old Town and more