Ulaanbaatar – Hohhot Trains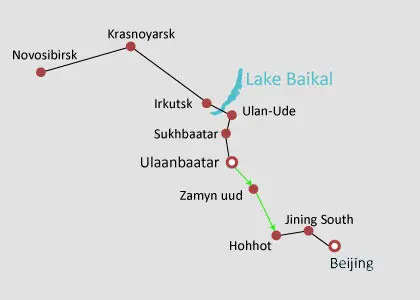 Ulaanbaatar is the capital of Mongolia, while Hohhot is the capital city of a province in China, named Inner Mongolia. In terms of name, Mongolia and Inner Mongolia are not far apart, but if you take a train, it will take almost 26 hours.
Besides Beijing, Hohhot is also one of the popular entry city for visitors who finish their tour in Ulaanbaatar. Ulaanbaatar and Hohhot are all modern international city with rich grassland features, they attract large numbers of travelers every year.

Among the famous route Trans Mongolia, there is one train running between Ulaanbaatar and Hohhot, it is train 34/ 33. The running distance is 1200 kilometers (745 miles) and train duration takes about 25.5 hours. Train 34 departs from Ulaanbaatar on every Monday and Friday, it passes by Ulaanbaatar(Ulan Bator), Choir, Sainshand, Dzamyn-ude, Erlian, Jining South, Hohhot, and vice versa. Dzamyn-ude and Erlian, are two border city, trains will stop in these two cities for a long time to change the gauge of the wheels to meet the standard of another countries. Passengers can exchange unused money in the shop at the station.

Ulaanbaatar to Hohhot Train Schedule
(Last Update on July 31, 2020)
Train No.
Stations

Arrival

Departure
34
Ulaanbaatar

---
20:45
Choir

00:55 +1
01:13
Sainshand

04:26
04:56
Zamyn uud
08:30
10:00
4654/4651
Erlian
10:25
13:45
Jining South
19:26

19:53
Hohhot
21:39
---
Hohhot to Ulaanbaatar Train Schedule
(Last Update on July 05, 2020)
Train No.
Stations

Arrival

Departure
4652/4653
Hohhot

---

21:59
Jining South

23:35
00:01 +1
Erlian
05:26
17:10
33

Zamyn uud
17:35
21:35
Sainshand

01:10 +2
01:50
Choir

05:19
05:47
Ulaanbaatar

10:05
---
Note: All times are local times. The trains have different train number in Mongolia and China, but they are the same train.


Ticket Price of Ulaanbaatar - Hohhot
| | | | |
| --- | --- | --- | --- |
| Train Type | Running Distance | 2nd Class Hard sleeper | Departure |
| Normal trains | 1200km | USD140 | Mon, Fri |
Hohhot has a long history and splendid culture. It is one of the birthplaces of Chinese civilization, it is the frontier of intersection, collision and integration of nomadic civilization and farming civilization. Nowadays, it becomes a modern city standing at the north of China.

Dazhao Temple - A Tibetan Buddhist temple, it is the landmark of Hohhot. It is not only a Buddhist holy land, but also a famous tourist attraction, famous for its architecture, precious cultural relics and works of Art. The visit takes one or two hours.

Singing Sand Ravine - The first desert resort in China, three hours' drive from Hohhot. When the sand is dry, tourists climb the rope ladder or take the cable car to the top of Yinken sand dune and slide down. The sand dune will make a roar, which is light like the croak of a frog, or heavy like the roar of a car, something more like a fiery symphony. More than 500 camels are here, and there are many other amusement projects, it is good place for all visitors, especially for families with children. The annual International Photography festival is in every July, which attracts photographers from all over the world.

Xilamuren Grassland – It means "Yellow River" in Mongolian, is 100 kilometers away from Hohhot in the north, 2 hours' drive is needed. The grand Nadam Festival will be held here in every July, horse racing, wrestling and archery are the "three arts of men" of Mongolian, visitors can enjoy the hospitality of Mongolia people.

- Last updated on Apr. 20, 2021 -