Dangerous Passes on Mt. Huashan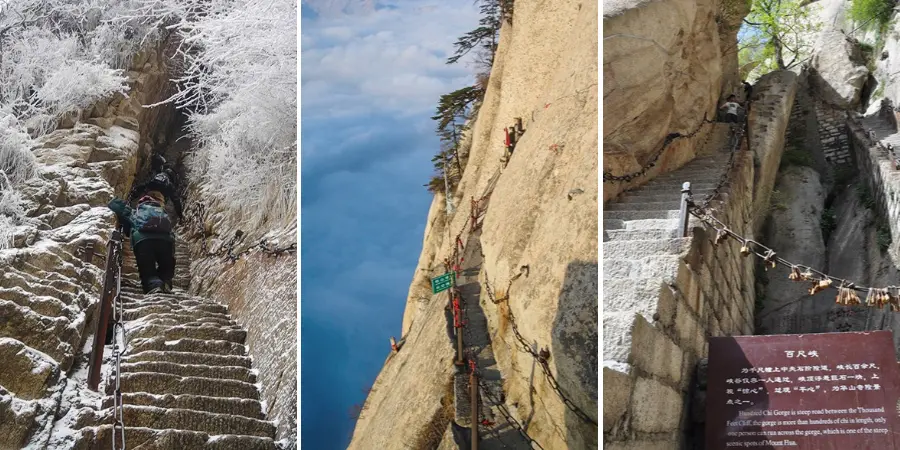 Thousand-Foot Precipice
Mount Huashan is well-known for its steep geographical topography. Anyone who plan to go there should have a basic knowledge of the most dangerous passes, due attention must be paid to personal safety when walking or climbing through the passes.

Thousand-Foot Precipice
Thousand-Foot Precipice is considered the first dangerous pass. The precipice is very steep, only allowing two persons at a time to go through. On both sides of precipice are very thick iron chains to protect people on this dangerous route. The gradient of the scary pass is 70 degrees, with more than 370 very narrow steps. When climbing, only a gleam of sky above can be seen, making climbers feel as if they are at the bottom of a well. At the end of the precipice, there is a small cave that can hold only one person. Going through the cave means that the climber has successfully passed the precipice. Bight sunshine welcomes people coming out of the cave, so it is named Heavenly Well. Beside Heavenly Well is a flat platform on which four characters are carved – Tai Hua Yan Hou (the throat of Mount Huashan).
Passing through the Heavenly South Gate, you will come to Plank Road. Many visitors regard it as the most dangerous and thrilling pass on the mountain. Rather than a "road", it is just a suspended path, which is made by linking small carved holes to put the feet. The width is just 0.3 m (about 1 ft). The path is divided into three parts: upper, middle, and lower road. Visitors have to face toward the cliff and grasp the rope tightly in order to move forward with small steps. Many visitors are too afraid to try it as below the suspended path is a bottomless gulf.
Hundred-Foot Crevice
After getting through the Thousand-Foot Precipice, you come to Hundred-Foot Crevice, which is considered the second most dangerous pass. The cliffs here almost vertically erect and two rocks have fallen and lodged between the cliffs. As a result, visitors can only go through the crevice by going under the two rocks, and may be afraid that the rocks will fall. When you cross the pass, you will find that the two rocks are permanently wedged there, so don't worry! Their names are both Scary Rocks and Carefree Rocks.
| | | |
| --- | --- | --- |
| Immortal's Palm Peak | Hundred-Foot Crevice | Plank Road |
Golden Lock Pass
When climbing over the Black Dragon Ridge, which is regarded as the only way to get to the other four peaks from North Peak, climbers arrive at Golden Lock Pass. It is customary to buy a golden-colored lock, and then lock it in the iron chains on both sides of the Golden Lock Pass to wish for the health and safety of friends and family. It is an amazing spectacle to see thousands of golden locks there. Within the mountain gate of Golden Lock Pass, a huge golden-colored lock of about 4 meters (about 4.37 yards) long and 1 .5 meters (about 1.64 yards) high stands in a big rock. It is made of pure copper and forged by 9,999 locks left by previous visitors. It is a popular photo site. This huge lock can only be opened by throwing coins - one coin represents the status of an ordinary person; three coins, a blessed person and nine coins a most blessed one. Golden Lock Pass is regarded as the throat to Middle Peak, East Peak, South Peak and West Peak.

| | |
| --- | --- |
| Golden Lock Pass | Black Dragon Ridge |
Black Dragon Ridge
The next dangerous pass of the mountain, Black Dragon Ridge, looks like a flying dragon in the distance. Located near the Qingke Terrace and Flying Fish Ridge Valley, the ridge is more than 100 m (about 328.1 ft), but only about 3 feet wide. As the middle section of the ridge is higher than the sides, this may make visitors feel too scared to walk on it and go through.

There is an interesting legend about Black Dragon Ridge. It's said that when Han Yu, a famous poet and scholar of the Tang Dynasty (618 - 907), visited Mt. Huashan, he was afraid to go through Black Dragon Ridge. Consequently, he wrote a letter to his family to ask for help. Later, people had to carry him to go down the mountain.
- Last updated on Apr. 12, 2021 -
Questions & Answers on Dangerous Passes on Mt. Huashan
Asked by ROIE | Jul. 04, 2018 06:45

Reply
Maybe you know - If I'm taking a train from Beijing or from Xi'an to Huashan
Which stop I should go down - HS North ot south?

Thanks a lot

Roie
Answers (1)
Answered by Ken from UNITED KINGDOM | Jul. 05, 2018 19:05

0

0

Reply
You should stop at North Station and take a tourism bus line 1 directly to the scenic area.
Asked by roie | Jul. 02, 2018 06:05

Reply
What is the opening time of the cable car and the tickets office of Huashan Mountain?
Answers (7)
Answered by Lucy | Jul. 02, 2018 21:04

0

0

Reply
West Mountain: 24 hours open. East Mountain: Peak season: 07:00~19:00,slack season: 09:00~17:00
Cable car:
East: Peak season: 7:00-19:00,slack season: 9:00-17:00.
West: Peak season: 7:00-19:00,slack season: 8:00-18:00.

Answered by roie from ISRAEL | Jul. 03, 2018 14:29

0

0

Reply
Hi

Thanks alot
What do you mean by 24 hours open? The tickets office at the west mountain is open for 24h??
Do you know if I can purce the tickets for enterance and/or cablecar online or only at the office?
Do you know if there is a website in english for all this information? (I didn't find yet...)

Thanks alot
Roie

Answered by Lucy | Jul. 03, 2018 20:50

0

0

Reply
Yes, it is open for 24 hours. You can buy tickets both at the entrance because on line service is only in Chinese. You can try to search chinahuashan and you may get some information.
Answered by roie from ISRAEL | Jul. 04, 2018 00:45

0

0

Reply
Thanks alot :)
So just to be sure - I can buy at the west side tickest to the north side and to north and west cable cars?

If YES THIS IS VERY GOOD :)
Thanks alot again
Answered by Lucy | Jul. 04, 2018 17:51

0

0

Reply
Hi, the time I mentioned above is all about the open time of scenic areas. There are two places selling the tickets, the West Mountain Gate and Tourism Center. You can only buy cable cars tickets in Tourism Center and both of the two places are open in 24 hours.
Answered by ROIE | Jul. 05, 2018 00:16

0

0

Reply
You wrote " You can only buy cable cars tickets in Tourism Center"
So to be sure I understand correct - I can''t buy the tickets for west cable car in the West Mountain Gate? Only at the Tourism Center ?

Thanks again
Answered by Lucy | Jul. 05, 2018 18:08

0

0

Reply
Yes, you can buy all the tickets in the tourism center and you can also buy one-way ticket of cable cars on the top of mountain.
Asked by Chels from ENGLAND | May. 02, 2018 03:55

Reply
Can we do the cable car to Huashan west peak, hike to south and do the plank path?
Then come back down in the cable car again in 5 hours or will this take longer? We plan to arrive at the mountain at 8am or earlier.
Answers (1)
Answered by Irma from SINGAPORE | May. 04, 2018 02:42

0

0

Reply
Yes, you can.
You can take the cable car from the mountain foot to the West Peak first. Generally speaking, it takes 4-5 hours on the way. Have a nice time!
Asked by Martha Simanjuntak | Dec. 20, 2017 22:43

Reply
Limited Time for plank road on Mt. Huashan
I don't think I can climb, I just want to try Plank Road, which cable car I should take?
From the Cable car stop on the peak above, how far I should walk?
Did view surrounding cable car stop beautiful enough to take picture?

Answers (1)
Answered by Black from ITALY | Dec. 21, 2017 20:40

1

0

Reply
Sorry to tell you no cable car can take you to the Plank Road, and there are only two cable car lines to North Peak and West Peak.
You can take the cable car to West Peak, and then walk to South Peak Area, including the plank road. After that, back to the west peak and take cable car down.