Dangerous Passes on Mt. Huashan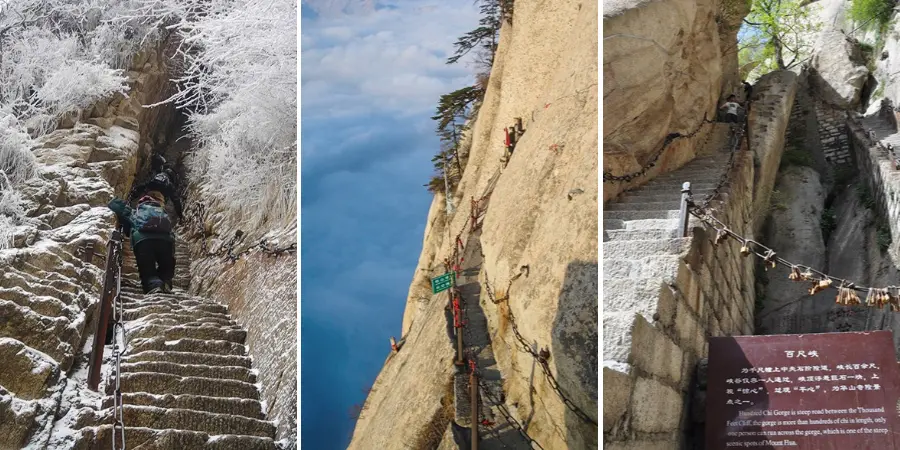 Thousand-Foot Precipice
Mt. Huashan is well-known for its steep geographical topography. Anyone who plan to go there should have a basic knowledge of the most dangerous passes, due attention must be paid to personal safety when walking or climbing through the passes.


Thousand-Foot Precipice
Thousand-Foot Precipice is considered the first dangerous pass. The precipice is very steep, only allowing two persons at a time to go through. On both sides of precipice are very thick iron chains to protect people on this dangerous route. The gradient of the scary pass is 70 degrees, with more than 370 very narrow steps. When climbing, only a gleam of sky above can be seen, making climbers feel as if they are at the bottom of a well. At the end of the precipice, there is a small cave that can hold only one person. Going through the cave means that the climber has successfully passed the precipice. Bight sunshine welcomes people coming out of the cave, so it is named Heavenly Well. Beside Heavenly Well is a flat platform on which four characters are carved – Tai Hua Yan Hou (the throat of Mt. Huashan).


Hundred-Foot Crevice
After getting through the Thousand-Foot Precipice, you come to Hundred-Foot Crevice, which is considered the second most dangerous pass. The cliffs here almost vertically erect and two rocks have fallen and lodged between the cliffs. As a result, visitors can only go through the crevice by going under the two rocks, and may be afraid that the rocks will fall. When you cross the pass, you will find that the two rocks are permanently wedged there, so don't worry! Their names are both Scary Rocks and Carefree Rocks.
| | | |
| --- | --- | --- |
| Immortal's Palm Peak | Hundred-Foot Crevice | Plank Road |
Golden Lock Pass
When climbing over the Black Dragon Ridge, which is regarded as the only way to get to the other four peaks from North Peak, climbers arrive at Golden Lock Pass. It is customary to buy a golden-colored lock, and then lock it in the iron chains on both sides of the Golden Lock Pass to wish for the health and safety of friends and family. It is an amazing spectacle to see thousands of golden locks there. Within the mountain gate of Golden Lock Pass, a huge golden-colored lock of about 4 meters (about 4.37 yards) long and 1 .5 meters (about 1.64 yards) high stands in a big rock. It is made of pure copper and forged by 9,999 locks left by previous visitors. It is a popular photo site. This huge lock can only be opened by throwing coins - one coin represents the status of an ordinary person; three coins, a blessed person and nine coins a most blessed one. Golden Lock Pass is regarded as the throat to Middle Peak, East Peak, South Peak and West Peak.

Plank Road
Passing through the Heavenly South Gate, you will come to Plank Road. Many visitors regard it as the most dangerous and thrilling pass on the mountain. Rather than a "road", it is just a suspended path, which is made by linking small carved holes to put the feet. The width is just 0.3 m (about 1 ft). The path is divided into three parts: upper, middle, and lower road. Visitors have to face toward the cliff and grasp the rope tightly in order to move forward with small steps. Many visitors are too afraid to try it as below the suspended path is a bottomless gulf.
| | |
| --- | --- |
| Golden Lock Pass | Black Dragon Ridge |
Black Dragon Ridge
The next dangerous pass of the mountain, Black Dragon Ridge, looks like a flying dragon in the distance. Located near the Qingke Terrace and Flying Fish Ridge Valley, the ridge is more than 100 m (about 328.1 ft), but only about 3 feet wide. As the middle section of the ridge is higher than the sides, this may make visitors feel too scared to walk on it and go through.

There is an interesting legend about Black Dragon Ridge. It's said that when Han Yu, a famous poet and scholar of the Tang Dynasty (618 - 907), visited Mt. Huashan, he was afraid to go through Black Dragon Ridge. Consequently, he wrote a letter to his family to ask for help. Later, people had to carry him to go down the mountain.
- Last modified on Jul. 05, 2018 -