Mount Huashan Travel Tips
If you want to climb Mount Huashan, famous for its steep and dangerous features and high altitude, it is best to prepare before hand. Here are some suggestions:

Food and Water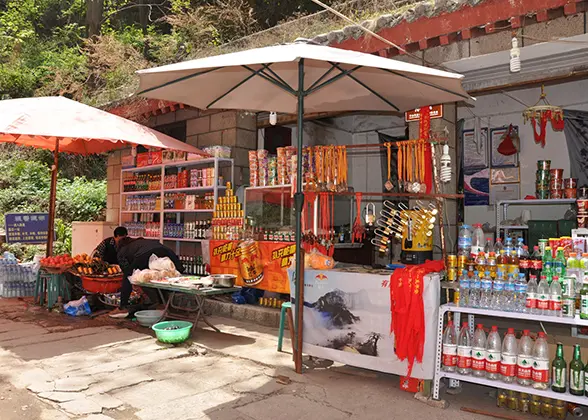 Grocery on the Mountain
Hiking the mountain requires time and energy. It is important to take enough food and water. Two to three bottles of water are enough. Remember not to drink too much at a time. It is best to just sip it to keep your mouth wet. Take some high-calorie food, but not dry food that might make your thirsty. If anyone forgets to take the food and water, you can buy them at the many stalls along the climbing route, but it is more expensive. Not surprisingly, the higher you climb, the more the food and water cost. The reference food price on the mountain is as follows: a bottle of water, CNY 10; a bowl of instant noodles, CNY 25; a small bowl of porridge, CNY 10.

Clothing and Shoes
It is usually windy on the mountain, so even in summer it is important to take some warm clothes, especially for those who climb at night. It will be very cold at the peak, so if you want to see the sunrise, be sure to have sufficient warm clothing. There are also stalls on the mountain where you can rent a long wool overcoat for about CNY 30-50. In summer, it may rain, so take a simple rain gear along. Sport shoes with soft and flat soles are best for climbing.
| | |
| --- | --- |
| Climbing the Steep Mountain | Narrow Stairs |
Safety Sunrise Watching
The mountain has many dangerous passes, including the Thousand-Foot Precipice, Qingke Terrace and Hundred-Foot Crevice, Sparrow Flipping Over and Plank Road, the last two of which are the most challenging. Be very careful on the passes. It is a good idea to take along a pair of nylon gloves to grasp the iron chains. A walking stick and a flashlight are also helpful. When there are too many visitors, the accidents are more apt to happen. So climbing during major Chinese holidays is not recommended.

Sunrise Watching
The East Peak is considered the best place to watch the sunrise, so it is also called Facing Sun Peak. Here is the approximate time for sunrise:
Spring: 05:00 – 06:00
Summer: 04:30 – 05:20
Autumn: 05:00 – 05:20
Winter: 05:30 – 06:00
| | |
| --- | --- |
| Sunrise on the Mountain | Clouds Sea |
Best Visiting Time
You will see different beautiful scenery in different seasons. In spring, the mountain is cloudy; in summer, it is often rainy; in autumn, it is foogy and in winter, it will be snowcapped. The best time for climbing is from April to October. On March 15th according to the Chinese lunar calendar, is Mount Huashan Praying Day when grand temple fairs and other celebration activities are held.

The best time to climb the mountain is at night so that you can watch the sunrise from the peak.



See more Best Trails for Climbing at Night Guide for Mt. Huashan Hiking at Night

Accommodations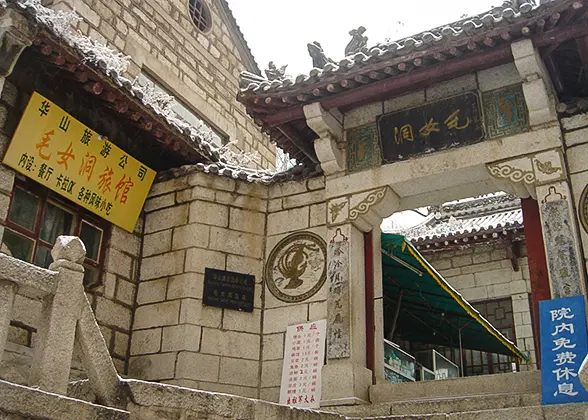 Hotel on Mt. Hua
There are some decent hotels on the mountain. So you can check in and have a good rest if you feel tired.
1. Golden Sky Mountain Villa (Jintian Shanzhuang)
Located at the Golden Lock Pass, the villa provides good dining, comfortable rooms and other necessity. The villa is near the Fairy Palm Rock, Jade Maiden Cave, Plank Road and some other scenic spots.
2. Five-Cloud Peak Hotel
The hotel, located at about 400 m under the Golden Lock Pass, is the must pass for climbing. Also, it is only about 20 min walking distance from the East Peak, which is considered the best place to view the sunrise.
3. Yuntai Mountain Villa
The hotel is located at the junction of "a traditional way to Mount Huashan since the ancient time" and the way near the cable car station. You can enjoy the Ear-Touching Cliff and Laojun Furrow from the hotel.

Other Reminders
1. It is best to climb the mountain in a group. In that way, you have someone to keep an eye on your luggage when you are in toilet or to take pictures of you.
2. There are so many scenic spots along the journey. A map of Mount Huashan can make your climbing more enjoyable.
3. Be sure to check the Huashan weather forecast, so you will not get trapped by the bad weather.
4. Don't forget your camera to take pictures of the magnificent mountain. In addition, if you plan to climb at night, be sure you have enough battery power for the many beautiful attractions waiting for you in the daytime.
5. Do not go where there is a "No Climbing or Passing" mark. Those places can be very dangerous!
6. Bring your regular medicine in case something unexpected happens.
7. There are many toilets along the way and they are all well marked.
8. In case you have forgotten something, all the necessary supplies can be bought at the foot of the mountain.
9. If necessary, check the Huashan maps in advance to plan your climbing route.

Print
- Last updated on Apr. 12, 2021 -