Olympic FAQs

Q: I really want to go to watch the games! Where can I get the tickets; how much are the tickets?

A: The schedule is from Aug. 8 to 24, 2008 and tickets can be booked as of April, 2007. Over 50% of the tickets will be sold in China with part of the ticket allocation to be reserved for competitors' families. People in China (except Hong Kong, Macau and Taiwan) including foreigners with domicile and valid credentials can submit application through the ticketing website online or the authorized ticket outlets of the Bank of China. People living in Hong Kong and Taiwan should apply for tickets to the designated agents authorized by the Olympic Committee of Hong Kong and the Chinese Taipei Olympic Committee respectively. And those in Macau can apply to the Macau Sport Development Board. If you are outside China, contact your local Olympic Committee or its designated agents, which are responsible for ticket selling in your country. The
ticket prices for Olympic Games
, which are lower than those for previous ones, will be affordable for most people in the world.
---

Q: There must be many visitors to Beijing in 2008. Where can we stay?


A:There are many good hotels and hostels. You can stay in good hotels such as Hilton Hotel and New Century Hotel and so on to enjoy a luxury holiday in the ancient city. If you are on a budget, you can choose Youth Hostels, which are also clean and tidy. Since there may be many visitors at that time, it is best to book a hotel well in advance. For details about hotels, you can check the introduction to hotels on the official website for the Olympic.

---

Q: How about communications in Beijing? Can I use my mobile phone, and what about the internet?


A: In China, GSM network only have two frequencies, 900HZ and 1800HZ so if your mobile phone must be tri-band to use it in China. CDMA is not very popular in China, so it is best to ask the sale agent for details before coming to China. Internet cafes can be found everywhere with most of them using broadband connections.

---

Q: Can Chinese people speak English or are there English-speaking guides/volunteers available during the Games?


A: Most of the students have learnt English since junior high school. They will be more than willing to help you if you have any problems. What's more, local citizens are learning English. English speaking guides and volunteers are also available to provide better service to our international visitors.

---

Q: How about the transportation in China? Can I drive in Beijing on an international driver license?


A: The transportation system has been greatly improved in recent years. People can use subway, bus, taxi and light rail to arrive at Olympic Green and other venues. However, you cannot drive in China unless you have a Chinese driving license.

---

Q: Is there western food available in Beijing as Chinese cuisine is not to my taste?


A: As a modernized capital city, there are many kinds of restaurants there. Most of the hotels offer both Chinese and Western food. Restaurants offering food of American, Brazilian, French, German, Indian, Japanese, Italian, etc. can be found everywhere in the city. You can check details about dining in Beijing.

---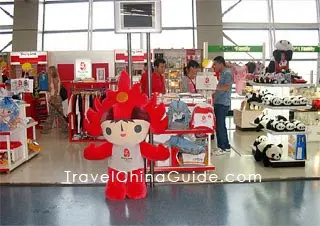 Mascot Sold in a Shop

Q: I like the Mascots very much! Where can I buy them?


A: There are many souvenirs available including metal products, clothing and accessories, hats, bags, ties, pens and handicrafts, all with symbol of the 2008 Olympics. You can buy them in many big stores and tourist attractions.

---

Q: It is in August, what will the weather condition be at that time?


A: Though August is not the hottest month of the year, you should pay attention to the strong ultraviolet radiation. The average daily maximum temperature in August is 29

C(84

F) so it is advisable to bring sunglasses, sun block, and light clothes to remain comfortable in the hot summer weather. Check the detailed information about Beijing weather.



Other Information on the Olympic Games:
- Last updated on May. 17, 2022 -