Jiangxi Travel Guide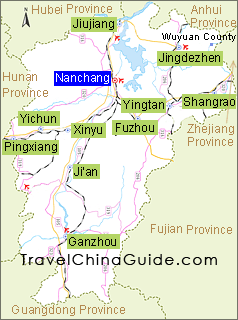 If you are a traveler looking for a place that will give you a variety of interesting options, then Jiangxi province in southern China is definitely the place for you!

The pristine beauty of its misty mountains and fresh water lakes will enchant you. Its modern as well as ancient historical sites will whet your appetite for learning about its culture. To top it off, 'China's Capital of Porcelain' is located here, thus satisfying the shopper in us all.

Jiangxi province is situated in the middle and lower reaches of the Yangtze River. Its neighboring provinces include Zhejiang, Fujian, Guangdong, Hunan, Hubei and Anhui.

Jiangxi got the name during the Tang Dynasty (618 - 907) and because the Gan River runs through this province from north to south, it is also called Gan for short. It covers an area of 1,669,000 square kilometers (644,440 square miles) with a population of about 40 million.

Cities in Jiangxi
When to Go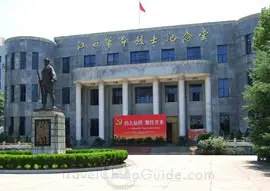 Jiangxi has a warm and humid climate with cold springs and winters, hot summers and dry autumns thus accounting for its four distinct seasons. Annual rainfall averages 1400-1800 millimeters and the average temperature of the province is 3-9

C in January and 27-31

C in July.
Jiangxi province is a showcase for natural beauty. Visitors will find it hard to leave its beautiful mountains, lakes and rivers. Particularly attractive is Poyang Lake, which is not only the biggest fresh water lake in China, but also the largest winter habitat for white cranes. When winter approaches, about 2,800 white cranes will migrate to Poyang Lake to spend their winter. What a spectacular sight! On the east side of this lake is Mt. Lushan, a wonderful summer resort with its lush mountains, enveloping clouds and mists, rapid streams and numerous deep pools and waterfalls. Mysterious and enchanting sceneries nestle in its secluded valleys and deep ravines. Sudongpo, a well-known poet of the Song Dynasty (960-1279), in honor of the 'Cloud Sea' of Mt. Lushan for its ever - changing mist, wrote, 'The failure to get a real perspective of the mountain only results in the fact that you are right in the midst of it'. Another mountain - Jinggangshan enjoys a dual reputation. It is more widely known as the cradle of the Chinese revolution rather than for its natural beauty, which is, in fact, comparable to the more famous Lu Shan.
History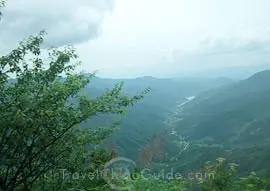 The historical sites of Jiangxi Province also attract guests from all corners of the world. Nanchang is its capital. Pavilion of Prince Teng is located just west of Nanchang and is one of three famous pavilions south of the Yangtze River. This pavilion gained its reputation to a great extent because of a well-known poem called 'Preface to Tengwang Pavilion' by Wangbo, a reputable poet of the Tang Dynasty. Donglin Monastery is located at the foot of Lushan. It was built in 386 for the monk Hui Yuan (334-416), founder of the Pure Land sect of Buddhism. Hui Yuan spent many years translating Buddhist scriptures in this temple.
Local Highlights
The highlight of Jiangxi travel should be Jingdezhen, which is known as the 'Capital of Porcelain' in China. Ceramics were produced here as early as 1,800 years ago in the Eastern Han Dynasty. Today, Jingdezhen remains a national center for porcelain production. While in this ancient town, visitors can visit many pottery factories and ancient kiln sites. In addition, Jiangxi is one of the ancient tea-producing areas. The Black Tea produced in Ningzhou City and the Green Tea produced in Wuyuan City are well-known throughout the country.
- Last modified on Sep. 04, 2018 -
Questions & Answers on Jiangxi Travel
Asked by amanda from ITALY | Nov. 05, 2016 03:31

Reply
Can u tell me the bus schedule from wuyuan to jingdezhen?
And also the one from jingdezhen to yaoli? Is there also a bus that directly goes from yaoli to wuyuan?
Thanks
Answers (1)
Answered by Garry from CANADA | Nov. 06, 2016 02:20

0

0

Reply
As I know, buses from Wuyuan to Jingdezhen are scheduled from 06:30 to 17:00. Only two buses are available from Jingdezhen to Yaoli Ancient Town: 07:30 and 14:00. And there is no direct bus from Yaoli to Wuyuan, so you'd better take a transfer at Jingdezhen.
Asked by Jerry from MALAYSIA | Jan. 27, 2016 08:51

Reply
I intend to travel from Hangzhou to Wuyuan. What's the best and fastest way of getting there?
Answers (1)
Answered by Alan from UN | Jan. 28, 2016 03:04

1

0

Reply
Well, the fastest way is to take a bullet train from Hangzhou East Train Station, and only one runs daily (leaving at 09:35). It shall take u to Wuyuan within 3h and 10min. To mention the best way, it should be the direct long-distance buses which can be easily taken at the West Bus Station. Seven schedules are avaialble from 07:00 to 13:20. It takes around 4min to arrive.
Asked by hasan from BANGLADESH | Sep. 01, 2015 16:27

Reply
Can i go to yichun from nanchang by taxi? if so, what is the taxi fare?
Answers (1)
Answered by Max from FRANCE | Sep. 02, 2015 03:47

2

1

Reply
You must refer to Yichun in JX Province.
Well, maybe it's not easy for you to find a formal taxi because of the long-distance.
So would you mind changing the transportation mode?
There are many direct high-speed trains from Nanchang West Railway Station to Yichun. The schedules are from 06:18 to 21:21 with the duration of about an hour. First class seat costs CNY136 and second class seat costs CNY81.

Asked by Deirdre from IRELAND | Aug. 22, 2015 07:53

Reply
Ji'an to suichuan
Hi I am hoping to travel to jiangxi province and would like to take my daughter to suichuan which is where she was born. We would like to go as far as possible by train and minimise road travel . We will fly into Shanghai
Answers (1)
Answered by Rina from SINGAPORE | Aug. 23, 2015 03:50

1

0

Reply
If you fly into PVG, take shuttle bus line 7 to Shanghai South Rail Station. Take a train to Ji'an and it takes 10-11 hours. Then head for Ji'an South Bus Station to take a direct bus to Suichuan in almost 2 hours.