Phoebe Ma
Chinese Name: Ma Maomao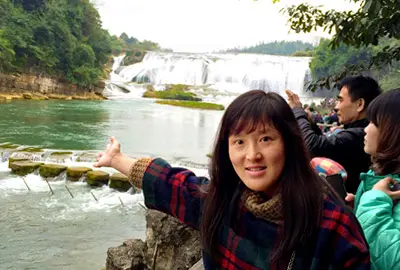 Phoebe at Doupuotang Waterfall, Anshun, Guizhou


Go to Phoebe's Album
My name is Phoebe Ma, an optimistic and energetic girl. My favorite Motto is "Tomorrow is another day", saying by Scarlett, the lead character of Gone with the Wind. So I am good at offering myself to help others out. Running is my favorite sport. I was good at it during my three years in high school. Although I do not run very often since graduation, running is still the most useful way for me to be full of energy. Reading occupies most of my spare time. I love Novels with individualized characters and delicate plots. My favorite book is A Dream of Red Mansions. Now I am trying to read books with various genres.

I was born in a small village. It is separated into two parts by a small river. When I was young, I used to play with my buddies in the water. Our village is surrounded by a chain of mountains. My friends and I used to climb some of the peaks to pick wild fruits, or just for fun. I like to visit different mountains even when I am away from my hometown. One of the experiences that impressed me most was a visit to Hua Mountain, which is very famous in China because of its steep hills and thrilling views. Most people choose to climb it at night so that they can see the beautiful sunrise in the early morning. I did it too. I met many people on the way. Some were quite young, and they took this journey as an adventure. They were energetic and walked very fast; while some elder guests proceeded at a steady pace. They would stop for a while to chat about the experience which was definitely different from their daily life. And chatting was the sweetest thing in the darkness. The climb was a big challenge for me, I was quite proud when I arrived on the top of the mountain.

After graduation from college, I became a booking consultant for TravelChinaGuide. I was happy and satisfied in this work by helping others. Also, the feedback from clients was most gratifying. This was really helpful towards my self-improvement.

TravelChinaGuide is located in Xi'an, an ancient and beautiful city. I have been studying in this city for four years, during which I tried my best to travel to every corner. By now, I think I know this city quite well, though there are still a lot of corners for me to explore. I will spend more time to feel its charm. Xi'an combines history and modernity at the same time so that it is rich in cultural atmosphere. There are many famous relics to visit, such as the City Wall, The Terra Cotta Warriors and Horses and royal palaces. Thousands of visitors from all over the world come to Xi'an to see these attractions. Also, there are many delicious foods and snacks in Xi'an. You will be attracted by the appealing smell at any corner of this city. Cold rice noodles and Chinese hamburger match perfectly, and Crumbled Flatbread in Mutton Soup has unique flavor. What's more, people in Xi'an are really friendly. You will be warmly welcomed if you come to Xi'an.
- Last modified on Apr. 14, 2021 -