Code: GW14
Jiankou Great Wall Hiking: Beijing Knot to Jiankou Spot
Beijing Knot to Jiankou Spot is the middle or west part of the
Jiankou Great Wall
, with a length of about 9 kilometers (5.6 miles) and height difference of 550 meters (1,800 feet). Generally, it takes about 6-8 hours to finish the hiking from one end to the other. Many landmarks of Jiankou Great Wall, like Beijing Knot, Eagle Flies Facing Upward and Sky Stair scatter along this section, making it the most attracting yet challenging section. As hiking along this section requires a lot of energy and is somehow dangerous, it is only recommended to experienced outdoor adventurers.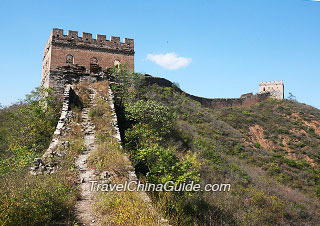 How to Get to Jiankou Great Wall from Beijing
→ Please take subway line 2 or line 13 to Dongzhimen Station and get out from Exit H to the Dongzhimen Transit Hub.
→ Take the bus no. 916 Express and get off at Yangjiayuan Stop in Huairou District. This bus trip needs about 1-1.5 hours.
→ Then charter a car to the fifth team of Xizhazi Village (Xizhazi Cun Wu Dui) at the foot of Jiankou Great Wall. The cost is about CNY100-150 per car. You may also take bus no. H25 nearby to cover this trip, but it is only available at 11:30 and 16:30 each day.
Beijing Knot to Jiankou Hiking Route

Xizhazi Village - Xidaqiang Wall - Beijing Knot - Eagle Flies Facing Upward - Sky Stair - General Guarding Pass - Jiankou Spot - Xizhazi Village
From Xizhazi Village, you need to hike southward for about 2km (1mi) along country road to the mountain foot, the starting point of the uphill path up to start today's Jiankou Great Wall hike.
Starting here, you will reach Xidaqiang Wall after around 45 minutes' hiking.
Then, follow the Great Wall rampart southwards for some time and climb up a nearly vertical stairway to the Beijing Knot, a joining point of Great Wall sections from three directions. Besides the way you come, you can see other two ramparts: one stretching to the south of Jiankou and the other west all the way to Xiangshuihu Great Wall.
Standing at the Beijing Knot, you can overlook the Eagle Flies Facing Upward to the south, who got this name because of the similar appearance to a flying eagle. A watchtower at a lower position looks like the head of the eagle and two sections of upward walls are its two wings.
The Sky Stair is at the east wing of the eagle. Although only 80 meters (90 yards) in length, it is regarded as one of the most challenging section of Jiankou Great Wall because of a slope of 70 degrees.
After that, continue this hiking route along the wall for about 30 minutes to the General Guarding Pass. After another one hour's trekking, you will arrive at the lowest point of this section named Jiankou Spot.
Get down from the ramparts there and walk along a trail northward back to the Xizhazi Village.
Get Back to Beijing Downtown
As the bus no. H25 only departs for Yangjiayuan at 06:30 and 13:10 every day, you may need to charter a car to get there in Huairou in around one hour and then take bus no. 916 Express there back to the Beijing downtown. The last bus no.916 Express departs from Yangjiayuan at around 18:50.

If interested, you may stay one night in Xizhazi Village and continue hiking the north or east section of Jiankou Great Wall tomorrow before going back to Beijing. There are hostels in Xizhazi Village providing accommodation and dining services.
Tips
1. The Jiankou Great Wall around Beijing Knot was constructed of stone bricks. After hundreds of years' exposure to the wind and rain, some sections have already collapsed into gravelly tracks revealing faint traces of the former stairs. It is highly suggested you wear skid-proof climbing boots and watch your step during the climbing. Even use both your hands and feet at some steep sections like the Eagles Flies Facing Upward and Sky Stair.
2. Do not make this hiking tour around Beijing Knot during rainy, snowy or thundery days.
3. Go along the path beside the Great Wall at some difficult sections.

Photos of Jiankou

More Great Wall Hiking Routes:
Badaling Hiking: Explore Badaling in one day
Simatai Exploration: One day hike tour to Simatai and Gubei Water Town
Gubeikou Hiking: with accommodation and transportation tips
Shanhaiguan with Laolongtou: itinerary to Laolongtou, Shanhaiguan and Jiaoshan
Juyongguan Hiking: itinerary and tips for Juyongguan section



More Beijing Independent Packages:
Forbidden City: 4 routes to discovery the world's largest imperial palace
Hutong Alleys: Explore the old hutongs and courtyards on a traditional rickshaw
Longqing Gorge and Kangxi Grassland: Three day side trip to Longqing Gorge, Mt. Song Forest Park, and Kangxi Grassland