Top Beijing Attractions
More Things to Do
Top 10 City Tours
BJ01-06: Historic Beijing Day Tour
Badaling Great Wall - Sacred Way - Ming Tombs - Bird's Nest
Free Cancellation

24-hour Before

This Great Wall and Ming Tombs tour will start when our professional guide and driver come to get you at your hotel at around 08:00. Then you will be transferred to the Badaling Great Wall to see the splendid wall stretching out toward the horizon along the rolling mountains.
Lunch will be arranged on your own, but our guide is glad to give you some suggestions. After that, our guide will deliver you to the Ming Tombs. In addition to the imperial mausoleums, the 7-kilometer (4-mile) Sacred Way inside is the other highlight with vivid statues of animals and figures at both sides.
Badaling Great Wall
We are at the Great Wall!
On the way back to the downtown, we will have a short stay at the National Stadium, also known as the Bird's Nest, to enjoy the gorgeous exterior of this Olympic venue. This Great Wall and Ming Tombs tour will end here and our guide will escort you back to your hotel afterwards.
Meals: No meals, advice freely available
Badaling Great Wall
Badaling Great Wall is a must-see attraction for most tourists at home and abroad, especially first-timers, and it has attracted more than 300 celebrities around the world, including President Nixon and Mrs. Thatcher. Badaling is the best-preserved sections of Great Wall built during the Ming Dynasty (1368 - 1644) with 12 watchtowers distributed along the northern wall and 7 towers on the southern part. The No. 8 North Tower occupies the highest location of Badaling and can provide you the best view of the Great Wall. Take a look around there far into the distance and you will be astonished by the great scene of the wall winding its way over the rolling mountains.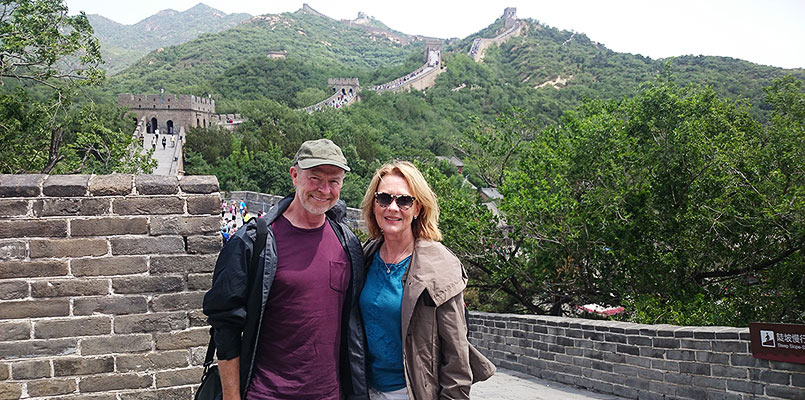 Visiting the Badaling Great Wall is a must for the first-time travelers
Ming Tombs
Thirteen emperors of the Ming Dynasty as well as their empresses and offspring were buried at the Ming Tombs. Nowadays, only the Changling Tomb, Dingling Tomb, and Zhaoling Tomb are officially open for visiting. You will be accompanied to explore the underground palace of the Dingling Tomb, the mausoleum of the thirteenth emperor of Ming to view its clever layout.

Sacred Way
The Sacred Way is right behind the gate of the Ming Tombs, leading to the Changling Tomb. In the middle of the lane there is a grand stele pavilion with crimson walls and upward golden eaves on the exterior. Inside there is a tall stone stele carved with over 3,500 characters listing the achievements made by the Yongle Emperor. Continue the journey along the Sacred Way and you will encounter 24 stone statues of beasts and officials lining along the path, which indicates that the emperor still has dominant power to order about both animals and his subjects in his afterlife.
Our clients at the Sacred Way
A stone statue of officials
Prices (US$ Per Person)
1 person

$259

2 persons

$151

3 persons

$123

4 persons

$99

5 persons

$92

6 persons

$81

7 persons

$79

8 persons

$75

9 persons

$71

10+

$66

Price Includes
Private English-speaking guide
Private driver & air-conditioned vehicle
Entrance fees to tourist sites
Price Excludes
Hotel accommodation with breakfasts
Lunches and dinners
Tips or gratuities for guide and driver
Itineraries you may also like:
The above routes do not meet your requirements? Please click
Tailor My Trip