Top Chengdu Attractions
More Things to Do
Top 10 City Tours
Why Choose Us?
No Shopping Stops
No Hidden Charges
Lowest Price Guarantee
Expert Guide & Driver
Well-located Hotels
A La Carte Meals
Chinese Family Visit
Free Cooking Class
24/7 Customer Service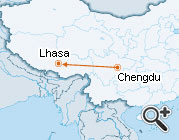 Panda and Tibet Extension
CD11:
6 Days Private Chengdu

Lhasa
From
$1159
per person
Free Inquiry


Itinerary
Tour Prices
Price Includes
Sincere greetings & airport-hotel transfer. Jinsha Site Museum.
Upon arrival at Chengdu Airport, you will meet our professional guide and driver outside the customs. After a warm greeting, you will take a comfortable ride to check in our well-selected hotel. After a short break, we will set out for a visit to
Jinsha Site Museum
, built on China's best-preserved sacrificial site during the Shang and Zhou dynasties (17th century BC - 256 BC). When the visit is over, our guide and driver will transfer you back to the hotel.
Meals: No meals, advice freely available
Giant Panda Base, Wide and Narrow Alley, Sichuan Cuisine Museum. (B+D)
Giant pandas
Seeing adorable giant pandas in China must be on the to-do list of most travelers. After a hearty breakfast, our guide will escort you to the famous
Chengdu Research Base of Giant Panda Breeding
to have a close contact with these lovely creatures, which live a carefree life in a nice and natural environment.
Next, we will drive for 50-60 minutes to the
Wide and Narrow Alley
to immerse in the quaint ambience of this historical block. As there are countless restaurants, you will be free to choose a favorable one to have lunch of authentic Chengdu cuisines. Chengdu hot pot enjoys great popularity throughout the country. If you like spicy flavor, it is highly recommended that you have a try of this special dish.
After a lunch break, we will continue our trip to
Sichuan Cuisine Museum
by a one-hour private drive. You will not only learn the development, ingredients and culture of Sichuan Cuisine, but also taste some distinctive snacks. If interested, you can learn to cook a few representative dishes from a professional chef.
After having gourmet dinner in the museum, you will be transferred to the hotel.
Meals: Western buffet breakfast, Dinner
Fly to Lhasa. Airport-hotel transfer. (B)
Our client learning to make snacks at Sichuan Cuisine Museum
Today, your Chengdu-Tibet tour package extends to Lhasa. After breakfast, our guide and driver will pick you up at the hotel lobby and transfer you to the airport for your onward flight. The flight journey will last for 2.5 hours, and a simple lunch will be provided onboard; or you can prepare some snacks in case the meal is not to your taste.

You will land at Lhasa Airport at 14:00 or so. Our local guide and driver will wait for you outside the luggage claim area, and provide you with a private drive to the hotel. On the way, the guide will brief you about the coming Tibet tour itinerary and also tell you some tips to acclimatize to the high altitude of the Tibetan region.

The rest of the time is free for you to have a good rest at the hotel. You can have dinner at the hotel or ask our guide for some recommended restaurants nearby.

Meals: Western buffet breakfast
Potala Palace, Jokhang Temple, Barkhor Street, Norbulingka Park. (B+L)
Sutra-debating of Monks, Sera Monastery
Today's Chengdu-Lhasa tour will lead you to the essential attractions of Lhasa. First stop goes to the
Potala Palace
, the largest and best-preserved palatial complex in Tibetan region, full of history. Located at the peak of a mountain, this beautiful and grandiose landmark overlooks and dominates the cityscape of Lhasa. You can also feast your eyes with a large amount of precious historical artifacts, including Buddha statues, Thangka, Buddhist scriptures, murals, gold and silver wares. Then we will proceed to the next stop,
Jokhang Temple
. As the religious center of Lhasa, the temple is the destination of the pilgrimage trip of local Tibetan Buddhist believers, and enshrines a divine statue of Sakyamuni at age 12.
At noon, you will enjoy a hearty lunch at a local restaurant. This afternoon, our guide will accompany you to hang out along
Barkhor Street
, which is the most bustling commercial block of the city with various Tibetan clothes and handicrafts displayed in the storefronts. Then we will continue this Tibet trip from Chengdu to
Norbulingka
, which serves as the summer retreat for Dalai Lama. With the company of our guide, you will have a leisure stroll around this elegant garden decorated with exquisite ponds, pavilions, bridges and flourishing trees and flowers.
At the end of the day, you will be escorted back to the hotel to have dinner at your own expense.
Meals: Western buffet breakfast, Lunch
Yamdrok Yumtso Lake, Sera Monastery. (B+L)
Yamdrok Yumtso Lake
Today, we will set out for a 3.5 hours' comfortable ride to
Yamdrok Yumtso Lake
, which is considered a holy lake by local Tibetan people. Seen from the top of a mountain, the lake is like a giant piece of sapphire embraced by the rolling mountains. If the weather is clear, the azure sky and white clouds will cast their reflections on the water and you can easily take great pictures of this magnificent scenery from any angle.
After having lunch at a local restaurant, we will drive back to Lhasa and visit the
Sera Monastery
, one of the three greatest Buddhist temples in Lhasa. If coming at the right timing, you will see the unique scene of thousands of monks debating Buddhist doctrines using both oral and body languages.
When today's trip is over, our guide will transfer you to the hotel, and you can have dinner either at the hotel or in a nearby restaurant.
Meals: Western buffet breakfast, Lunch
Day 6
Departure from Lhasa
A Nunnery. Airport transfer & see you off. A nice journey home! (B)
It is the last day of this Lhasa tour itinerary from Chengdu. Before departure, you will still have one last exploration of Lhasa by touring a nunnery. After that, our guide and driver will chauffeur you to the airport or railway station and see you off.

Meals: Western buffet breakfast
B-- Breakfast
L-- Lunch
D-- Dinner
Tour Prices
With Luxury Hotels
2-3 travelers
4-5 travelers
6-9 travelers

$1719

$1439

$1289
With Standard Hotels
2-3 travelers
4-5 travelers
6-9 travelers

$1589

$1299

$1159
Prices are per person in US Dollars based on double occupancy.
Any parts of the itinerary e.g. tour length, activities & hotels can be tailored to your individual interests.
Price Includes
Domestic airfares
Hotel accommodation with breakfasts
Lunches as itinerary specifies
Private English-speaking guides
Private drivers & air-conditioned vehicles
Entrance fees to tourist sites
Tibet Travel Permit
Price Excludes
Airfares of arrival and departure
Entry visa fees
Personal expenses
Tips or gratuities for guides and drivers
Itineraries you may also like: