Code: DALI02
Back to the Past
6 Days of Dali - Binchuan - Mt. Jizu - Binchuan - Xiangyun - Chuxiong - Yuanmou - Dinosaur Valley - Kunming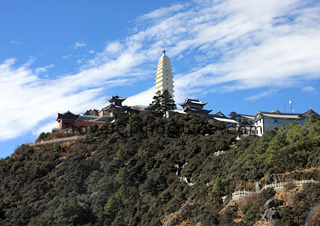 Mt. Jizushan, Dali
On your first day, start your excursion to Jizushan Mountain. Jizushan Mountain is located at Binchuan County 90 kilometers (60 miles) from Dali City. Take a minibus to Binchuan County at Xiaohuayuan (little garden) passenger station at Xiaguan in Dali. The fare is CNY12.5 and you need to spend 1.5 hours on the bus. Upon arrival in Binchuan County, take another minibus to Jizushan Mountain at a cost of CNY20. That ride is1.5-2 hours. Upon arrival at the gate of the scenic spot, you need to pay CNY60 as an admission fee. Zhusheng Temple is situated about 10 kilometers (6.2 miles) from the entrance gate. You may walk there in 2-2.5 hours. You can also take a minibus. Go on hiking to reach Huideng Nunnery. It is also an interesting experience to ride a horse from Zhusheng Temple to Huideng Nunnery. The trip from Huideng Nunnery to Golden Temple will be toughly comparable. A cable car could be one of your options. One-way fare is CNY27, but surely it is less fun. Stay overnight at Golden Temple. The condition at those hostels is not very good and the price is CNY10-20 per person. Please keep in your mind that it is rather cold at the peak of the mountain. Food and drink are also expensive, so it is necessary to be prepared.
On the second day, get up early to appreciate the sunrise. In the undulating mountain and with clouds and wind around, you can see the imposing vision. If you are lucky enough, you may have a chance to see the Foguang (the shine that Buddha brings). Travel down the mountain on foot. Pass by Kassapa Hall and Huashou Gate. Walk through the primeval forest and go down along the bluestone path. Take a minibus back to Binchuan County. Change to another minibus to Xiangyun County at a price of CNY 14. It will take you about 1 hour en route on the way. Stay overnight in Xiangyun.
Huideng Nunnery of Mt. Jizushan
Start your trip in Xiangyun on your third day. Take a minibus at the square of the railway station to Yunnan Post House Old Town, where the name of this province came from. It will take you about half an hour on the bus and cost you CNY3-5. This post house has been a vital military hub since ancient times. An ancient post road 1,720 meters in length, as well as the traditional residential community, continues to this day. In the Qing Dynasty (1644-1911A.D.), Yunnan Post House became the most bustling center on Yunnan Tea-horse Ancient Road. The entrance ticket will cost you CNY40, including Yunnan Horse Caravan Cultural Museum, the Memorial Museum of War Zone among China, India and Burma in World War Two White Horse Temple and the ancient block of the town. Take a bus to Chuxiong City in the afternoon. Stay overnight here.
Commence your exploration around Chuxiong on the fourth day. Take a bus at the West Passenger Depot to Yuanmou to enjoy the sight of soil forest. It may cost you CNY36. After a 3.5-4 hour drive, you will arrive at Yuanmou County. Have your lunch here. There are through cars to the Soil Forest Scenic Area at the Passenger Station everyday. Pay CNY20 for the entrance ticket. The whole scenic area is divided into eastern and western parts. The path through the narrow winding maze is made of layers of sand and it will be a little tiring stepping on it. Since your feet tend to sink when you move, a pair of ankle boots will serve you well here... If you prefer an easier journey, you can rent a horse at the entrance gate at a price of CNY10-20. Riding a horse to survey the whole scenic area will take you about 2 hours. After visiting, you may accommodate yourself at Yuanmou County.
Yunnan Tea-horse Ancient Road
On the morning of the fifth day, take a visit to the Pithecanthrope Exhibition. The entrance ticket is CNY2. Transfer back to Chuxiong City. Walk to the Ancient Tombs on the Qinglong River at Wanjiaba 3 kilometers (1.9 miles) south of Chuxiong City. Stay overnight in Chuxiong City.

Take a bus at the East Passenger Station to Dinosaur Valley. The earliest one can set off at 9:00 and a bus departs every hour. You are advised to book the entrance ticket, price CNY120, in advance. After a 35-minute drive, you will arrive at your destination and start your adventure there. In the afternoon, take a bus to Kunming and your tour ends.

More Dali Hiking Tour Information: