Sacred Heart Cathedral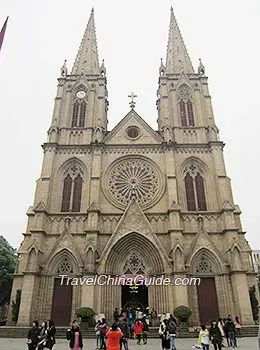 Sacred Heart Cathedral
Sacred Heart Cathedral in Yuexiu District, Guangzhou, also known as the Cathedral of the Sacred Heart of Jesus, or Shishi Catholic Church, is regarded as the 'Notre Dame of East Asian'. Located at Yide Road near the Haizhu Square in the city center, this 130-year-old Roman Catholic cathedral is a holy and peaceful site in the bustling urban area. The cathedral was designed by two French architects, and completed by Chinese craftsmen within 25 years from 1863 to 1888. With a gross area of 3,300 square yards (2,754 square meters), it is the biggest in Roman Catholic Archdiocese of Guangzhou and one of the grandest double steeples Gothic architectures in China. Featuring all of the walls and pillars made of granite, the Sacred Heart Cathedral is nicknamed the 'Stone House' (Shishi in Chinese) by the locals. It is the largest granite Catholic structure in Southeast Asia, and one of only four all-granite Gothic churches in the world.

The original site of Sacred Heart Cathedral was the residence of viceroy of Guangdong and Guangxi Provinces in the Qing Dynasty (1644 - 1911). In 1856, it was destroyed during the war. At that time, Bishop Philippe (the first vicar apostolic of Guangdong) made full use of this opportunity to occupy this place. The purpose was to construct a Catholic cathedral. Finally, he was allowed to be in charge of the construction work. Philippe invited two French architects to design the cathedral and began construction on June 28, 1863.

Two initial foundation stones were laid by Philippe and all senior members of Missions étrangères de Paris. One in the east was engraved with 'Jerusalem 1863', while the other in the west with 'Roma 1863'. The purpose of these two stones is to relate that Christianity originated in eastern Jerusalem and developed in western Rome. Visitors still can see the foundation stones nowadays.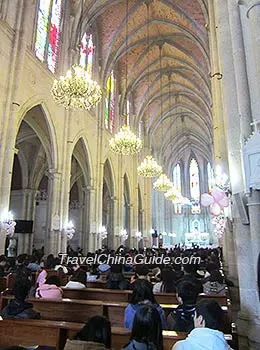 Interior of the Church
Featuring a plane in a cross shape, the cathedral is 259 feet (79 meters) from south to north, and 115 feet (35 meters) from west to east. With a height of 191 feet (58.5 meters), the building follows the classical Gothic architectural style. Standing on the square in the front of the church, one can see the imposing facade with symmetrical design and three vertical parts.

Three dark red doors with exquisite Gothic pointed arches are set on the ground floor, with the middle one being the largest. A huge rose window with a diameter of 23 feet (6 meters) above the middle entrance is the focus of the facade. The crystal colorful glasses of the window wear a golden gleam under the beautiful sunshine. Higher on the third floor, there are two eight-square pointed bell towers symmetrically on the east and west. Three sides of the west tower are inlaid with big clocks; while the east tower keeps the Virgin Mary Bell Group containing four heavy bronze bells brought from France.

Entering the cathedral, the spacious interior with a rib vault impresses all visitors. Two lines of pillars divide the hall into a central part and two side corridors. The main altar, pillars, and the walls are exquisitely decorated. There are many pointed arched windows with colored paintings, vividly depicting various Bible stories. When sunlight penetrates through the colored glasses, the church is immersed in a holy and mysterious atmosphere.
Admission Fee
Free
Opening Time
8:00-17:30
Tip: All the visitors can participate in the Mass, but they are not allowed to walk around during the mass time.
Mass Time:
Weekdays: 06:45 (Cantonese)
Saturday: 16:00 (Korean) 19:30 (Mandarin)
Sunday: 6:30 (Cantonese) 8:30 (Cantonese)
10:30 (Mandarin) 15:30 (English)
Transportation
1. Take metro Line 2 or metro Line 6 to Haizhu Square, get out from Exit B2, and walk west along Yide Road to find the cathedral.
Or you can take metro Line 6 to Yide Road Station, and walk northeast around 430 yards.
2. Take public buses 4, 8, 61, 82, 86, or 823, and get off at Middle Yide Road.
Guangzhou Bus / Metro Search
Notice
1. Short skirts, knickers, and slippers are not allowed in the cathedral.
2. At the entrance, there are free long aprons for visitors.

Top 10 Things to Do in Guangzhou
- Last updated on Sep. 18, 2022 -
Questions & Answers on Sacred Heart Cathedral
Asked by Retni from INDONESIA | Oct. 19, 2023 17:47

Reply
Is there any info for 1st Friday Mass?
Answers (1)
Answered by Nancy | Oct. 19, 2023 19:06

0

0

Reply
Monday-friday Morning Service 6:20 Mass 6:45 Vespers/Mass 19:30
Saturday 6:45 Cantonese 16:00 Korean 19:30 Sunday Mass Mandarin
Sunday 7:00 Cantonese 8:30 Cantonese 10:30 Mandarin 15:30 English
Asked by Alexander Gscheider from AUSTRIA | Sep. 03, 2022 21:34

Reply
Dears, is there a possibility for confirmation for our daughter Elisabeth (17 years)
I am from Austria and my wife is Chinese. Our daughter has Austrian citizenship. I am working for an Austrian company in Foshan. I would highly appreciate if you could reply me with some guidance by email. Thanks a lot!

Best Regards
Alexander
Answers (1)
Answered by Leo | Sep. 18, 2022 20:52

0

0

Reply
Hi there, what kind of "confirmation" do you mean?
Asked by keji from SOUTH SUDAN | Dec. 24, 2019 19:11

Reply
is there English mass today, it my first time i check online wanted to join
Answers (1)
Answered by Peyton from DENMARK | Dec. 24, 2019 23:06

0

0

Reply
The English mass is 15:30.
Asked by Paulina from INDONESIA | Nov. 08, 2018 03:09

Reply
The 2018 christmas eve chinese and english mass time
Does anyone know the 2018 christmas eve chinese and english mass time at Sacred Heart Cathedral ?
Answers (1)
Answered by Nanette from USA | Nov. 08, 2018 19:43

0

0

Reply
No latest news comes out about the mass time and in previous years, the mass time was at about 13:30.