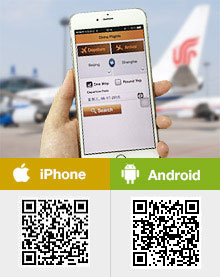 What's On

New International Flight Schedule Carried out in Two Beijing's Airports since Mar. 29
Apr. 3, 2020
The new flight schedules of both two Beijing airports' international flights have been put into effect since March 29, 2020, showcasing it has entered into the 2020 summer-autumn flight season. Nevertheless, domestic flights still operate the schedule of the 2019-2020 winter-spring flight season and it will not change until 24:00 on May 2, 2020.

In the new flight season, more air companies will be transferred to Daxing Airport from the Capital Airport. There will be 33 new international air routes from Daxing Airport added, including the flights to Lisbon, Fukuoka, Sapporo, Paris, Dubai and Seattle and there will be a total of 329 international air routes during this flight season. Meanwhile, Capital Airport has 1,465 international routes, including a new one to Ashkhabad.

Due to the coronavirus pandemic and the new schedule implementing, some flights may be changed or cancelled in the near future. TCG reminds passengers to pay attention to the departure and destination airports when buying tickets and traveling, so as to avoid going to the wrong airport and delay your travel.

More Air Companies Transferred to Daxing Airport since Mar. 29
Mar. 30, 2020
From 29 March 2020 on, a lot of air companies which used to operate in Beijing Capital Airport have transferred to the new Daxing Airport, including Xiamen Air, Chongqing Airlines, Donghai Airlines, China Eastern Airlines and China Southern Airlines. Among them, all of the flights of Xiamen Air, Chongqing Airlines, Donghai Airlines were transferred to Daxing Airport on March 29. Some flights of the China Eastern Airlines have been transferred on March 29 and some will transfer on April 26. As for China Southern Airlines' flights, certain ones will transfer on April 12. And both China Eastern Airlines and China Southern Airlines will simultaneously operate at Beijing Capital Airport and Daxing Airport.
Read More
Questions & Answers on China Flights
Asked by Maria Quinonez from HONDURAS | Apr. 01, 2020 03:57

Reply
Hello, are you still processing visas
Answers (1)
Answered by Jeana | Apr. 01, 2020 19:44

0

0

Reply
No, China should stopped entrance of foreigners unless being invited or for emergency affairs.
Asked by Ken from USA | Mar. 23, 2020 23:34

Reply
Traveling with fish out of china
Am i allowed to travel out of china with fish?
Answers (1)
Answered by Lrif from PHILIPPINES | Mar. 26, 2020 01:08

0

0

Reply
If it is cooked and well packed, I think it is fine with China side. The point is that if it is allowed to enter the place you will go.
Asked by ObligedFriend from USA | Oct. 12, 2019 09:36

Reply
Will Philippine airlines check baggage from Manila to Shanghai PVG to DFW with American Airlines
Answers (1)
Answered by Justin | Oct. 17, 2019 20:37

0

0

Reply
I suppose not, they need to be at least the same airlines
Asked by Rachel from CHINA | Sep. 29, 2019 00:08

Reply
If I booked the air ticket in January, but I need to cancel it, will this charge me any commission?
Answers (1)
Answered by Kayleigh from USA | Sep. 30, 2019 03:20

0

0

Reply
Yes, if you make cancellation after ticket confirmation, there will be cancellation fee charged. The detailed amount depends on the policy of airlines.
Asked by Tania from POLAND | Aug. 08, 2019 03:23

Reply
Hi, I saw ticket options in your page, e.g. Economy 46% Off.
Is is valid for all passengers (or these tickets are only for children)? why they are with some offs?
Answers (1)
Answered by Hailey | Aug. 22, 2019 23:44

0

0

Reply
Yes, it can be booked by all passengers, adult, no matter Chinese or international travelers.