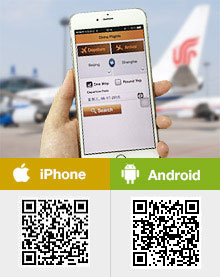 Top Deals

Loading...
Popular Air Routes
What's On

Air China Opened Zurich-Beijing Flight
Since June 7, 2017, Air China has opened the direct air route between Zurich and Beijing. It's the second route operated by Air China to connect Beijing and Switzerland after the Geneva-Beijing air route. The plane CA782 departs from Zurich at 13:30 on Tuesday, Wednesday, Friday, and Sunday, and lands in Beijing at 05:20 the next day. The plane CA781 leaves from Beijing around 3 o'clock am on Tuesday, Wednesday, Friday, and Sunday, and arrives in Zurich at about 8 o'clock am. All times follow local time.

Moscow-Chongqing Direct Flight Opened
Tianjin Airlines has opened a direct air route linking Moscow and Chongqing since June 7, 2017. The route is in operation on every Wednesday and Saturday. A single journey takes about eight hours. GS7942 flies from Moscow at 14:30 and gets to Beijing at 04:00, while GS7941 takes off from Chongqing at 09:40 and arrives in Moscow at 13:30. Note: all times mentioned are local time.
Read More