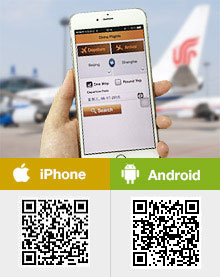 Top Deals

Loading...
Popular Air Routes
What's On

The First Direct Air Route between Sydney and Zhengzhou Opened
The Sydney - Zhengzhou direct flight made its debut on January 29, 2018. From then on, the route is operated regularly on every Saturday and Tuesday from Sydney to Zhengzhou. The plane GS7940 takes off at 08:30 and arrives in Zhengzhou at 16:25, with nearly 10 hours in the air. For the way back to Sydney, the plane GS7939 leaves at 16:50 on Friday and Monday and lands at 06:30 the next day, taking about 12 hours. Passengers can use mobile phones with flight mode and small-sized laptops, pads, and electronic books on the plane.
Tianjin Airlines, the operator of this route, is also planning to open the route connecting Zhengzhou with Madrid and Los Angeles in 2018. Note: All time points here refer to local time.

Hanoi - Chongqing Direct Flight Opened by China Southern Airlines
Recently, China Southern Airlines has opened the direct air route linking Hanoi Vietnam and Chongqing China. CZ8162 departs at 23:30 from Hanoi and arrives in Chongqing at 02:40 the next day. CZ8161 is scheduled to leave Chongqing at 21:15 and gets to Hanoi at 22:30. Flights for both directions are available on every Tuesday, Thursday, Saturday and Sunday, with duration of about two hours.
China Southern Airlines also operates non-direct routes between the two cities, most of which have a stopover in Guangzhou or Shenzhen and take over seven hours. Note: All time points refer to local time.
Read More