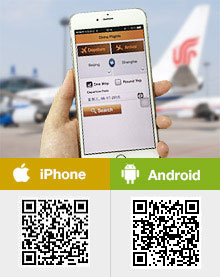 Top Deals

Loading...
Popular Air Routes
What's On

Direct Flight between Xian and London to Be Opened in May 2018
A direct air route between Xian and London will be opened since May 7, 2018. By then, the air duration between the two cities will be shortened to about 11 hours. The route will be operated on each Monday and Friday. The plane GS7988 will depart from London at 22:00 and get to Xian at 16:00 the next day. For the opposite direction, the plane GS7987 will leave at 15:15 and arrive in London at 20:00. (All time points here refer to local time.)
Following the London - Chongqing route, this is the second air route between mainland China and the UK operated by Tianjin Airlines.

Flight Tickets to Tibet in High Demand in March
Though the 2018 Spring Festival Travel Rush ended on March 12, 2018, flight tickets to Tibet are still in high demand and hard to buy. In March, almost all air tickets from Chengdu, Beijing, Chongqing, etc. to Tibet, are in full price. In April and May, some tickets may have a 50% off discount.
Extra trains between Xining and Lhasa, the capital of Tibet are operated in March to facilitate passengers. From March 4 to 30, Y975 runs from Xining to Lhasa every other day; from March 5 to 29, Y976 runs every other day for the return trip. In case that the discounted air ticket is hard to get, passengers can consider taking a train instead.
Read More