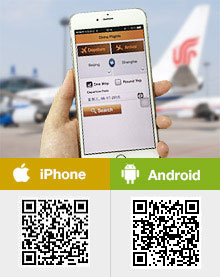 Top Deals

Loading...
Popular Air Routes
What's On

Sydney - Qingdao and London - Qingdao Direct Flights to be Opened
China Capital Airlines announced that it would open the direct air route between Sydney and Qingdao on October 29, 2017. The route will be operated on Monday, Wednesday, Friday and Sunday every week. A one-way journey will take around 13 hours.
Additionally, the airlines will inaugurate the route between London and Qingdao on November 17, 2017. The route will be in service on every Monday and Friday and a single trip will cost about 12 hours.

The First Direct Flight between Brisbane and Shenzhen Opened
The first direct air route between Brisbane and Shenzhen has been opened by Hainan Airlines since September 21, 2017. It's the fourth route that links Shenzhen with Oceania after the routes between Shenzhen and Sydney, Auckland, and Melbourne.
The plane departs from Brisbane at 11:30 on Monday and Tuesday and arrives in Shenzhen at 18:40. It leaves from Shenzhen at 22:35 on Wednesday and Sunday and gets to Brisbane at 09:30 the next day. A one-way trip takes about nine hours. Note: All times follow local time.
Read More