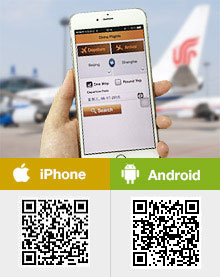 Top Deals

Loading...
What's On

Milan-Jinan Flight to be Opened in May 2017
A direct air route between Milan Italy and Jinan in Shandong Province of China is going to be opened in May 2017 by Neos Air and this is the first air route connecting Jinan and Europe. The route will be served by Boeing 767. The tentative date for the first run is May 19. Thereafter, the planes NO956 and NO957 will regularly fly between the two cities on every Friday. The plane NO956 will leave Milan at 02:40 and get to Jinan at 19:40. The plane NO957 will depart from Jinan at 23:00 and arrive in Milan at 05:35. A single trip takes 11 to 12 hours. (Note: All time points here refer to local time.)

Over 400 Flights of Beijing Capital Airport Moved to Tianjin Airport Temporarily
From April 2 to 29, 2017, Beijing Capital Airport will undergo runway renovation. Consequently, more than 400 flights to and from Beijing previously will use Tianjin Airport as the temporary departure and arrival airport. The involved routes are mainly to and from Shenzhen, Xiamen, Chongqing, Hangzhou, Changsha, Kunming, Sanya, Nanchang, Xining, and Zhuhai. Passengers can conveniently take Tianjin Subway Line 2 plus Beijing-Tianjin Intercity High Speed Train to travel between the two cities.
Read More