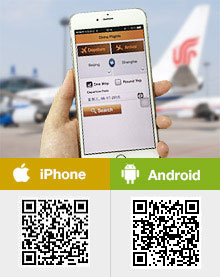 Top Deals

Loading...
What's On

Guiyang-Tokyo Direct Flight to Be Opened
The direct air route between Guiyang in Guizhou China and Tokyo in Japan will be put into service since August 2, 2016 by China Southern Airlines. The plane will take off from Guiyang Longdongbao Airport at 20:00 every Tuesday and Friday, land in Tokyo Haneda Airport at 00:30; it will depart from Tokyo at 01:30 the same arrival day and get to Guiyang at 06:10 (all time mentioned is local time).

Alitalia Airways Reopened Rome-Beijing Direct Flight
After three years of suspension, Alitalia Airways has resumed the operation of Rome-Beijing direct route since July 19, 2016. Airbus A330 is adopted for this route. Plane AZ791 will fly nonstop from Beijing Airport (PEK) at 09:15 to Fiumicino Airport (FCO) in Rome on Tuesday, Thursday, Saturday and Sunday. About 11 hours later, it will arrive in Rome at 14:25 local time. Plane AZ790 will fly from Rome at 14:20 on Monday, Wednesday, Friday and Saturday and get to Beijing at 06:20 local time of the next day. The total journey takes 10 hours. According to the CEO of Alitalia Airways, they may run this route daily and more routes connecting Italy and Chinese cities are expected to open in the future.
Read More