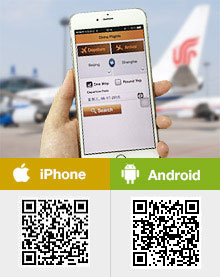 Top Deals

Loading...
What's On

Shenzhen - Jakarta and Guangzhou - Toronto / Adelaide Flights to be Opened by China Southern Airlines
China Southern Airlines will open several international air routes by the end of 2016. For instances, it will open the route between Shenzhen and Jakarta on September 21, Guangzhou and Toronto on December 7, Guangzhou and Adelaide on December 12.
Besides, it will increase the flight number between Guangzhou and Los Angles and New York in this August. From then on, the planes flying from Guangzhou to New York, LA, San Francisco, and Vancouver will add up to 37 per week.

Korla-Chongqing Direct Flight to be Opened
Air China is about to open a direct air route between Chongqing and Korla in Xinjiang Uygur Autonomous Region on August 29, 2016. This route will be served by Boeing 73G and operated on Monday, Tuesday, Thursday and Saturday. The plane will depart from Chongqing at 16:15 and arrive in Korla at 20:40. It will take off from Korla at 21:30 and get to Chongqing at 01:30 the following day.
Read More