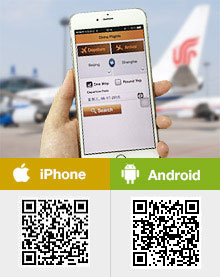 Top Deals

Loading...
What's On

Cheap Air Tickets will be on Sale in Domestic Air Routes after Chinese New Year
Feb. 20, 2019
Popular domestic airline tickets will plummet after the Chinese New Year holiday. Some airlines' tickets fare is with the discount of 30% to 50%. Some are even lowered to only 20% of the full price. For example, the air ticket to the coastal city Sanya, one of the most popular tourist cities during Chinese New Year holiday, is pretty expensive in the holiday; but in recent days, the lowest price ticket from Beijing to Sanya just costs about CNY400, with a 84% discount off the full price. Not only to Sanya, the air tickets to some hot cities like Qingdao, Chengdu, Hangzhou, Xi'an, Kunming and Chongqing are all sold much cheaper. Travelers who want to have a budget tour in these cities are recommended to book tickets in this period.

Kalibo - Ningbo Direct Flights have Opened since Jan. 9, 2019
Jan. 10, 2019
The direct flights between Kalibo and Ningbo have been operated by Loong Air since January 9, 2019. There are three round-trip flights weekly. The flights depart from Ningbo at 14:10 on every Monday and Tuesday, at 13:55 on every Friday. The flights depart from Kalibo at 18:45 on every Monday, Tuesday and Friday. The travel time for single journey is about 3.5 to 4 hours. What's more, the Kalibo Airport is the closest airport near the famous Boracay Island in Philippine, which contains one of the seven most beautiful beaches in the world.
Read More
Questions & Answers on China Flights
Asked by Lin from MALAYSIA | Feb. 19, 2019 07:48

Reply
I want to visit Huangshan, where is the nearest city to fly in from Malaysia
Answers (1)
Answered by Anna from LITHUANIA | Feb. 19, 2019 17:17

0

0

Reply
Hi, you can transfer to Guangzhou and then fly to Huangshan Tunxi airport directly.
Asked by john gortatowski from UNITED STATES | Feb. 19, 2019 06:57

Reply
how much for a flight to zhengzhou china from Philadelphia Penna?
the best way and the cheapest too.
Answers (1)
Answered by Jesse from USA | Feb. 19, 2019 17:14

0

0

Reply
Hi, since there is no direct flight between the two cities, the best way may be transferring in Boston and transferring in Shanghai and then get to Zhengzhou. However, they are not operated by the same air companies, so it may take much time.
Asked by radhika s kamerkar from UNITED STATES | Feb. 17, 2019 19:30

Reply
if we buy tickets from your website do we get electronic tickets?
Answers (1)
Answered by Lily from AUSTRALIA | Feb. 18, 2019 17:21

0

0

Reply
Yes, you do and you need to change the boarding pass in the airport.
Asked by Husna from UNITED STATES | Feb. 14, 2019 12:20

Reply
If I do United States-Shanghai(stay for 5 days)-Seoul(4 days)-US, do I qualify visa free policy?
Thank you in advance.
Answers (1)
Answered by Austin from MALAYSIA | Feb. 14, 2019 17:55

0

0

Reply
Yes, you are eligible for 144 hour free visa policy.
Asked by Jennifer from CANADA | Feb. 13, 2019 10:37

Reply
Visa for China, Sufficient Connect time & Where/When get Boarding Pass for FM?
Canadian (not in a tour group) going from Canada to Thailand thru Shanghai airport with a 2hr 50 min connect time from China Eastern(MU) to Shanghai Air(FM) and returning China eastern thru Nanjing with a 5hr 25min to a China Eastern flight. Does China Eastern issue a FM flight boarding pass?
Answers (1)
Answered by Sandra from SPAIN | Feb. 13, 2019 18:18

0

0

Reply
I'm not very clear about that and you are suggested to contact the air companies.