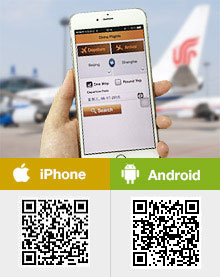 Top Deals

Loading...
Popular Air Routes
What's On

The First Direct Flight between Brunei and Kunming Opened
The Lucky Air has opened a direct air route between Kunming China and Bandar Seri Begawan, the capital city of Brunei, since July 18, 2017. As the first regular air route linking Brunei and Kunming, the route provides passengers with more choices to travel between the two. The planes are operated on every Tuesday and Saturday. Plane 8L9506 departs from Bandar Seri Begawan at 16:20 and gets to Kunming at 20:55; plane 8L9505 takes off from Kunming at 11:15 and lands in Bandar Seri Begawan at 15:20. All time points follow local time.

Ningxia Opened a Low-altitude Sightseeing Flight between Yinchuan and Zhongwei
A low-altitude sightseeing flight between Yinchuan and Zhongwei of Ningxia Hui Autonomous Region has been opened since July 2017. As a well-known desert tourist destination, Zhongwei has become readily accessible by visitors via Yinchuan, the capital city of Ningxia. The flights depart daily from Yinchuan at 09:25 and 14:35 and from Zhongwei at 10:35 and 15:50. Operated by Joy Air, a budget airline, the tickets are cheap. A discounted ticket may cost only CNY 200 or so. Furthermore, passengers do not need to pay airport departure tax and bunker adjustment fee. There is a 25-minute low-altitude journey in the air, enabling passengers to overlook deserts, oases and the Yellow River.
Read More