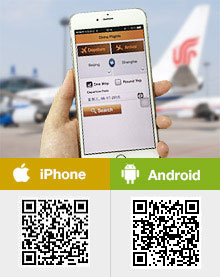 Top Deals

Loading...
Popular Air Routes
What's On

Direct Flight between Melbourne, Australia and Zhengzhou, China Opened
Since December 6, 2017, the direct air route linking Australia and China's Henan Province has been opened, taking about 10.5 hours for a one-way trip. It's scheduled that the route will be later operated on every Wednesday and Saturday. The plane JQ67 will depart from Melbourne at 14:00 and arrive in Zhengzhou at 21:30. On the other side, the plane JQ68 will take off from Zhengzhou at 23:00 and get to Melbourne at 12:30. All time points here refer to local time.

St. Petersburg - Sanya Direct Flight Opened
Having been suspended for three years, the direct air route between St. Petersburg Russia and Sanya China resumed operation on November 8, 2017 by iFly Airlines. The flights numbered I49889/9890 are operated once a week. I49889 leaves from St. Petersburg on every Monday while I49890 departs from Sanya on every Tuesday. As winter comes, the opening of the route will facilitate travelers to Sanya, a winter resort.
Read More