Qinghai Travel Guide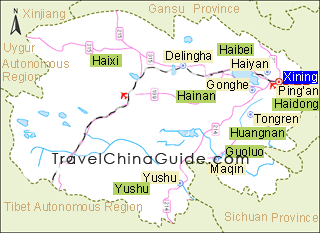 Qinghai Facts
Chinese Name: 青海 (qīng hǎi)
Abbreviation: Qing
Population: 6,078,200
Area: 722,300 square kilometers (278,882 square miles)
Location: in the northwest of China
Administrative Division: 2 cities (Xining, Haidong); 5 autonomous prefectures (Haibei Tibetan, Huangnan Tibetan, Hainan Tibetan, Golog Tibetan, Yushu Tibetan, Haixi Mongolian Tibetan)
GDP (2019): CNY 296.595 billion (USD 42.991 billion)
Nationalities: Han, Tibetan, Hui, Tu, Salar, Mongolian
China's Fourth-Largest Province with Qinghai Lake & Ethnic Minorities Customs
Qinghai is an inland province located in northwestern China and adjacent to Gansu to the north and east, Xinjiang to the northwest, Tibet to the south and southwest and Sichuan to the southeast. By the virtue of high altitude, Qinghai is endowed with beautiful plateau landscapes various from towering mountains to canyons and basins. Its waterscape is also worth visiting. Qinghai Lake, the largest inland salt lake in China, has been attracting tourists all around the world. Besides, the Yangtze River and Yellow River are both originated from Qinghai. Let alone the numerous creeks and lakes scattered all over the province. As a region many ethnic minorities dwell, Qinghai will show you various folk cultures of Tibetan, Hui, Mongol, Tu and Salar nationalities.
| | |
| --- | --- |
| Qinghai Lake | Sutra Debating, Kumbum Monastery |
Cities in Qinghai
Colorful Culture & Customs of Local Ethnic Minorities

Multiple ethnic groups bring Qinghai unique folk arts and customs. Regong Art of Tibetan people will feast your eyes on colorful Buddhist paintings, sculptures and murals. Thang-ga Art is also well-known for its mysterious scroll paintings, not to mention the lifelike butter sculptures and delicate folk embroideries. Apart from those arts and handicrafts, people in Qinghai are also good at singing and dancing. The resonant folk song Flower has even been listed as the intangible cultural heritage. The passionate Tibetan dance and the graceful dance of Tu people are waiting for you to join in. Also, you can learn more about their religious beliefs by attending Buddhist Butter Lamp Festival or Islamic Mawlid Celebration.

Best Time to Go
Qinghai has a highland continental climate, characterized with strong sunshine radiation, a large difference in its day and night temperature, a cool summer and a long freezing winter. Besides, annual precipitation is low and comes mostly in summer. The best time to visit this place is from May to October when it is not too cold with beautiful natural scenery.
In July and August, tourists will be captivated by the thousands of acres of rapeseed flower in Menyuan County.
| | |
| --- | --- |
| Tibetans in Qinghai | Cole Field in Menyuan County |
Transportation
Qinghai borders on
Tibet
in the south, and tourists can travel between these two regions by
Qinghai-Tibet Railway
or Qinghai-Tibet Highway. Also, Qinghai adjoins
Gansu Province
in the north and east, and they are linked through Lan-Qing Railway. Regular trains travel back and forth between Xining and Beijing, Shanghai, Lhasa, etc. Lanzhou-Xinjiang High Speed Railway has a station in Xining, which incorporates Xining into the China's extensive high speed railway network. Thus, tourists can easily get to Xining from Xi'an, Lanzhou, Urumqi, Dunhuang and other cities by high speed train.

See also:
Xining Railway Station
,
Xining Train Schedule
Nevertheless, most tourists choose to fly to Qinghai.
Xining Caojiapu International Airport
is the largest airport in Qinghai Province. Many flights have been established to/from other major cities in China, including Beijing, Xi'an, Guangzhou, Chongqing, Shenzhen, Nanjing, Chengdu, Wuhan, etc. Other auxiliary airports in Qinghai are
Golmud Airport
,
Yushu Batang Airport
, Delingha Airport, Huatugou Airport and Golog Maqin Airport.
Travel Tips

1. Prevent sunburn: Qinghai has strong ultraviolet rays and long sunshine duration, thus tourists need to bring hat, sunglasses, and umbrella and apply sun cream to prevent sunburn. For girls, lip balm and moisturizing facial masks are highly recommended.

2. Be wary of altitude sickness: With the average altitude above 3,000m (9,843ft), tourists may feel a headache, nausea, lack of appetite, fatigue or even have trouble breathing. Thus, remember to bring some essential drugs like Vitamin C or ibuprofen tablets.

3. Pay heed to changeable weather: Given the large daily temperature difference in Qinghai, it is recommended to bring a jacket in case of a sudden chill. Even in daytime, the weather can be rather changeable. The scorching sun may be quickly followed by a downpour, thus an umbrella or raincoat is a must.

4. Respect the custom of local ethnic minorities. When visiting temples, tourists shouldn't touch scriptures, statues or take photos without permission. Some temples may ask tourists to take off their shoes first. If there are cows or sheep attached with yellow, red or green cloth, keep a distance from them because they are Tibetan sacrificial offerings.
Geography
With the altitude high in west and low in east, the overall terrain of Qinghai Province presents a descending shape, which results in a diversified landscape. The west region in Qinghai are mostly plateaus and basins, represented by Qinghai-Tibet Plateau, Loess Plateau and inland arid basin. And eastern Qinghai is a mountainous region. Generally, plateau accounts for eighty percent of Qinghai landscape. This province also has four water systems, including
Yellow River
,
Yangtze River
, Lancang River and Heihe River.
- Last modified on Jul. 04, 2021 -