Where to Buy in China
Bargain Market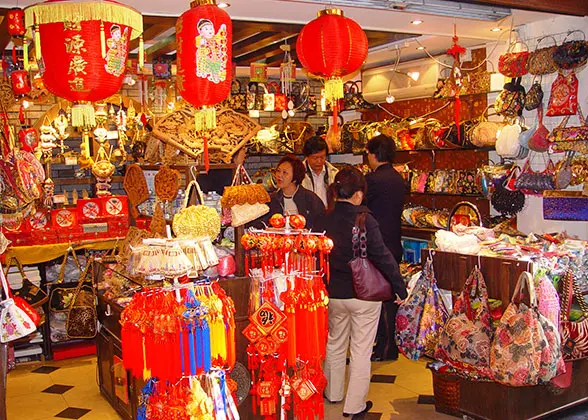 A market selling festive decorations near
Town God's Temple of Shanghai
If you want to buy something cheap and nice at a much lower price, the bargain market is your best choice. Almost all the Chinese cities have such places for you to fossick through things, marveling at the price. Generally the goods here are not as superior as in the stores or malls, but this does not rule out those which are still of high quality. Clothes, shoes, bags, commodities, and food; in the bargain market you will find all your desires. As some of them are secondhand or old factory stock, carefully check the goods you purchase so as to avoid buying inferior or defective products. Rememeber to bargain with the seller to get the lowest possible price; you may get a most favorable discount.

Factory Shop
It also sells the products they make in their own showrooms, especially those who produce a local specialty, like jade articles, porcelain, ceramics, silk, arts and crafts.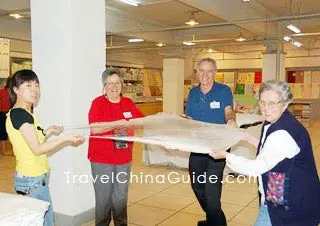 Suzhou No.1 Silk Factory
If you join a tourist group on your China trip, most probably the tour guide will take you to such factories as one of the attractions. Since the place is where the products are made, the merchandise is certainly genuine and you may get a very preferential price at a good discount.
Hotel Store
As one of the supporting facilities for their guests, a store is often located in most star-rated hotels. Actually goods are somewhat more expensive than those being sold in other stores outside the hotel, but the quality is good. Food, articles for everyday use and especially local souvenirs are commonly on sale here. Shopping at the hotel store is very convenient and saves you much time.

Shopping Online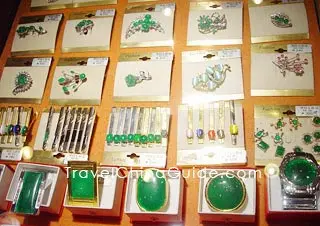 A Jade Store
As the new-fashioned way to shop, online-shopping is now gradually being accepted. Since it is not time-consuming, but easy and convenient, some young people like to shop online. Shoppers can buy with ease simply in front of their own internet connected computers. The price is also competitive compared with that in the stores. The well-known Chinese online-shopping websites like Taobao, Netease, Ebay, Joyo and Dangdang offer you a normal and legal online trading platform. Payment security is the buyers' worst worry, so online shopping is not so highly recommended. If you insist on buying online, do verify the selllers' authenticity and prestige and be cautious of the whole process. Read more for
Tips to Avoid Online Shopping Traps
.
Please refer to our China Guide for shopping information in each Chinese city where you can get more detail.



Further Reading:
China Shopping Online
: replicas of Terra-Cotta Warriors and Horses on sale
8 Major Cities in China for Enthusiastic Shoppers
- Last updated on Aug. 23, 2022 -