Top Beijing Attractions
More Things to Do
Top 10 City Tours
Code: BJ61
2-Day Beijing Independent Tour
Day 1
Tiananmen Square - Forbidden City - Temple of Heaven
Tiananmen Square is the world's largest urban square with solemn buildings of Tiananmen Tower, Monument to People's Heroes, Great Hall of the People, and so on. It's free to enter after the security check.
How to get there:
It can be reached through Tiananmen East Station of subway line 1. Comparing with Tiananmen West Station, Tiananmen East Station is closer to the square. Get out from the exit D, and walk west for around 250 meters (270 yards), you will be at the entrance of Tiananmen Square. Or, you can take bus 1, 2, 52, 82, 120, or sightseeing bus line 1 or 2 to Tiananmen East.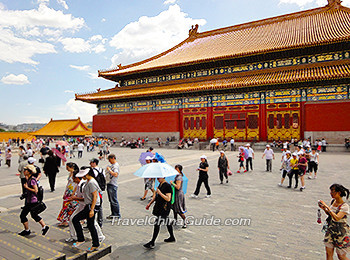 Forbidden City
As the imperial palace of the Ming and Qing Dynasties (1368 - 1911), it houses nearly 10,000 rooms in total. You are recommended to spend around 3 hours visiting buildings along the central axis. Please note that this imperial complex is closed on Monday.
How to get there:
Walking through the Tiananmen Tower at the northern end of the Tiananmen Square, you will reach the entrance of the Forbidden City immediately.
How to enter:
Book the ticket via Forbidden City's official website, its WeChat account or the TravelChinaGuide website in advance, taking CNY 60 from Apr. to Oct. and CNY 40 from Nov. to Mar. next year. After, enter with your passport.
Notes: To visit the palaces on the central axis only, you need 2-3 hours. If you have more time, you can visit those on the west or east wings as well, which requires half a day in total.
This place used to be the holy site in old times for emperors to worship ancestors and gods, as well as pray for peace and good harvest for their people. Besides admiring splendid palaces and altar, you can also have a chance to immerse in the leisurely life of the senior Beijingers inside the Temple of Heaven. The park there always gathers many citizens chatting, playing chess, practicing Tai Chi and Beijing Opera.
How to get there:
Get out of the Forbidden City from the northern gate, Gate of Divine Prowess, and then take bus no. 128 from Shenwumen Stop on the west side. Once getting off at Fahuasi Stop, walk southwards for 230 meters (250 yards) to enter the Temple of Heaven from its eastern gate.
How to enter:
After booking the ticket though its official WeChat account beforehand, you can enter the park with your passport. The admission ticket charges CNY 15/10 in the peak/low season. Inside, Altar of Prayer for Good Harvests and Divine Music Administration require a separate entry ticket respectively. The former charges CNY20 and the latter CNY10. Circular Mound Altar shares the same ticket with Altar of Prayer for Good Harvests. As for the combo ticket, it's CNY 34/28 per one for the peak/low season.
Notes: Although Temple of Heaven would be closed at 22:00, the attractions inside would be closed much earlier, at 17:00/18:00 during different seasons. Meanwhile, some attractions inside are closed on Mondays.
How to leave:
1.
Take a taxi back to your hotel and have a good rest for the next day's tour.
2.
To take the subway, you should still go out from the east gate, and Tiantan East Gate Station is just outside. Subway line 5 is available there.
Day 2
Badaling Great Wall
Great Wall at Badaling
For today's tour, we recommend you spend the whole day admiring
Badaling Great Wall
, which is the most famous section of the Great Wall of China.
How to get there:
By bus 877:
You are recommended to take the direct bus no. 877 from the north of the Deshengmen Arrow Tower to Badaling Great Wall in 1-1.5 hour, costing CNY12 per person. The last bus 877 departs at 12:30.
To reach Deshengmen, please take subway line 2 to Jishuitan Station; get out from Exit B2 and the Arrow Tower is 600 meters (660 yards) east of you. Alternatively, buses 5, 27, 55, 135, 143, 380, 409, 625, 872 and 919 also stop by Deshengmen in the midway.
By high speed train:
More than 10 high speed trains run to Badaling Great Wall. You can get to the departure station- Qinghe Railway Station by subway line 13, and spend only 19 minutes on the high speed train to reach the Badaling Great Wall. CNY 20-25 is needed for a second class seat.
By S2 train:
The S2 train departing from Huangtudian Railway Station will take you to Badaling Great Wall as well, taking around one hour and the ticket fare of CNY6. Reaching Badaling Railway Station, you can walk southeast for about 1km (1,100 yards) to the Great Wall.
To Huangtudian Railway Station, you can take the subway line 8 or line 13 to Huoying Station. Get out from Exit G4 and then walk east for about 360 meters (400 yards) to the railway station.
Tips:
Built along rolling mountains, some segments of the Great Wall can be very steep, making the climbing a little challenging. Please wear comfortable shoes and bring mountaineering equipment if necessary. Since ascending the Great Wall will consume much of your energy, before you set out, please pack some chocolate bars, snacks, and bottled water for energy-replenishing, as few vendor can be found along the wall.
How to get back to downtown:
When the visit is over, reverse the trip back to downtown Beijing. You should notice that, from Badaling, the last return bus 877 departs at 17:00 during Apr. 1 - Nov. 15 and at 16:30 between Nov. 16 and Mar. 31; the last high speed train departs at 19:58, and the last S2 train departs at 18:18.
This 2-day Beijing independent tour comes to an end at this point. If you still want to further explore this city, you can refer to our other Beijing independent tours. If you plan to head for other destinations, please feel free to contact us for flight/train tickets booking.

More Independent Beijing 2 Days Tours:
Shanhaiguan & Beidaihe: know about the history of Shanhaiguan and relax at Beidaihe seaside
Jinshanling Great Wall: set out an exciting hiking on well-perserved Jinshanling Great Wall
Huanghuacheng Great Wall: enjoy the unique landscape of "the Great Wall in water"