Code: GUIYANG09
Kaili City
With three quarters of its population being national minorities, Kaili lies in the east of Guizhou province, not very far from Guiyang City. Every year one hundred ethnic festivals are held here, thus Kaili is reputed as the 'Capital of Festivals' in China. In and near the city area, you can plan a two-day trip to Censer Mountain (Xianglu Mountain), Kaili Minority Museum and the Zhouxi Miao Village.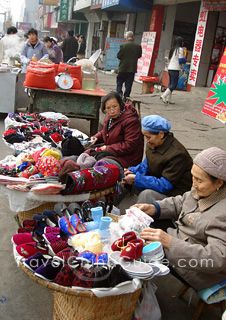 Kaili local market
One can take train No.T88 (08:00 to 10:18) from Guiyang to Kaili. The ticket charge is CNY28.5 for a hard-seat. Alternatively, you can take a taxi to Guiyang East Bus Station to catch a coach to Kaili, taking 2 hours and costing CNY60. The regular coach is available every 20 minutes from 08:00 to 20:00.

Upon arrival in Kaili, take a taxi to Kaili Hotel (Address: No. 3, Guangchang Road). After a short rest and lunch, you are advised to take a minivan (about CNY50) to Censer Mountain, which is located at Wanchao Town, 15 kilometers west from the city center. You can also get a bus from Kaili Bus Station to Huzhuang, and then walk to Censer Mountain following the sign posts. Censer Mountain gets its name because it resembles a huge censer. The Slope-Climbing Festival of the Miao people is held every year on the nineteenth day of June of the Chinese lunar calendar. Young people sing and dance in their fancy costumes to celebrate the festival. Old people come to pray for good fortune and a happy life. To the local Miao people, Censer is a holy mountain.

Then you may go straight to Kaili Minority Museum by taxi. With ethnic features, the distinctive appearance of the museum will first draw your attention. Housing numerous photos, materials and literary works, the museum provides tourists an easy and diversified access to the culture and custom of the minority groups in Guizhou Province. There are 12 exhibition halls in total, but only four of them are open to tourists. Of the four halls, the Ethnic Folklore Exhibition Hall and the Dragon Boat Exhibition Hall are really worth visiting. Please note that the business hours are from 09:00 to 12:00 in the morning and from 14:00 to 17:00 in the afternoon.
Kaili local market

If it happens to be a Sunday, you are advised to visit the local market in the morning, when the Miao and Dong people come to trade. Walking through the market, you will see the locals wear their costumes as they busily come and go. Moreover, you can find blacksmiths and wood-carving workshops, which are rare in other cites. You will also find many local specialties and handicrafts.

After breakfast, you can take a minibus to Zhouxi Miao Village 20km southwest of Kaili City. This Miao village is one of the major sites for the Festival of Lusheng (reed-pipe instrument), held every year from the sixteenth to twentieth day of January of the Chinese lunar calendar. During the festival, Miao women will adorn themselves with jewelry and costumes, and sing and dance for celebration. Besides, you can visit the local people's houses and have a taste of their food. In addition, you can also visit the Lusheng Hall or just amble around the beautiful village. Then take a bus back to Kaili. If time permits, you can stay overnight at the village.

More Guiyang Itineraries:
Tongren Excursion via Yuping
: 3 days tour to Tongren via Yuping to visit West Gate Bridge, Nine-dragon Cave, Six Dragon Mountain.
Side Trip
: 2 Days travel of Duyun city to visit west hill garden, wenfeng pagoda and cloak mountain.
City Finding
: 2 days to visit Qianling Park, Jiaxiu Tower, Fufeng Mountain and the Tianhe Pool.