Code: GUIYANG11
Duyun City
Duyun city is the south gateway between Guangxi Province and Guizhou Province. If Venice is the city of water, Duyun is definitely the city of bridges. With the Jianjiang River and its nine tributaries joining together here, Duyun has more than 100 bridges in the urban areas.
Duyun is about 160 km from Guiyang City and can be reached by train from Guiyang. We suggest that you take train no.K9576, which departs from Guiyang at 08:39 and reaches Duyun at 09:56. The ticket is CNY24.5 for a hard seat. Upon arrival, check in at a local hotel. TCG recommends the Ganglong Hotel at 134 Hebin Road. You can take a taxi from the railway station to the hotel, costing CNY10 and taking 10 minutes.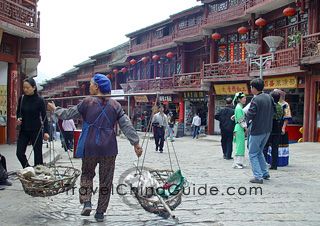 Ancient Shiban Street in Duyun City
After a short break, we suggest that you explore the city area at leisure to see the those various bridges; bridge of majesty and gracefulness, modern and ancient. Among all those bridges, the Baizi Bridge is a must for you. Walk south along Hebin Road for about 15 minutes and you will find the bridge. It was first built in the Qing Dynasty (1644 - 1911) and now has many old style towers, pavilions and stone lions. There you can also find people selling interesting local handcrafts.
Your next destination is the 300-meter ancient flagstone road, initially built in the Ming Dynasty (1368 - 1644). You can walk north along Guanghui Road for about 450 meters to reach this ancient road, which is flanked by old houses on both sides. The local Buyi minorities often hold their wedding ceremonies, festival performances and other celebrations here.
In addition, the West Hill Garden attracts tourists with its peculiar natural karst landscape and exquisite pavilions. No admission fee is required for this garden, and it is within walking distance of the flagstone road.
You can conclude the day tour by visiting the Wenfeng Park, if time permits. The park was named after the Wenfeng Pagoda, which was first built of wood with five stories in the Ming Dynasty and then rebuilt of stone to seven stories in the Qing Dynasty on the base of the original one. In the evening you may have dinner at a local restaurant nearby. You are advised to prepare enough food and mineral water for the next day's tour.
In the early morning, take a tourist bus (CNY8, 1 hour) from the bus station at Duyun railway station to Cloak Mountain, which is just 20 kilometers (12 miles) from the city. The admission fee for the mountain is CNY50. Primitive forest covers almost 90% of the mountain, so it provides a favorable environment and habitat for rare plants and animals. Climbing the mountain, you will be charmed by the beautiful waterfalls, clear streams and magic karst caves. If you want to reach the Heaven Lake on the peak, you are advised to hire a local guide (CNY30 to 50) to lead you there. You had better leave the mountain by 16:00, since it is easy to lose your way due to fog. Return to Duyun City by the same tourist bus.

More Itineraries Around:
City Finding:
2 days to visit Qianling Park, Jiaxiu Tower, Fufeng Mountain and the Tianhe Pool.
Anshun City Exploration
: One day to visit White Pagoda, Wenmiao Confucians Temple, Residence of Wang Ruofei.
North Suburb Travel
: Travel to Xianghuoyan Valley and Nanjiang Canyon in the north suburbs of Guiyang.