Code: BC-UQ01
Cycling Eastern to Hami
You will ride from Urumqi to Tianchi (the Heavenly Lake) via Miquan and Fukang City. First, ride northward to Miqian for 18 kilometers. On the way, you may stop at Shuimo Valley which is a popular destination for the local people to spend the weekends. Then, ride northeastward for about 45 kilometers to reach the Fukang City. Rest and buy some food and water here. From Fukang City, ride eastward and turn south to Tianchi along upper slopes. Facing the beautiful scenery of lakes and mountains, the icebergs and glaciers, you will fully relax and be charmed with it. You may choose either cycle or walk around the Lake. Find a nice camping place and set up the camp for the night.
Ride north to the T-crossroads called Xinfulukou. The road leads to Fukang City and Jimsar Village in the opposite directions and the No. G216 High Way meets here. Ride northward for 12 kilometers and visit the Pushi Wild Horse Base to see the highly protected rare Pushi wild horses. Then ride southward and back to T-crossroads. Ride eastward for about 43 kilometers to the Jimsar Village via Santai. Stay overnight.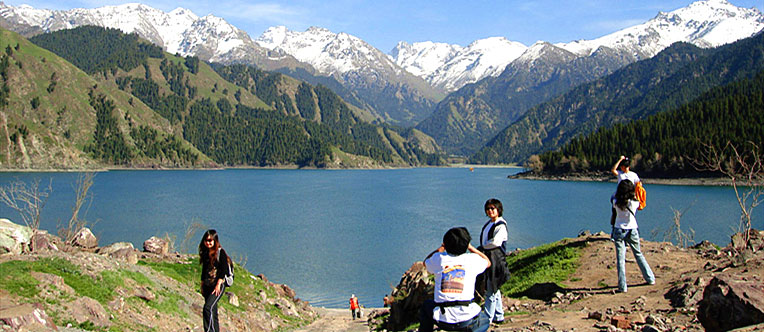 Heavenly Lake
Day 3
Jimsar - Mulei Kazak Autonomous County
Today you will reach Mulei Kazak Autonomous County after some visits. Ride eastward for 40 kilometers to Qitai Village. If you are not tired and interested in ancient cities, ride to visit the Beiting Ancient City located 12 kilometers on the north of Qitai Village. If you want to visit the Siliceous Wood-Dinosaur National Geopark, you had better thumb a ride if lucky. Although it is on the north to the Beiting Ancient City, it is located 150 kilometers away from Qitai Village. Ride southward back to Qitai Village and turn east. Continue ride along a slow upper slope to reach Mori Kazak Autonomous County. Spend the night in the hostel in the County.
Day 4
Mulei Kazak Autonomous County - Xianlaoba Village
The destination of this day will be Xianlaoba Village. The Village is belongs to Balikun County. You will need to ride for about 113 kilometers to reach the Village from Mulei Kazak Autonomous County.
Day 5
Xianlaoba Village - Balikun County
Cycle along down slopes to Balikun County and enjoy beautiful natural scenery on the way.
Day 6
Balikun County - Tianshan Temple - Hami
Cycle to Tianshan Temple via Songshu Tang along a four-hour zigzagging upper slope. Enjoy amazing Tianshan scenery at summit. Then cycle downhill to Hami.
Tianshan scenery
As Hami is the most east part in Xinjiang. When leave Hami, you will leave Xinjiang and enter another province-Gansu. Or, you may stay here for one day or two to feel the local life of the Kazak people. Also, you may return to Urumqi either by bike or take train. There are bullet train available every day. You could choose D8803 1019/1301. The second class train ticket is CNY167 per person.

More Urumqi Bike Tours:
Sayram Lake Cycling: Information about Cycling around Sayram Lake just like the race held here.
Hero's Road : 8 Days of Korla, Luntai, Kuha, Grand Tianshan Valley, Dalong Pond Forest Park
North to South Xinjiang: 5 Days of Urumqi, Houxia, No. 1 Glacier, Baluntai, Bosten Lake, Korla

Recommended Urumqi Package Tours:

Recommended tours with the visit to Urumqi: