Code: KAILI02
Countryside Tour around Kaili
Itinerary : 5 Days of Guiyang - Kaili - Paiyang - Xijiang - Leigongping - Fangxiang LeiCountry - Kaili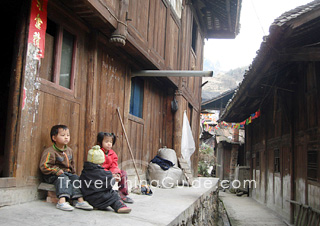 A local Miao minority village in Kaili
Upon arrival in Kaili (after your transfer from Guiyang) take a regular bus to Yangpai village from the Kaili automobile station, which is located north of the Northeast culture road (Tel: 0855-8223098). Buses are available every hour and following the 1.5 hour trip, you will arrive at Yangpai village. When you arrive in Yangpai village, hike 23 km along the windy mountain path to Xinjiang, the largest Miao village in China. En route, you will visit the families who make up the silversmith and Miao villages, and you will get a close look at the landscape's terraced paddy fields. When you arrive in Xijiang late in the afternoon, you will be greeted into the village by drinking the block-way wine, and welcomed to an evening performance. Local families will open up their doors for you for the evening for 10 Yuan (while conditions may be rustic, you will sleep well after your long trip).
On day two, we recommended starting around 10 am (after breakfast) and climbing the hill from Xijiang toward Leigongping. The path you will take is not always clearly marked, so before beginning your hike, check in with a local guide for directions and up-to-date information on the path. Your climb through the dense forest will take about 6 hours, and in the afternoon, you will arrive on top of Linggongping (a wide-open place). When you arrive, identify a suitable campsite before it gets too late. This should be easy, as there are many sources of water on Linggongping. Stay at the campsite overnight.
Traditional furniture-making in Sunday market of Kaili
The third day, we recommend waking up before dawn to see the sunrise. Begin hiking around 09:00 am, and head toward Fangxiang country. Please note - there is little along this morning's path; please collect as much as you anticipate needing from your campsite before starting. Today you will hike about 3 hours (12 km) along the main path. This hiking trip is a very worthwhile experience, especially in autumn. Lunch options will be available in Fangxiang village. The last regular bus from Fangxiang to Leishan country leaves at 13:00, so you may need to stay overnight at the local farmhouse (your hosts will be very friendly and will charge only 10 Yuan per night). Please note that bathing facilities will not be available.
On your last day, take a passenger bus from Fangxiang to Lei country along the new, flat country road. As the last bus leaves for Lei country at 13:00, we recommend arriving at the bus station early. The trip will take about an hour and a half, and will cost 10 Yuan. When you arrive in Lei country, please refer to Travel China Guide's itinerary on Lei country, which includes a hiking tour. Return busses to Kaili are also available from Lei country (the hour and a half trip will cost 8 Yuan).

More Kaili Hiking Tour Information:

Recommended tours with the visit to Kaili: