Code: KAILI01
Fantastic Hiking Itinerary
Itinerary : 4 Days Kaili - Jian River - Liping - Bazhou river - Liping Nature Bridge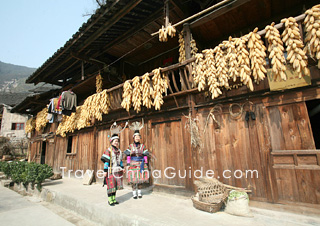 A local Miao minority village
The first day, start your trip by taking a highway express coach at the Kaili bus station to Jian River country. It takes about 40 minutes to arrive at the modern Jian River country. After arrival, you can go to its old country by bus. The youngest lake in the world is here - Yang Asha Lake. You will enjoy its peace and clean environment. Have a stroll and take photos of your favorite sights. Take a bus back to Jian River country and have a meal. Don't miss the famous local fish dinners in Jian River. They are really tasty. After eating, be sure to visit the Jian River hot spring landscape area. It is suited beside the No. 320 national highway just 20 kilometers away from the center of Jian River country. While there, you may enjoy seeing the Balang Fossils. Then, you can visit hundreds of miles of Broad-leaved forest and the group of waterfalls in Baishui Cave. After all of this sightseeing, you will probably be ready to have a hot spring bath at the bathing center. In the evening, you can stay at the rest house in the country or you also can go back to the country centre and find a suitable place to stay overnight.
The next morning, after breakfast, visit the original ecological Water forrest of Qian River, particularly if you are interested in Ecology. After that, you can hike to Meimeng village, which backs up to a slope 50 meters wide and 300 meters long. It is the place for singing at the holidays of Miao and Dong minorities. Take a minibus at the bus station in the center of Jian River to visit Liping. On the way there, you can stopover to visit the Qing Shanjie Natural Grassland at the junction of Jian river and Liping countries. Besides the original ecological beauty, you also feel the vast view between Heaven and Earth. There are many small springs, which add charm to the grassland. Proceed to Liping country and find a proper hotel in the country or rest in the house of local Dong zhai family for the night.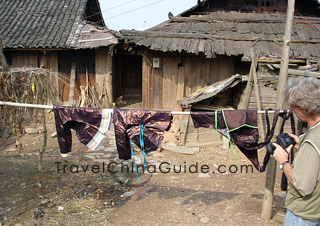 A local Dong minority village
The third day, you can take a bus to the landscape in Bazhou River, which is just 16 kilometers from the Liping country. You can have lunch and visit the Tea farm and other rural scenery.

After your trip to Bazhou River, we recommend that you take a bus to the Longli Old town. This will take about 40 minutes. Stroll around this small old town to feel its historical stories. One hour later, you can hike to the Liping Nature Bridge, one of the world's greatest, natural stone bridges. Its total length is 256 meters. You will probably want to take photos of its magnificent features. Return to Liping and stay overnight there.

The last day, you can take a coach to the Liping airport and fly to Guiyang to finish your hiking trip.

More Kaili Hiking Tour Information:

Recommended tours with the visit to Kaili: