Hangzhou History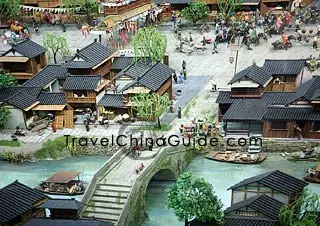 Hangzhou City in Old Times
Hangzhou may be overshadowed by some of the better known tourist destinations which boast spectacular mountains, architectural masterpieces, golden beaches or exotic ethnic cultures. However, the city has an elegant air and a distinguished thousand year history. The city is a noted ancient capital of China and is famed for
West Lake
and
Grand Canal
.
Liangzhu Culture, which dates from about 4,700 years ago, was part of the vital cultural life existing in the Tiahu Lake drainage area, in the lower reaches of the
Yangtze River
. The
Archaeological Ruins of Liangzhu City
found here, named for its discovery in Liangzhu Town, is estimated to be 5,000 years old. At that time both bronze and stone wares were used, black pottery was manufactured and the tripod vessel was used for cooking. Jade ritual articles, silk pieces and thread are also typical excavation finds, indicating the area's prosperity in the prehistoric age.
This city was established 2,000 years ago during the Spring and Autumn Periods (770BC-476BC) on a site bordering Wu and Yue States. Before the
Sui
Court (581-618) changed its name to Hangzhou, this area was successively called Yuhang and Qiantang. A major event that took place during the dynasty was the completion of the Grand Canal, finally linking together the various sections constructed over a thousand years.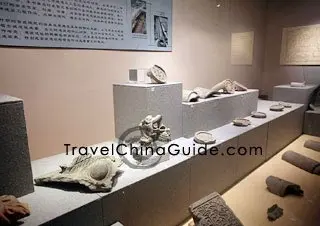 Cultural Relics in History Museum
The second wave of prosperity in the city's history occurred after it became the capital of Wuyue State during the Five Dynasties and Ten States (907-960) periods. A new city was built based on the site of the prefecture government of Hangzhou during the Sui and
Tang
(618-907) dynasties.
Buddhism
was becoming increasingly popular during this period and this Buddhist state in Southeast China was the only area to remain peaceful and unspoiled during the warring years thanks to wise political decision making by the king. Since then, the city has made the most of its fertile land, developing advanced silk, tea and paper making techniques and enjoying a commercial boom.
Moving forward to the
Northern Song Dynasty
(960-1127), Hangzhou became a renowned economic and cultural center for the entire country. Later when the
Southern Song Dynasty
(1127-1279) moved its regime southward, the city was nominated as its capital and lasted as such for 152 years. The city reached its zenith at this time as the biggest international trade center and the nation's political and cultural center. It was also among the most populous cities in the world.
Advanced
silk
, printing, paper and porcelain production, together with an elegant society and culture made it the most beautiful and luxurious city in the world, as praised by Italian traveler Marco Polo. Although no longer the center of a dynasty, Hangzhou remains a shining pearl in the southeast.
| | |
| --- | --- |
| Exquisite Lacquer Wares | Waxwork Sculpture of Stall-keeper |
In classical poems, the Western Lake was alluded to as a great beauty. The scene of many romantic and sad stories, the lake holds many secrets. As well as the lake, the tea and silk industries, Liangzhu Culture, the official kiln and Grand Canal museums are also important attractions. There is much for visitors to discover in this charming city.

Further Reading:
Hangzhou Museum
- Last modified on Apr. 12, 2021 -
Questions & Answers on History of Hangzhou
Asked by Tang C S from SINGAPORE | Jul. 29, 2015 06:03

Reply
I am considering to go Hangzhou later part of the year in October.
So I would like to know the weather conditions during late October. Thanks
Answers (1)
Answered by Kelly from USA | Jul. 30, 2015 01:02

2

0

Reply
Oh, according to the previous weather statistics, the temperature during that period of time is 59 F to 86 F. It's quite warm and comfortable. Several light rainy days will bring cool feelings. You can bring short sleeves, skirts and jeans.
Have a good trip!
Asked by Moris from SINGAPORE | Mar. 15, 2015 09:35

Reply
I'm going to hangzhou and follow by huangshan from 3/4/15 to 11:4/15.
what is the best clothing to bring?
Answers (2)
Answered by Maggie from FRANCE | Mar. 18, 2015 03:43

1

1

Reply
Well, In HZ city, you can just wear a thin coat with a long sleeve t shirt and jeans. But to go to Huangshan, You may need to take a thin sweater or a warm coat with you.
Answered by Moris from SINGAPORE | Mar. 18, 2015 07:11

1

0

Reply
Thank you, dear😘