6 Places to Visit in Beijing in December
Though it is cold, there are many fun winter activities for travelers visiting Beijing in December, such as appreciating snow covered Forbidden City, skating on Shichahai, warming up by mutton hot pot and hot springs. Below are 6 best places to visit in Beijing in December for these popular activities: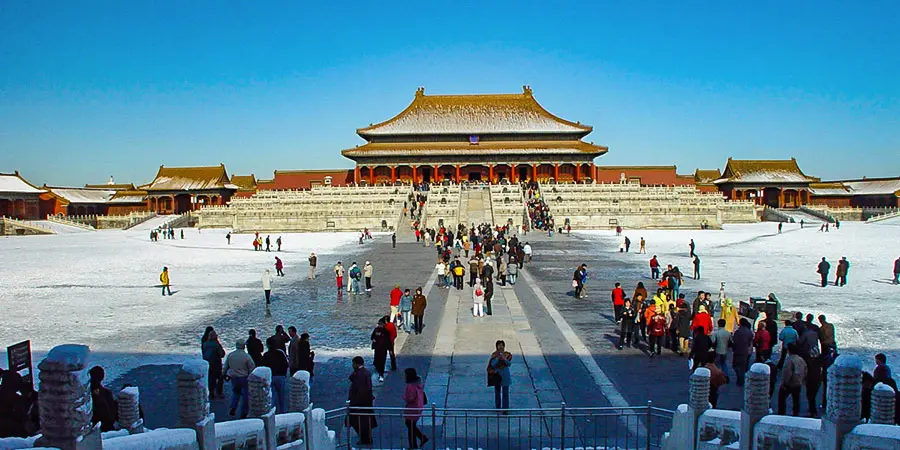 Enjoying the snow alone or visiting the Forbidden City alone, one can only appreciate a single beauty. But the Forbidden City covered by snow is like the cooperative art work of men and nature, making is a great place to visit in Beijing in December. The white roofs and ground and the red walls form a quiet and unique scene in contrasting colors, while the flying snowflakes give romantic feelings. So if you happen to visit Beijing in December on a snowy day, do pay a visit to the Forbidden City.

Recommended Tour:

4 Days Beijing Tour with Forbidden City from

$539

Book a
Forbidden City Ticket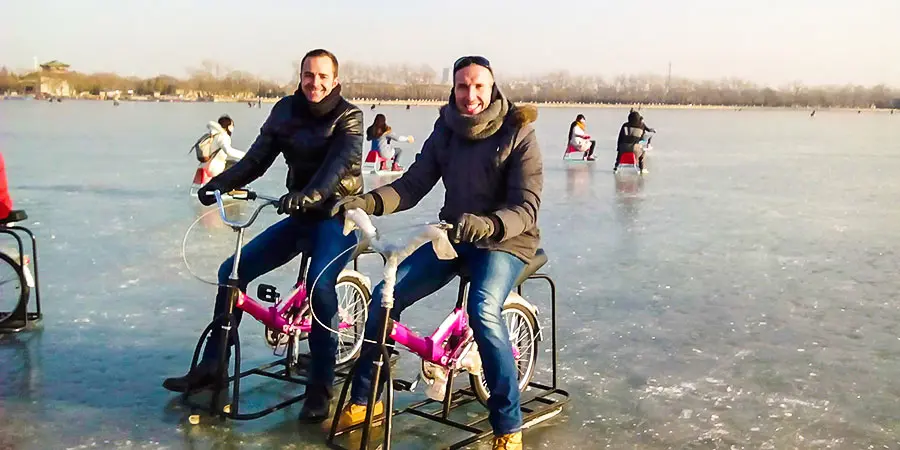 Shichahai, located in the northwest of Beijing City, is a famous water area in downtown Beijing surrounded by traditional Beijing residences. When winter comes, the water freezes, forming a large outdoor skating rink. The ice rink is divided into ice train area, skating area, etc., which facilitates the needs of different age groups. During the winter season, it opens until 21:00 p.m., and visitors can choose to play with ice carts, ice slides, ice bikes and more, all of which are fun things to do in Beijing in December.
If you travel to Beijing in December, be sure to eat a Beijing style mutton hot pot to warm up. Here we recommend Nanmen Hot Pot for you. Different from the spicy and numb Sichuan hot pot, Beijing Nanmen Hot Pot is light and umami, thus suitable for all. Mutton is the signature ingredient. To get the best and freshest mutton, they even built their own pastures in Hebei to breed sheep and process the meat. In the cold December, sit around a boiling bowl and enjoy the fresh food right after it is cooked, what a nice thing to do!
Top things to do in Beijing in December should always include skiing. Beijing Snow World Ski Resort is the closest ski resort to downtown Beijing, just a 30-minute drive away. There are two medium and high-grade slides in the snow field, equipped with different models of ski equipment for skiers, and 3 international standard slides for beginners. Visitors can also make snowmen, play snowball fights, enjoy dog sledding, and appreciate ice sculptures in the ski resort.
5
Ice Climbing in Beijing Taoyuan Fairy Valley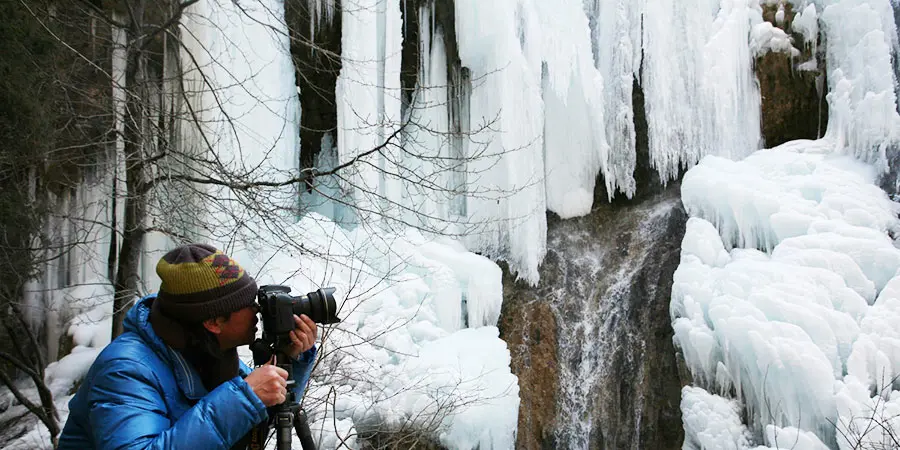 Taoyuan Fairy Valley is a great place to visit in Beijing in December for outdoor sports enthusiasts. 90 km (56 mi) from the Beijing city, it has a number of natural ice waterfalls, which are one of the best ice-climbing resorts around Beijing. Whether you're a professional or a beginner, you can find the right ice wall to climb. The ice walls on the shady side are more difficult to conquer, suitable for professionals. In addition, the 6 meters wide and 30 meters long children's ice climbing area is a special venue for kids. During the winter season, a variety of ice-climbing competitions are held here. Visitors can also see ice waterfalls, ice flowers and so on.
6
Nangong Hot Spring Water World
Hot spring bathing is a popular winter activity. Nangong Hot Spring Water World is a large indoor water park in Beijing which offers various hot springs, spa massage, saunas and other facilities and services. So it is a good place to visit in Beijing in December. Visitors can choose the wooden bathtube to promote the body's metabolism, increase immunity and delay aging. Or choose herbal medicine bath to ease muscle ache. One can also choose to enjoy a flower tea bath to achieve anti-aging and skin-tightening purposes.
- Last updated on Apr. 14, 2023 by Catherine He -