Top Xian Attractions
More Things to Do
Top 10 City Tours
Code: XA30
Pingyao Excursion
Pingyao is a county in Central Shanxi Province. It is located approximately 715 kilometers (444 mi) southwest of Beijing and 510 kilometers (316 mi) northeast of Xian. It is renowned for its well-preserved ancient city with a grand city wall and some magnificent residences in ancient traditional styles.

The fast development of the high speed train in China makes Pingyao easily access. The high speed train from Xian to Pingyao only takes around 2.5 to 3.5 hours according to different trains. The train ticket fare is CNY150 for a second class seat and CNY187.5 for a first class seat.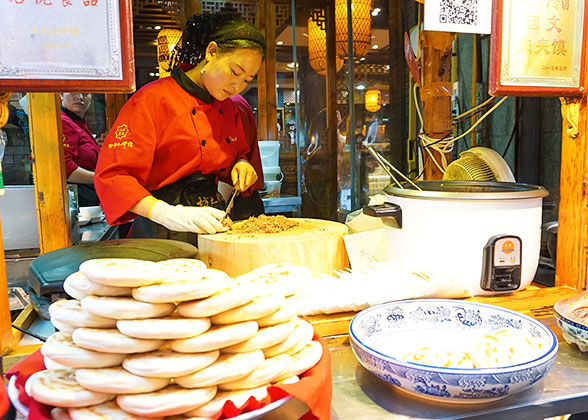 Ancient City of Pingyao
It is recommended that you take the morning train from Xian North Railway Station at 09:07 and arrive at Pingyao Ancient Town Railway Station at 11:30. From the train station, you could take bus no. 108 and get off at Ancient Town North Gate Station. You will see the north gate of the city.
The ancient walled town covers about 2.25 square kilometers (555 acres). This afternoon, you may tour the following main attractions within the town, the City Wall,
Ming-Qing Street
(South Street),
Rishengchang Exchange Shop
, Ancient Security Guard Company,
Ancient Government Office
and
Temple of the City God
. All of them including other 14 small attractions are covered in the combo ticket, costing CNY130. The ticket is valid for three days, but you can only visit each attraction once during the ticket validity.
The Ming-Qing Street is the busiest block in the town both in old times and nowadays. Along the streets there is an amazing array of colorful and interesting shops. They were all built in the style of Ming and Qing architecture. There are also lots of restaurants serving fabulous food. You shouldn't miss noodles and dumplings, the famous staple food in Shanxi Province. Along the less beaten track, it is a quiet life for the residents.
Rishengchang Exchange Shop is the first bank in China's history. Now it is a museum where you could learn the development of China's banks. The Ancient Security Guard Company was an earlier armed escort agency. Here you could know how the merchants deliver their money in ancient time. The well-preserved Ancient Government Office is a big complex, which gives one a very good view of how the government ruled in ancient times. All these museums were housed in charming antique courtyards.
It is better to savor the old town in the early morning or late afternoon before or after loads of tourists. It could be an interesting way to experience Chinese culture by wandering the street aimlessly, looking at the alleyways, doorways, admiring the architecture and saying hello to the locals.
Qiao Family Compound
Today you are suggested to venture out of the town to visit
Qiao Family Compound
. It is 42 kilometers (25 mi) away from Ancient Pingyao Town. You may take a bus in Pingyao Long-distance Bus Station to Qiao Family Compound. It takes around 40 minutes and costs CNY8. The bus departs about every one hour from 08:00 to 18:10 each day.
The layout of Qiao Family Compound is like double Chinese characters Xi standing together, meaning happiness and joy. The entrance ticket is CNY148. As the representative of Chinese northern folk residences, this huge complex includes 6 big courtyards, 20 small courtyards, 313 rooms. All the rooms and doorways were exquisitely decorated and each has its own features with wooden, brick and stone carvings, murals and wall sculptures. The furniture installations from the bedrooms to the kitchen are also terrific. There also houses over 2000 pieces of cultural relics.
After finishing all the sightseeing, you may reverse back to Pingyao Ancient Town Railway Station to take the high speed train back to Xian. The last high speed train leaves at 20:00. Or you may take train to Datong or Beijing to continue your independent tour.

More Related Packages: