Code: GF-UQ01
Golf Tour of Urumqi and Karamay
Urumqi Golf Tour
Firstly, you can visit the
Heavenly Lake
(a boat ride on the lake is suggested) and the
Southern Pasture
in Urumqi. The holy lake is surrounded by snow-covered peaks west of Bogda Mountain which contributes to its stunning scenery. The nature-formed marvelous spectacle will revive your spirits and get you away from the bustling metropolis temporarily. In addition, taking a horseback in the Southern Pasture will be your lifelong memory. After that you may drive to the Turpan which is very close to Urumqi. In this city, there are a large number of attractions waiting for you. As hometown of grapes, Turpan boasts the Grape Valley where you can taste the sweet grapes while admiring the beautiful vineyards; you may try to experience the hottest place in China - the
Flaming Mountain
which was mentioned in one of the four famous Chinese ancient works "A Journey to the West". If you like to view the ancient ruins, you may visit the
Ancient City of Gaochang
or the
Ancient City of Jiaohe
. Besides, you will learn how the local people get water in such a relatively dry area after visiting the
Karez Well
. Then you can drive back to Urumqi and relax yourselves in Urumqi Xuelianshan Golf Club freely on the next day. As the golf club information we collect below is just for your reference only.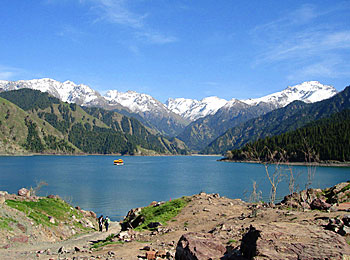 Heavenly Lake
Southern Pasture
Karamay Golf Tour
You are recommended to visit the Baiyanghe Gorge in the Urho District, and then you may drive to the
Ghost City
, which is 68 miles northeast of Karamay, to have a view of the stunning Yadan landscape. Finally, enjoy your golf vacation at Karamay Damo Golf Club.

For any organized tour, please check our
Xinjiang Tour Packages
.

RELATED GOLF CLUB INFORMATION:
►
Urumqi Xuelianshan Golf Club
Urumqi Xuelianshan Golf Club is situated in the beautiful Shuimogou scenic spot of Urumqi, right at the foot of Tianshan Mountains. It is 6 kilometers away from the urban center and 20 kilometers far from Urumqi International Airport. Set up in September 2004, the golf course has 18 holes and 72 pars, occupying 676.5 acres. The total length of the course fairways is 7,200 yards. In addition, it has a floodlit course which allows golfers' playing at night. The supporting facilities include villa garden and vacation hotel. You may join some other entertainments such as sightseeing in the orchard, swimming in the swimming hall, riding horse in the racecourse or you can even go skiing in the ski field. Due to its unique feature of the course and the excellent service and management, the Xuelianshan Golf Club has been reputed as the "Star of Tianshan" and "Pearl of Gobi".
Address: East Spring Road, Shuimogou Scenic Area, Urumqi, Xinjiang
Tel: 86-991-4681866
►
Karamay Damo Golf Club
The Karamay Damo Golf Club is situated in the southeast of the so called 'Oil City' in western China-Karamay. Covering an area of 247 acres, it has an 18-hole 72-par golf course and its fairways are 7,128 yards long. There are 13 man-made lakes and the total water area is over 21 acres. Founded in 2003, the golf course is a typical hilly one and the most inland golf course in the world. Other entertainment facilities of the club include tennis courts, racecourses as well as a sightseeing orchard.
Address: No. 39, Yingbin Road, Karamay, Xinjiang
Tel: 86-990-6252929