On May 15, 2016, China has witnessed the largest-scale train schedule adjustments in ten years, with a new operation plan introduced by China Railway Corp to boost railway transportation capacity. Under this new plan, the total number of passenger trains in service has amounted to over 3,400 pairs, about 300 pairs more than before. So, what are the other major adjustments?
69 rail routes planned to connect tourism destinations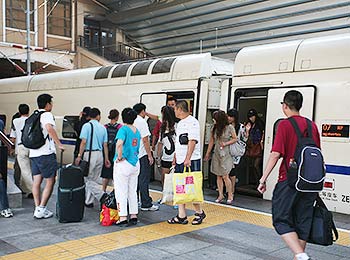 Passengers Getting off a Train
According to the latest adjustments, the number of tourism rail routes has increased to 69 at present. If you take a tourism train from Beijing, you can reach tourist cities including Zhanjiang, Kunming and Dunhuang, covering the southeast, southwest, and northwest parts of China. In popular tourist destinations such as Xiamen, Fuzhou, Nanchang, and Jiujiang, tourism rail routes are scheduled to operate at weekends and holidays. What's more, some luxury tourism trains are equipped with a variety of recreational facilities, like massage chairs, 3D videos, exercise equipment, and bars, providing passengers an unprecedentedly excellent travelling experience.
Over 100 pairs of bullet trains added
In the new operation timetable, more than 100 pairs of
high speed trains
are added. Long-distance ones between Harbin West and Zhengzhou, Ganzhou and Shenzhen North, Guiyang North and Beihai are put into use for the first time. Meanwhile, some short-distance ones are adopted between Shenyang and Dalian, Dalian and Dandong, Taiyuan and Shijiazhuang, Linfen and Xian, etc.
Ordos
, a large city in Inner Mongolia, has benefited from the new plan to be connected with Hohhot and Jining by CRH high speed train.
Morning and night high speed trains adopted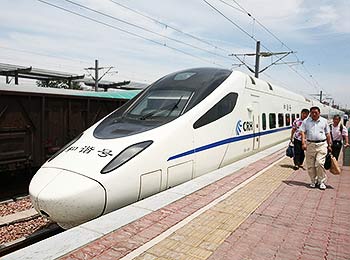 A Bullet Train Arriving in Taiyuan
"The convenience of high speed trains has changed people's demand for railway transportation," said Huang Xin, the Deputy Director of China Railway Corp's Transportation Service Department, "we have arranged 100 pairs of high speed trains to run in the morning and at night, mainly heading for the outskirts of big cities and small cities nearby." Take
Langfang
in Hebei Province as an example, after the adjustments, it only takes 21 minutes from Langfang to Beijing South Station. For those who commuting between the two cities, this is such great news.
38 county-level stations become originating stations
Compared with previous schedule, the new plan connects more small and medium sized cities. 38 railway stations in counties or prefectures have now become originating stations for some routes. For example, Xian Railway Bureau has first opened a route starting from
Yulin
to
Suzhou
, linking the city of desert with the ancient waterside town.
Frequently Asked Questions about the Adjustments

1. Will ticket price rise after the adjustments?

With the increase of service speed, many people may doubt whether the railway corporation will charge more. As yet, there is no such news.

2. Will ticket booking be affected by these adjustments?


Ticket booking had been affected before April 20, 2016. After that, the 60-day pre-sale period resumed. As usual, TCG provides booking service no matter how far in advance it is.

3. Will Spring Festival Travel Rush be solved?


As the high speed service expands to more regions, it will to some degree relieve the pressure of Spring Festival passenger transportation. However, due to the vast demand, the ticket is still hard to get. Tourists are advised not to travel in China at that time. If they have to, please book a ticket as early as possible.