Summer is the peak travel season in China as the natural scenery is at its most beauty. However, since mid May of this year, China has entered the annual rainy season. Some provinces have been hit by rain and hailstorms. In southern part of China, including Guangxi, Guangdong, Jiangxi, Hunan, Guizhou, Chongqing, and Sichuan, floods happened occasionally as a result of constant rain. In northern China, hailstones attacked Langfang, Tianshui, Yan'an, and Harbin, causing damage to crops, outdoor facilities, and houses. The torrential rain and hailstorms have brought inconveniences for travelers, but very minor in major tourist destinations like Xian and Shanghai.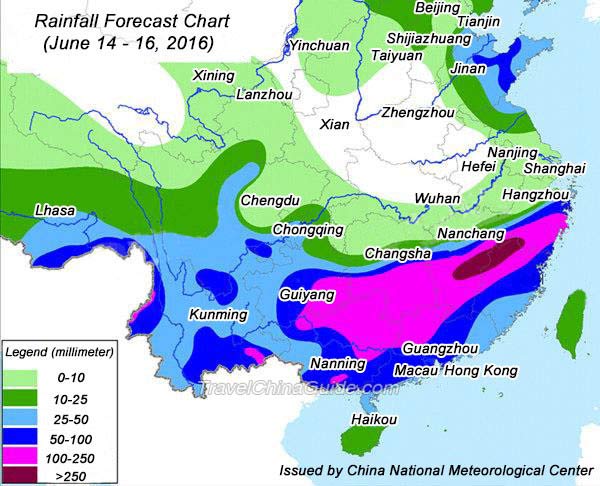 China Rainfall Forecast from June 14 to 16, 2016
Well, due to the storms, it's not wise to travel in the above-mentioned cities that have been affected. If possible, change your travel plan and head for the less affected cities. If you have to go to the strom-stricken area, please read the travel tips below.

Stormy Weather Travel Tips

1. Before traveling, keep an eye on weather forecasts. Click and see
Real Time China Weather Forecasts
.

2. Stay informed of flight and train delays and cancellations. Be proactive about checking the website of service provider for newest updates.

3. Avoid taking a drift on rapid rivers.

4. Don't go to mountainous area, in case a landslide happens.

5. Protect your head when attacked by hailstones and transfer to a firm shelter as soon as possible.

6. Don't stand under a tree or a telegraph pole to shelter, in case of being struck by lightning.
Further Reading

Several Accidents Happened in Mountainous Scenic Areas
It's reported that on June 11, 2016, four tourists got stuck in Nine Dragons Pool Scenic Area near Xian because of heavy rainstorm and the subsequent landslide. Two of them were injured while one sadly lost life as they went downhill. On May 28, eight tourists died of excessive loss of blood in Jiangmen Phoenix Gorge Scenic Area of Guangdong Province when they drifted on a river and got attacked by the torrential flood.

Some Scenic Spots Closed Temporarily
Some tourist attractions in the storm-stricken area have been closed at present for tourists' safety concern. For example,
Wuyuan
, which is famous as the most beautiful countryside in China, has closed most scenic spots inside on June 8 because of flood disasters, including
Likeng Village
,
Wangkou Village
,
Sixi & Yancun Villages
,
Rainbow Bridge
, and
Wolong Valley
. From June 13 to 15, three scenic areas in Ganzhou, Jiangxi Province, respectively Tongtian Rock, Tongtian Village and Cuiwei Peak, have stopped to receive visitors. All rafting services have been terminated currently. In Chongqing, the Black Mountain Valley and Pengshui Ayi River scenic areas have shut down temporarily due to the rising water levels.

Flight and Train Affected by Extreme Weather
Some flights and trains have been put off because of the extreme weather. On June 13, a lot of passengers were stranded at
Beijing Capital Airport
and about 339 flights have been cancelled.