If you have never witnessed the stunning beauty of a world covered by a soft white blanket of snow, it is now time to see it in some of the best winter destinations of China, where you can indulge yourselves in the fun of appreciating gorgeous snow-covered landscapes, playing with ice and snow, attending various snow and ice festivals, and experiencing the unique local folk customs in little villages. Read this article and check out our picks of best destinations for the ice and snow fun in China.
1. Harbin: An Icy City with Exotic Flavor
Often hailed as the Little Paris in the Orient, Harbin, with the annual ice period lasting for as long as 190 days, is the best place to enjoy ice and snow. The Harbin Ice Festival is held there annually from early January to March. During this grand event, the whole city is filled with the happy festive atmosphere, ice and snow sculptures and ice lanterns. Moreover, a wide series of thrilling and fun activities are held, like snow sculpture expos, group wedding ceremonies, New Year concert, and winter swimming games.
| | |
| --- | --- |
| Harbin Ice Festival | Dog Sledging |
The Ice and Snow World is always the most popular winter destination in Harbin, offering lifelike snow sculptures and colorful ice lanterns in various shapes. Besides, don't forget to pay a visit to the exotic architecture with Russian flavor, such as the Central Street, Gogol Street, and St. Sophia Cathedral. Of course, you can also visit the natural ice arena on the Songhua Lake. The pure white snow will make you feel like that you are in the fairy world.

As its name suggests, China Snow Town, formerly known as the Shuangfeng Forestry Center, features snow. As the town has a 7-month snow period each year, it is endowed with abundant good snow. In winter, the whole town is covered by a thick layer of snow, turning into a white fairy wonderland. With the blowing wind, the hundreds of residences covered by snow look like gapping horses, lying rabbits, huge turtles, giant mushrooms, and fallen clouds. At night, when all the red lights are on, the town is even more beautiful and offers many ideal settings for photographing.
| | |
| --- | --- |
| China Snow Town | Yabuli |
3. Yabuli: The Best Place for Skiing in China
As a small town about 210 km (130 mi) from Harbin, Yabuli owns a great many excellent skiing resorts. Among them, the most famous one is the Yabuli International Ski Resort, the largest of its kind in China. There are altogether 17 skiing courses for skiers at different levels. What worth mentioning is that its alpine skiing course is the longest one throughout Asia. As there are trained professional coaches, even beginners can enjoy a good time on ski boards.

Located in Mohe of Heilongjiang Province, Beiji Village is a riverside village at the northernmost end of China. Winter can be extremely cold there with the lowest temperature reaching - 50 ℃(-58 ℉). However, the cold weather endows it with heavy snowfall and vast snowscape. During winter, you can have fun there playing with snow and attending exciting activities, like dog sledding, snowball fighting, snowboards, and fishing on ice. The wooden houses with fences, wood piles and red lanterns present a typical northeastern village before your eyes. After the outdoor activities, nothing can be more enjoyable than having a homemade meal at a local farmhouse.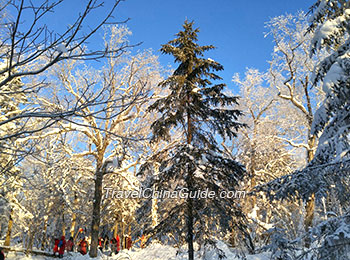 Rime Island
5. Rime Island: Ice-rimmed Trees Can Be Seen Everywhere
The Rime Island, lying on the Songhua River in Jilin City of Jilin Province, boats beautiful rime sceneries. In winter, you can see oddly-shaped trees along the river banks dressed in a silver suits made of rime. When there is a breeze, they are glittering in the morning sun, as if in a crystal palace. Zengtong Village and Hantun Village around the island are two best spots to appreciate the rime scenery.

Kind Tips
1. Be sure to keep warm.
2. Take a pair of goggles to protect your eyes.
3. Take some heating pads and extra batteries for your camera or cellphone.
4. Wear a medical mask whenever you are in the crowds to protect yourself from COVID-19.